02
Mar
Dolphin Project can confirm that on March 1, Taiji, Japan's dolphin drive hunts ended for the 2021/22 season. During the entire six-month long hunting season, our collaboration with Life Investigation Agency (LIA), headed up by campaign director Ren Yabuki and his team of all-Japanese activists ensured continuous, on the ground coverage to document the drives and other events that took place.
To mark the start of the dolphin hunting season, an unprecedented number of Japanese activists protested in Taiji for Japan Dolphins Day – a worldwide event created by Dolphin Project to draw awareness to the annual dolphin hunts. Signs condemning the slaughter and taking of wild dolphins to be sold into captivity could be seen throughout the town. As well, Japanese activists brought the Mayor of Taiji, Mayor Kazutaka Sangen, postcards and letters from people across the world expressing their concerns over the cruel treatment of dolphins.
"We have never seen crueler treatment of dolphins than what LIA volunteers witnessed these past six months. We documented every drive, slaughter and captive selection during the 2021/22 dolphin hunting season. This documentation will be used to help educate and share the truth about what is behind these hunts." ~ Ren Yabuki, Director, Life Investigation Agency
Even to this day, after years of witnessing and documenting the brutal drive hunts in Taiji, the level of cruelty dolphins endure in this tiny town is shocking. Multiple species of dolphins of all ages were routinely subjected to harassment, suffering and abuse, slaughtered for their meat or taken captive for commercial exploitation. As in previous seasons, entire pods of dolphins were decimated. Young juvenile pod members were removed from their slaughtered parents and dumped at sea, alone, their fates never tracked, and their numbers hidden from the seasonal quotas.
In addition to the drives, five instances within a 15-month time span where dolphins and other whales have been caught in the fishing "set net" system have been documented. Some of the mammals were released, their handling, brutal, while others were deliberately drowned in an equally brutal manner. In the most recent instance, Risso's dolphins that had become trapped in the set nets were dragged out by their tails, one slamming its head into the side of a boat as it was dangled over the water. This season, the set nets were slightly repositioned, likely resulting in more dolphin and whale entanglements. While these species cannot be targeted within the set nets, if the mammals are unable to be safely removed, or removed without causing damage to the nets, fishermen are permitted to harvest them.
On January 16 a Tsunami hit Japan, damaging several sea pens. Hunters worked on repairing the pens for the next five days. The fate of the dolphins contained within them is unknown.
"As hunters continue to kill pods of dolphins via the drive fisheries, it seems that the number of dolphins is decreasing. Therefore, the actual number of catches is decreasing in inverse proportion to the increase in the catch limit. As a result, the hunters were very impatient this season, driving dolphins late in the day and employing other various irregularities" ~ Ren Yabuki, Director, Life Investigation Agency
The Kuroshio Current (Black Current) has been atypical the last couple of seasons, bringing unusually large yellowtail, striped marlin, and other species to Taiji. While the exact effects on dolphins is unknown, we are noting lower catches, possibly due to pressures put on these species by the hunts and/or captures. (For example, during the 2020/21 season, no short-finned pilot whales were driven into the Cove, and this season, only 44 were driven in, representing less than half of a typical hunting season).
This season, there were a total of 42 red coves (where dolphins were either slaughtered or taken captive) and 139 blue coves (where no dolphins were slaughtered or taken captive) involving five species of dolphins. We estimate 498 dolphins were slaughtered, while 65 were taken captive. Many more may have died as a result of the drives themselves, their numbers never recorded. While listed on the quota, no Pacific white-sided dolphins, false killer whales, pantropical spotted dolphins or rough-toothed dolphins were captured or killed.
Several times this season, the LIA team worked with visiting Japanese citizens (including newcomers, and junior and experienced activists) to help them learn more about the drive hunts. Armed with knowledge, over 45 individuals will continue their activism work throughout Japan. In addition, LIA conducted ZOOM educational talks with Japanese students. With the Japanese government and media long shielding the public from being fully informed about the hunts, these represent important steps in empowering Japanese citizens with knowledge in their efforts to help protect dolphins.
2021/22 Drive Season Statistics
Total number of red coves: 42 (where dolphins were either slaughtered or taken captive)
Total number of blue coves: 139 (where no dolphins were slaughtered or taken captive)
Total number of dolphins slaughtered and/or taken captive: 563
Slaughters: 498 total
Risso's Dolphins – 159
Melon-Headed Whales – 65
Striped Dolphins – 232
Short-Finned Pilot Whales – 42
Captures: 65 total
Bottlenose Dolphins – 60
Risso's Dolphins – 3
Short-Finned Pilot Whales – 2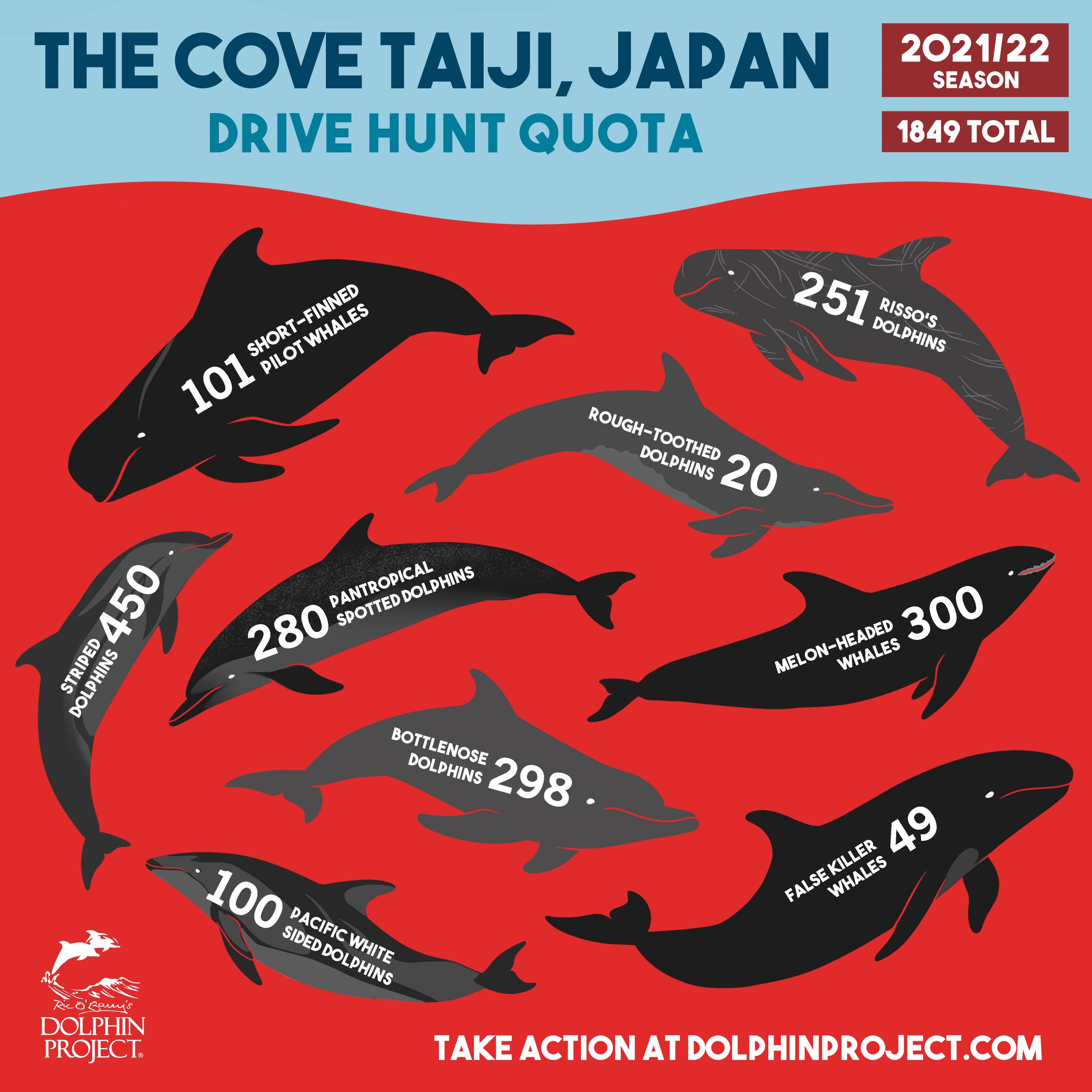 Featured image: False killer whales swim wild and free! Credit: Tracie Sugo