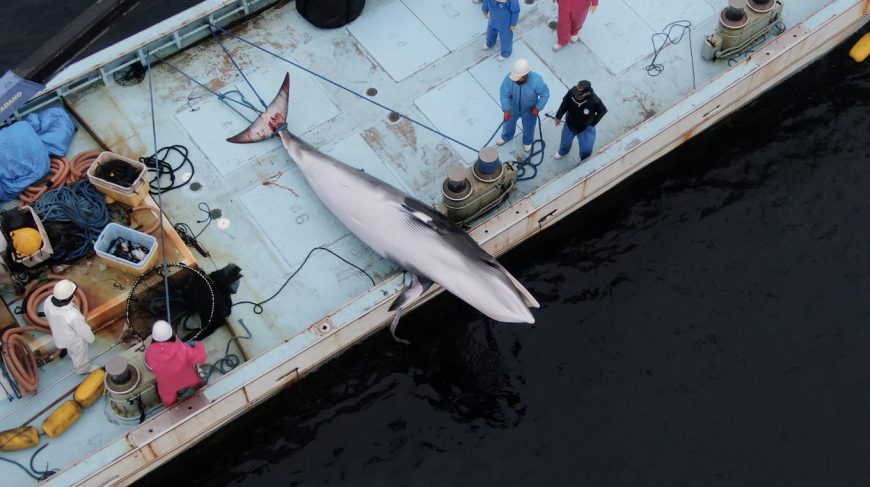 11
Jan
TAIJI: After slaughtering a minke whale almost a year ago to the day, another has died in Taiji's fishing nets.
On January 6, Ren Yabuki, Director of Life Investigation Agency (LIA), in collaboration with Dolphin Project, while documenting Taiji's drive hunts, spotted a minke whale in the Taiji Fishermen's Association fishing nets. The whale was drowned moments later when a rope was wrapped around its tail and the mammal tied to the edge of a boat.
This is the fourth time in 14 months a whale has been caught in the fishing "set net" system. On November 29, 2020 a humpback whale was trapped in the nets and released one day later. On December 24, 2020 a minke whale was caught in these same nets, and after 20 days of struggle, was slaughtered by drowning by the fishermen's association. On January 13, 2021 a humpback whale died after becoming entangled in the nets. In this latest incident, a whale was once again, deliberately killed.
"In Japan, it is prohibited for anyone other than authorized whalers to hunt whales. If a whale is accidentally caught in a fishing net, the Japan Fisheries Agency requires that efforts must be made to release the whale, unless the process may cause human casualties or substantial damage to fishing gears." ~ Ren Yabuki, Director, Life Investigation Agency
These offshore nets are in place year-round just outside the Taiji harbor, adjacent to the infamous Cove. Whale entanglement in set nets occurs not only in Taiji, but throughout Japan and is a common occurrence. Several different species of fish are caught within the nets; sometimes dolphins and other whales become trapped in them, unable to escape.
"It is a common practice to drown minke whales caught in Japanese set nets even though there is much data and science showing whales feel this pain. It is Life Investigation Agency's hope to be able to bring the suffering of whales to the public's eye within Japan to help change these practices." ~ Ren Yabuki, Director, Life Investigation Agency
Life Investigation Agency has repeatedly contacted the Japan's Fisheries Agency and fishermen to take measures to prevent bycatch. Despite international condemnation, little, if anything, has been done.
Featured image: Minke whale is drowned after becoming entangled in Taiji's set nets, Taiji, Japan. Credit: LIA/Dolphin Project
Every year from September through March, a notoriously cruel hunt of some of the most sentient creatures on the planet takes place in Taiji, Japan, made famous by the 2009 Academy award-winning movie 'The Cove'. During this period, dolphin hunters, "drive" the mammals to their capture or deaths via means of physical violence and acoustic torture. Dolphin Project is the only organization to have been on the ground consistently since 2003.