31
Aug
Against a global backdrop of the ongoing COVID-19 pandemic, Taiji, Japan's notorious dolphin drive hunts have resumed.
On September 1, on the first day of the drive season, hunters located a small pod of bottlenose dolphins – the species most often taken captive, and displayed in aquariums and marine parks worldwide. The pod fought hard but were no match for the hunting boats, and within one hour, were driven into the Cove to await their fate. Trainers eventually showed up and the brutal captive selection process began. LIA/Dolphin Project livestreamed as the dolphins were forced underneath the tarps and inspected. In the end, the entire group of seven dolphins were carted off in slings. From swimming wild and free to "life" as circus performers, this is the merciless reality of dolphin captivity.
In 2020, also on day one of the hunts, two pods of dolphins were quickly located by the hunters. They were driven into the Cove as a single pod and four dolphins – three bottlenose and one Risso's – were taken captive.
"The unnecessary and barbaric annual Taiji dolphin slaughter has begun once again. I woke up this morning to learn a pod of dolphins has already been driven into the killing Cove. So when does this end? How does it end? I'm of the opinion it will end when the good people of Japan rise up against it. And that's starting to happen. Our work, and yours is about supporting that effort. You can help by participating in Dolphin Defender Month. Check it out. Choose your level of involvement and take action." ~ Ric O'Barry, Founder/Director of Dolphin Project
For approximately six months, a total of 1849 dolphins across nine species including short-finned pilot whales, Risso's dolphins, rough-toothed dolphins, striped dolphins, pantropical spotted dolphins, melon-headed whales, bottlenose dolphins, false killer whales and Pacific white-sided dolphins are legally allowed to be chased, harassed, slaughtered or taken captive.
Since 2003, Dolphin Project has documented the decimation of family pods, orphaned juveniles and abhorrent cruelty towards these sentient mammals – all in the interests of profit.
Once again, for the 2021/22 dolphin hunting season, Dolphin Project is collaborating with Life Investigation Agency (LIA), a Japanese NGO headed up by Ren Yabuki, dedicated to investigating, exposing and campaigning against the abuse of animals. We are also working alongside other Japanese-based volunteers, activists and NGO's. Program goals are to document the hunts in Taiji, along with expanding anti-captivity educational programs throughout Japan.
To mark the start of the dolphin hunting season, an unprecedented number of Japanese activists protested in Taiji for Japan Dolphins Day – a worldwide event created by Dolphin Project to draw awareness to the annual dolphin hunts. Signs condemning the slaughter and taking of wild dolphins to be sold into captivity could be seen throughout the town. As well, Japanese activists brought the Mayor of Taiji, Mayor Kazutaka Sangen, postcards and letters from people across the world expressing their concerns over the cruel treatment of dolphins.
This year, for the entire month of September, Dolphin Project has launched the first ever Dolphin Defender Month. There are a number of ways to participate to help create awareness of Taiji, Japan's annual dolphin hunts, and their connection to the captivity industry. During Dolphin Defender Month, people from around the world are encouraged to take action against the dolphin slaughters and captures in Taiji. It is also a great opportunity to continue educating others about the truth behind marine mammal captivity.
LIA will continue to document and live stream for the duration of the dolphin hunting season. Please follow us on our social media channels for live updates.
Featured image: Wild-caught bottlenose dolphins are selected for "life" in captivity, Taiji, Japan. Credit: LIA/Dolphin Project.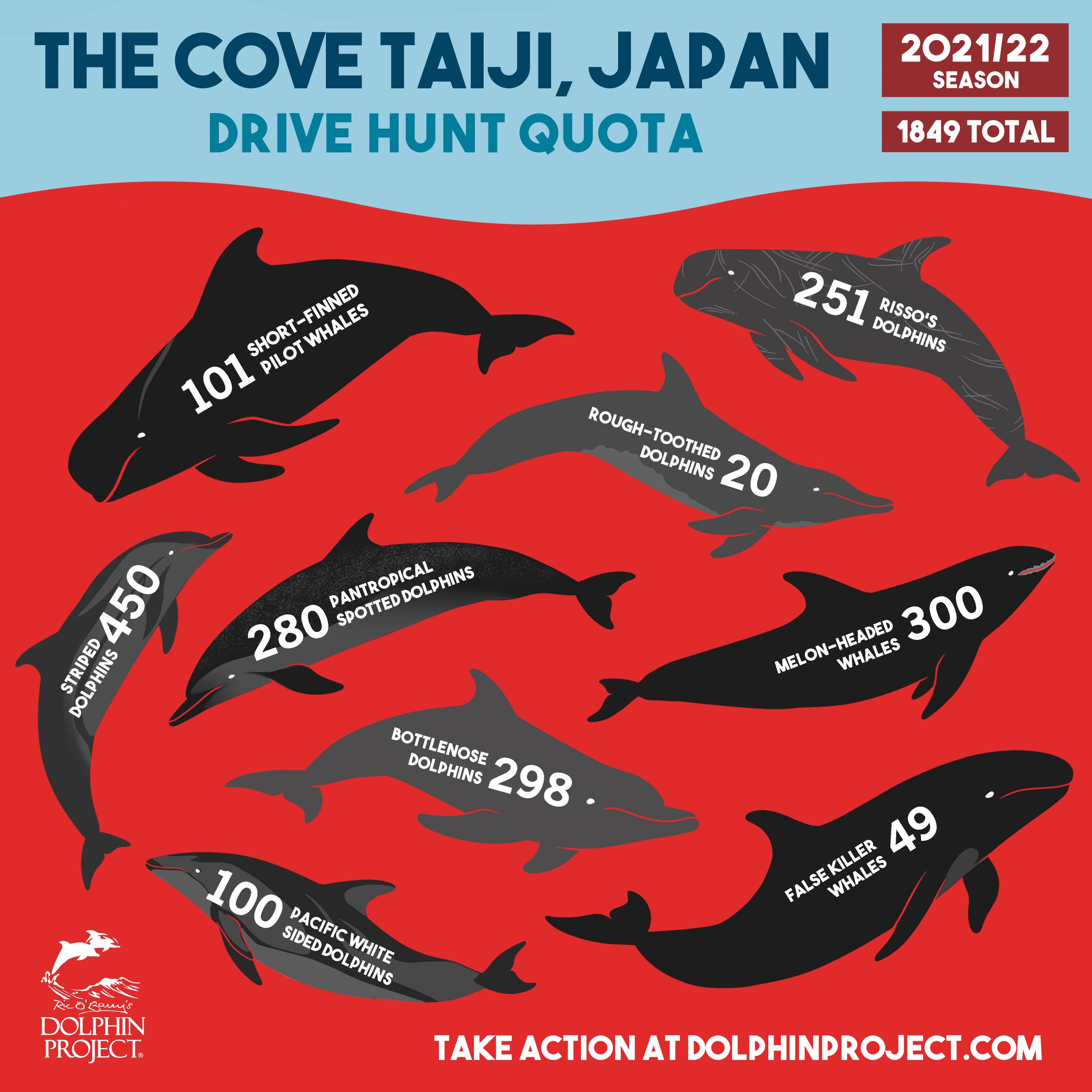 RELATED:
Learn more about Dolphin Project's campaign in Taiji, Japan
Make a donation directly to Dolphin Project's Taiji campaign
Every year from September through March, a notoriously cruel hunt of some of the most sentient creatures on the planet takes place in Taiji, Japan, made famous by the 2009 Academy award-winning movie 'The Cove'. During this period, dolphin hunters, "drive" the mammals to their capture or deaths via means of physical violence and acoustic torture. Dolphin Project is the only organization to have been on the ground consistently since 2003.