As ground zero of the global captive dolphin trade, putting an end to Taiji's dolphin hunts is no easy feat. Creating worldwide awareness about the brutality of the hunts' slaughters and captures is the first step to change. Continued exposure has moved people all over the world to advocate for dolphin protection, and have made important positive impacts.
Progress in Ending the Demand for Captive Dolphins
The captivity industry offers the primary economic motive for the Taiji's drive hunts, as live-captured dolphins sold to marine parks and aquariums bring in far greater profits than dead dolphins do for meat. Ending the global trade of captive dolphins is a crucial part of ending Taiji's drive hunts once and for all. Thanks to Dolphin Project's continued efforts, along with the efforts of activists all over the world, many places have banned the trade of Taiji's dolphins, or have banned cetacean captivity altogether.
JAZA Bans the Acquisition of Taiji Dolphins
Persistence pays off: After years of international pressure, in 2015 the World Association of Zoos and Aquariums (WAZA) suspended the Japanese Association of Zoos and Aquariums (JAZA) as a member of its organization in relation to Taiji's drive hunts. Only after JAZA banned its members (zoos and aquariums within Japan) from acquiring Taiji-captured dolphins, were they allowed to rejoin WAZA – a huge win for dolphins.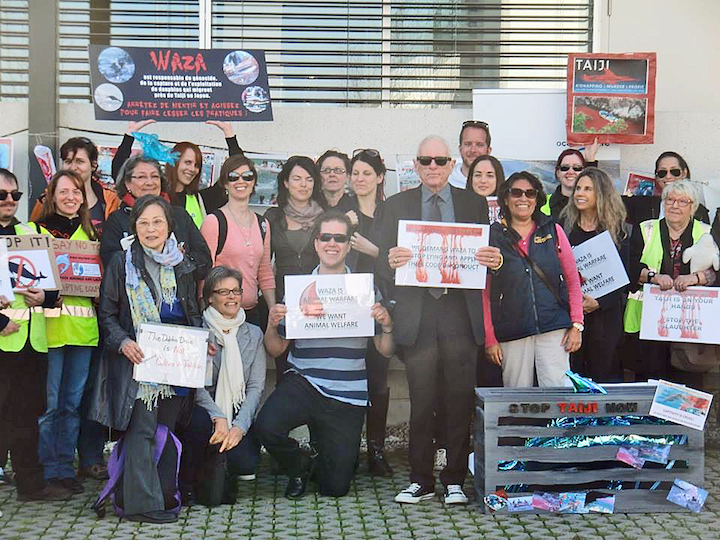 The Taiji Whale Museum and a handful of other Japanese aquariums have since given up their JAZA membership to continue acquiring wild-caught dolphins. We continue to work with local activists in Japan to educate the public about the issue.
South Korea Bans the Import of Taiji Dolphins
In 2018, South Korea banned the import of Taiji dolphins! The Ministry of Environment announced a revised bill on the Protection and Management of Wildlife, banning all imports of dolphins captured in such a brutal manner. This was a major step forward, as many of South Korea's captive dolphins were being purchased from Taiji.
This victory came shortly after the efforts of our South Korean friends and colleagues successfully blocked the import of dolphins from Taiji, Japan to a dolphinarium in Ulsan City. Hot Pink Dolphins, Korean Animal Welfare Association and Korean Federation for Environmental Movement of Ulsan, joined forces with the Dolphin Project to voice their opposition against the Ulsan Aquarium's request to replace two deceased dolphins with two more captured in the brutal Taiji drive hunts.
A Growing Number of Countries Ban Cetacean Captivity
As more and more consumers and lawmakers are made aware of the reality of cetacean captivity, an increasing number of places around the world have started to phase out dolphin captivity, or have banned it altogether. Some of these places include Canada, France, India, Costa Rica, Greece, Chile, Croatia, Cyprus and more. See the full list on "Where are Dolphins Protected?"
Continued exposure on the reality of cetacean captivity, and exposure of Taiji's drive hunts and their connection to the captivity industry are vital to continue making progress.
Over 100,000 Pledges to Not Buy Tickets to Dolphin Shows
Consumers all over the world have ended their support of captivity. Join them by taking the pledge NOT to visit dolphins in captivity.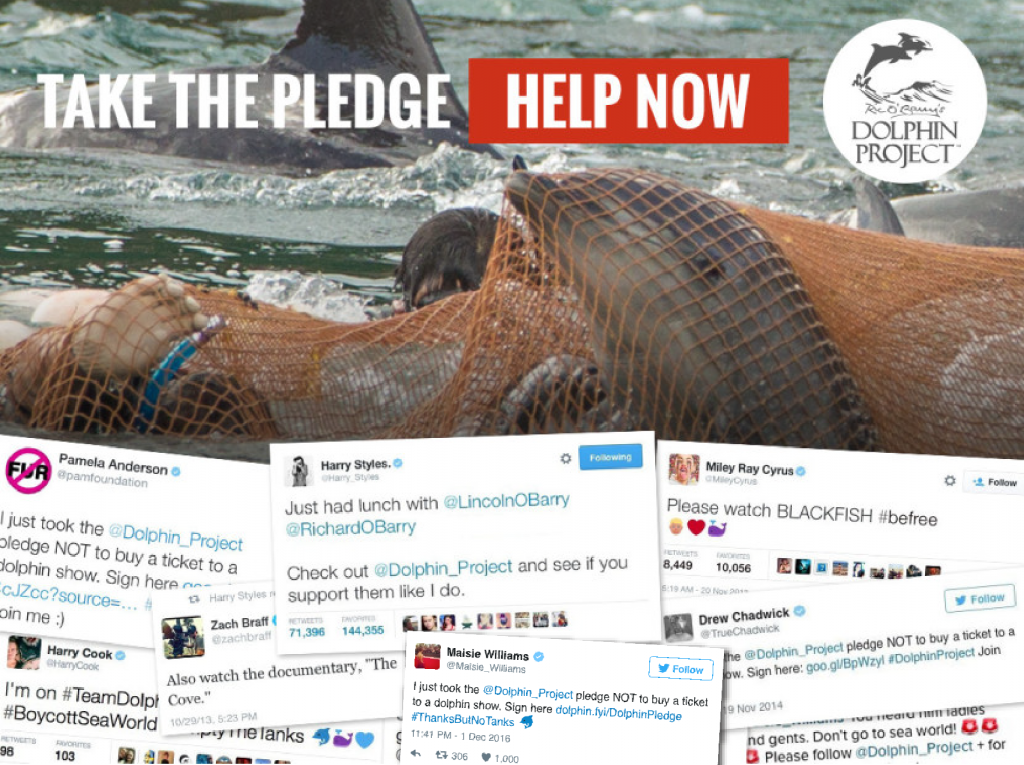 Cetaceans Released from Taiji
Documentation is a vital part of the drive hunt campaign. Not only does it expose Taiji's dolphin hunts to people all over the world, but also it also serves to capture evidence of questionable, and potentially illegal activity. This documentation enables legal action to be taken in certain cases, and can serve for grounds to call for release.
Release of Pacific White-Sided Dolphins Caught in Fishing Nets
In February of 2017, Dolphin Project volunteer Cove Monitors documented a fairly large pod of Pacific white-sided dolphins being hunted for live-capture during a drive hunt. The pod split into smaller groups, and the hunters eventually focused on driving each small group at a time. The dolphins put up a fight; the drive and capture process over 9 days. During several of these drives, a few Pacific white-sided dolphins got trapped in the set fishing nets outside of the Taiji harbor (these nets were set differently than they are currently). It almost seemed like driving them towards the fishing nets was intentional. When dolphins were caught in the net, the dolphin hunters would go out to the nets and divers would wrestle them onto the skiffs, to take them for the aquarium and marine park trade. Although the distance made it difficult to see, we believe 6 dolphins were taken out of the net.
A few days after the season ended, one Cove Monitor happened to see several skiffs of dolphin hunters headed out to Moriura Bay, where many of the captured dolphins are held. They were wrestling Pacific white-sided dolphins into slings on the sides of the skiffs. One of the hunters was videotaping the entire process. The skiffs then loaded the slings to the sides of a larger hunting boat, and left Moriura Bay. This boat went out of the bay, past the harbor and continued to go out past the Tomyozaki cape. There, they released the dolphins out at sea and then returned to the harbor; 5 dolphins, were confirmed to have been released.
Pygmy Killer Whales Freed Upon Hunter Error
On November 1, 2017, Taiji's dolphin hunting fleet drove a pod of small black cetaceans into the cove. These dolphins were driven all the way to the cove, and herded underneath the tarps for inspection, yet unlike in other hunts no sounds of struggle were audible. Nine species of dolphin were on the quota for the 2018/2018 season- legally allowed to be captured or killed. The pod was confirmed to be pygmy killer whales- a species of oceanic dolphin that was not on the hunters' quota. Pygmy killer whales are often mistaken for melon-headed whales, a species that was on the hunting quota, and it is likely that the pod was originally driven in on this mistaken identity. With no authorities directly watching over the hunters in the cove, documentation is vital to keeping pressure on the hunters and on the Japanese government. Dolphin Project's Cove Monitor team documented the drive and release process, and was able to confirm that the entire pod was released. Read more on on the Dolphin Project Blog. 
Humpback Whale Released from Fishing Net
During the 2020/21 drive hunt season, Dolphin Project, in collaboration with Life Investigation Agency, reports on the ground in Taiji, Japan, documenting the captive selection and slaughter of dolphins. On November 29, 2020, the all-Japanese team, headed up by Life Investigation Agency (LIA) campaign director Ren Yabuki documented a humpback whale caught in the set fishing nets in Taiji. International attention was brought to the situation. LIA later reported that the humpback whale was freed.
Dolphin Project has documented and monitored the captures and slaughters that take place in Taiji each hunting season for nearly two decades. With the interference of the Japanese government and the Japanese media, the true nature of these hunts is largely kept from the Japanese public. We hope to make the facts known and empower positive action by Japanese citizens.
Collecting Vital Documentation and Data
As the only organization to consistently have a presence in Taiji each season since 2003, our team of Cove Monitors has collected photos, footage and data of captures and slaughters in The Cove. Each and every life is accounted for, keeping pressure on the hunters and on the Japanese government. Our documentation has been used in a number of publications all over the world, and used in outreach materials distributed at a grassroots level within Japan.
Delivery of Petition with 1 Million Signatures in Tokyo
On September 1, 2010, over 100 activists from 13 countries joined Ric O'Barry in Tokyo to deliver a petition bearing over 1 million signatures to the U.S. Embassy of Japan, calling for an end to the drive hunts. The volunteer activists joined Dolphin Project in Taiji to commemorate the beginning of the hunting season, bringing international attention to the situation, helping ignite a global movement of dolphin protection advocacy.
Exposing Evidence of Contaminants in Dolphin Meat
Dolphins are predators near the top of the marine food web, concentrating pollutants in their meat. As such, they are heavily contaminated by mercury. Dolphin meat is not widely consumed, yet the dangers of mercury contamination is often kept from the public, as the risk is not clearly made known. In February of 2015, our team purchased several packages of striped dolphin meat to test for mercury, PCB (polychlorinated biphenyls) and radiation levels (radioactive cesium-137). The dolphins had been slaughtered in a Taiji drive hunt. Tests revealed the presence of all three contaminants in the dolphin meat with mercury testing higher than the Japanese government's recommended level of 0.4 parts per million.
In the years Dolphin Project has been testing dolphin meat for years, and never once have we found a package that was not contaminated with high levels of mercury and other toxins.
Supporting Japanese Advocacy
Many people within Japan are inadequately informed on the true nature of Taiji's drive hunts. This is by design, as the government actors and hunters have their own agenda to use culture as a shield to keep the Japanese public from understanding the issue. We hope to help make the facts known and empower Japanese citizens to take positive action of their own.
The 2020/21 season is the first time drive hunts documentation and local activism has been led solely by an all-Japanese team made up of nonprofit organizations and individuals. Among this is a collaboration between Dolphin Project and Life Investigation Agency (LIA), a Japanese nonprofit organization dedicated to investigating, exposing and campaigning against the abuse of animals. This collaboration enables Taiji's drive hunts to be exposed from a Japanese perspective for the world to see.
Dolphin Project continues to offer support to Japanese organizations and individuals, through providing photos and footage for outreach use, providing data for use in legal cases, and when requested, offering advice and insight from what our team has learned in past drive hunt seasons. Have friends or family in Japan? Share our Japanese resources with them.