Outreach and education are vital parts of Dolphin Project's mission. Peaceful public demonstration can be an important and effective tool to raise awareness and get more people involved in defending dolphins. Get involved by joining one of our annual global events below!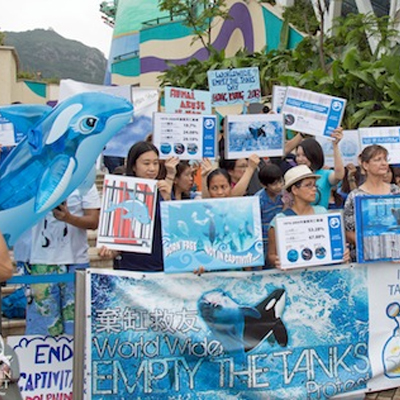 Empty The Tanks Worldwide
Empty The Tanks Worldwide events take place each year on the second Saturday of May, and gives a platform to activists around the world to stand together and peacefully advocate for an end to dolphin and whale captivity.
Join us in one of many locations around the globe to educate the public about the plight of cetaceans in captivity. These peaceful and educational demonstrations are organized to unite our voices against the worldwide captivity industry.
Global Beach Cleanup
Each summer, Dolphin Project hosts a worldwide clean up event. "Beach" cleanups can take place anywhere! You don't have to live along a coast to help keep our oceans clean.
Every piece of plastic and debris that you clean up is one fewer item of trash that can find its way into a waterway and potentially entangle and harm marine life. Cleanups can take place at a beach next to the ocean, at a park, a river, or just around your local town.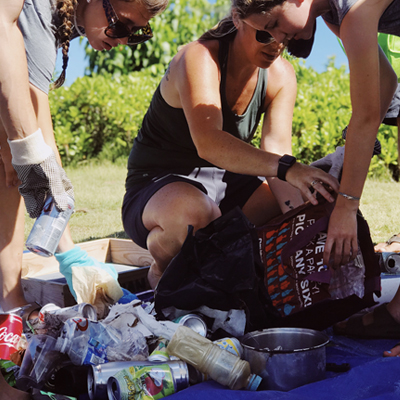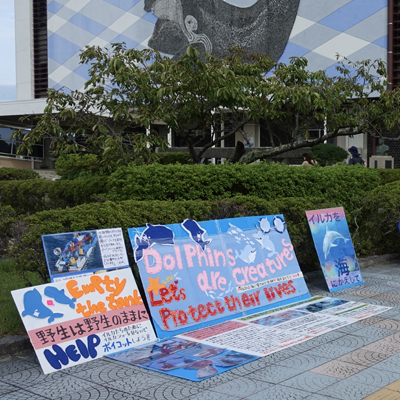 Japan Dolphins Day
Each year on or around September 1, 2019, Dolphin Project hosts the annual Japan Dolphins Day event to mark the start of the drive hunting season in Taiji, Japan. Activists around the world join in peaceful demonstration to educate the public, as well as to voice international opposition to the hunts.
By organizing a positive, celebratory event in your city, we unite to show Japan, as well as the rest of the world, that the massacre of dolphins in Taiji is a crime against nature and must be put to an end. Together, we can make our voices heard and inform others about this tragedy.
Advocate for Dolphins All Year Long
Hosting peaceful and educational demonstrations at any point during the year are great ways to advocate for and end to cetacean captivity. If you'd like to put together a demonstration, follow the guidelines below!
Demonstration Guidelines:
1. Demonstrations and protests must be legal and peaceful. You represent your cause, so be courteous. People aren't interested in listening to aggressive or abusive protesters.
2. If you need a permit in order to protest, get one. You can call City Hall or the police department and ask if you need one. Always get names of people you talk to on the phone. With the permit, you will be told where you are allowed to demonstrate. Explain this to everyone in the demonstration. You will probably not be allowed to interfere with people attending the event or trying to buy a ticket.
3. If you have a lawyer, let him/her know what you're doing.
4. One person should speak for the group. This avoids the appearance of conflict, which can destroy the effectiveness of the demonstration.
5. Hand out informational materials that briefly explain your position and give the group's address and phone number. If someone tosses it on the ground, pick it up and give it to someone else. Check the area before you leave to pick up any remnants or trash. Be pleasant at all times.
For additional guidelines and information, check out our Guidebook for Dolphin Defenders and our Downloadable Resources!