Dolphin Project's Annual Global Beach Cleanup
Ocean debris kills nearly one million sea creatures every single year. Saving dolphins and whales is about more than simply ending the captivity trade. Dolphin Project believes that ocean conservation is just as vital to the survival of all cetaceans. In order to protect wild populations and return captive marine mammals to the ocean, we must ensure a safe and clean habitat for dolphins, whales, and all ocean creatures.
Each summer, Dolphin Project hosts a worldwide event where people all over the world join in and cleanup their local beach or community – this year's event is July 15-16, 2023!
Registered locations you can join in at will be listed on our Facebook Event page. Want to host a cleanup in your area? Keep reading below!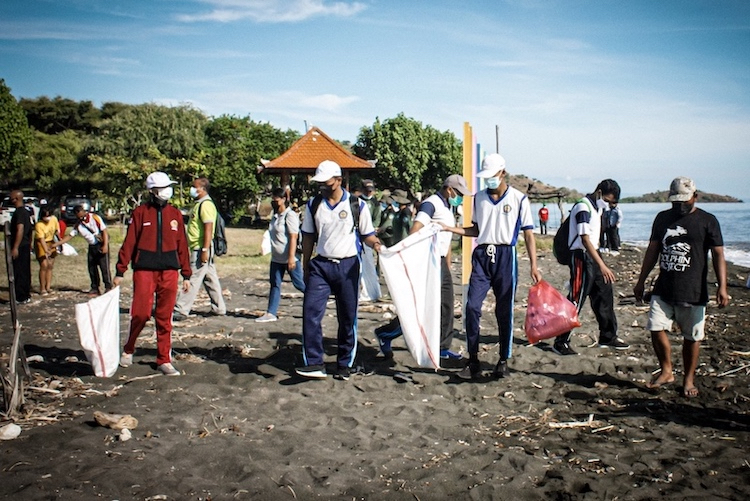 Join in by Hosting a Cleanup in Your Area
Get your friends and family together and devote two hours to a positive action that will benefit your community and the ocean environment. "Beach" cleanups can take place anywhere! You don't have to live along a coast to help keep our oceans clean. Every piece of plastic and debris that you clean up is one fewer item of trash that can find its way into a waterway and potentially entangle and harm marine life. Cleanups can take place at a beach next to the ocean, at a park, a river, or just around your local town.
To register your event or to get more information, please email our Event Coordinator at [email protected]
Planning Your Cleanup
Ready to get started? Download our BEACH CLEANUP GUIDE (PDF format) or read on below for a step by step guide, and for a list of supplies to prepare!
How to Get Started Planning Your Cleanup
1. Pick a park, shoreline or beach that you want to focus your clean up on. Be sure and visit the area ahead of time to make sure it is dirty and in need of cleaning
2. If you are participating in the Annual Cleanup Event please aim to do your event on July 15 or 16, 2023. We suggest doing a 2 hour event at most so people don't get tired.
3. Contact your city parks department, local state park, or whichever government body is responsible for that location. Tell them you would like to plan a public beach clean up and ask if there is anything you need from them in order to do so. Be sure to ask:
– What do they want you to do with the collected trash? Some locations have dumpsters, while others will ask that you put the collected rubbish next to a designated trash can or cans.
– Do they have recycle bins? And if so, what items are allowed to be placed in them?
– Ask about volunteer waiver forms and if they require them for events and cleanups.
4. Make a Facebook event page and let us know by sending our event coordinator an email at [email protected]
5. When you scout the location before the event, take the time to find nearby parking options as well as a meeting spot for your attendees, and include that information on your event page.
6. Make note of any dangerous areas or if the location is home to nesting animals or other wildlife species. ** Please share this information with any volunteers that come to your event. **
7. Be sure to invite your friends and family, the local schools or churches, and anyone else in the community you think would be interested in attending.
8. Promotion: Make some flyers to advertise your event and post them in local shops or community boards. Be sure to include the date, time, location, and your contact information on it. It is also good to include any supplies you want each person to bring.
9. Ask event volunteers to bring water (in a reusable bottle), sunscreen, a small snack and anything else they might need. If you want to provide snacks and drinks for your volunteers we suggest natural foods like fruit to limit the amount of extra trash that is brought into the site. You can also bring a large container of water that volunteers can fill their bottles with.
10. Please be mindful of the weather the day of the event. Encourage the attendees to dress properly for the weather. ** IF IT IS A HOT DAY, PLEASE ASK THAT COMPANION ANIMALS BE LEFT AT HOME, FOR THEIR SAFETY & COMFORT. **
Cleanup Supply List
Encourage those attending to bring their own buckets or old tote bags and reusable gloves if they can. Gardening or work gloves work great for beach cleanups. There are inexpensive buckets available at most local hardware stores and gloves and mesh strainers can be found in the kitchen tools at most dollar stores.
Here are a few supplies you will want to get together for the big day:
– first aid kit in case anyone gets hurt
– buckets for the trash or reusable cloth bags
– reusable gloves
– mesh strainers to sift out the small pieces of trash from the sand/dirt
– a few garbage bags to combine all the trash for hauling to garbage cans or dumpsters at the end of your event
– a tarp or large drop cloth (this will give you place to dump all the collected trash and sort it out and/or take pictures)
– extra reef-safe sunscreen
– a table and sunshade or tent if you would like to set up a sign in area
– clipboards & pens if you need waivers signed by volunteers
– a fun sign to welcome everyone and let them know where to sign in and get their instructions
– hand sanitizer if there are no restroom facilities nearby
* If possible, please consider counting the number of plastic bottles, straws, and bottles caps that your group collects. Let us know if you find any other unique and interesting things along the beach too. This information helps us create outreach materials to educate the public about ocean pollution.
* Take pictures! Pictures are what encourages others to follow your lead! Be sure and post your photos and tag us so we can feature them as well! Use the hashtag #cleanoceansforfreedolphins
Last, but not least – remember to have FUN! Taking care of our oceans and marine life can be very rewarding, so enjoy the day!
Thank you again for doing your part to help clean up our oceans, parks, and shorelines!
More Ways to Help All Year Long
Bring a bucket or tote bag with you when you go to the park, river, beach, or anywhere outdoors. This way you can collect any trash you might find and help leave the space clean and safe for wildlife. Post your photos on social media using #cleanoceansforfreedolphins
If you are attending or planning a gathering outdoors with family and friends, be sure to have a way to collect any trash. This will keep items like wrappers or napkins from flying away and adding to the trash found in nature.
Photos from Past Cleanup Events