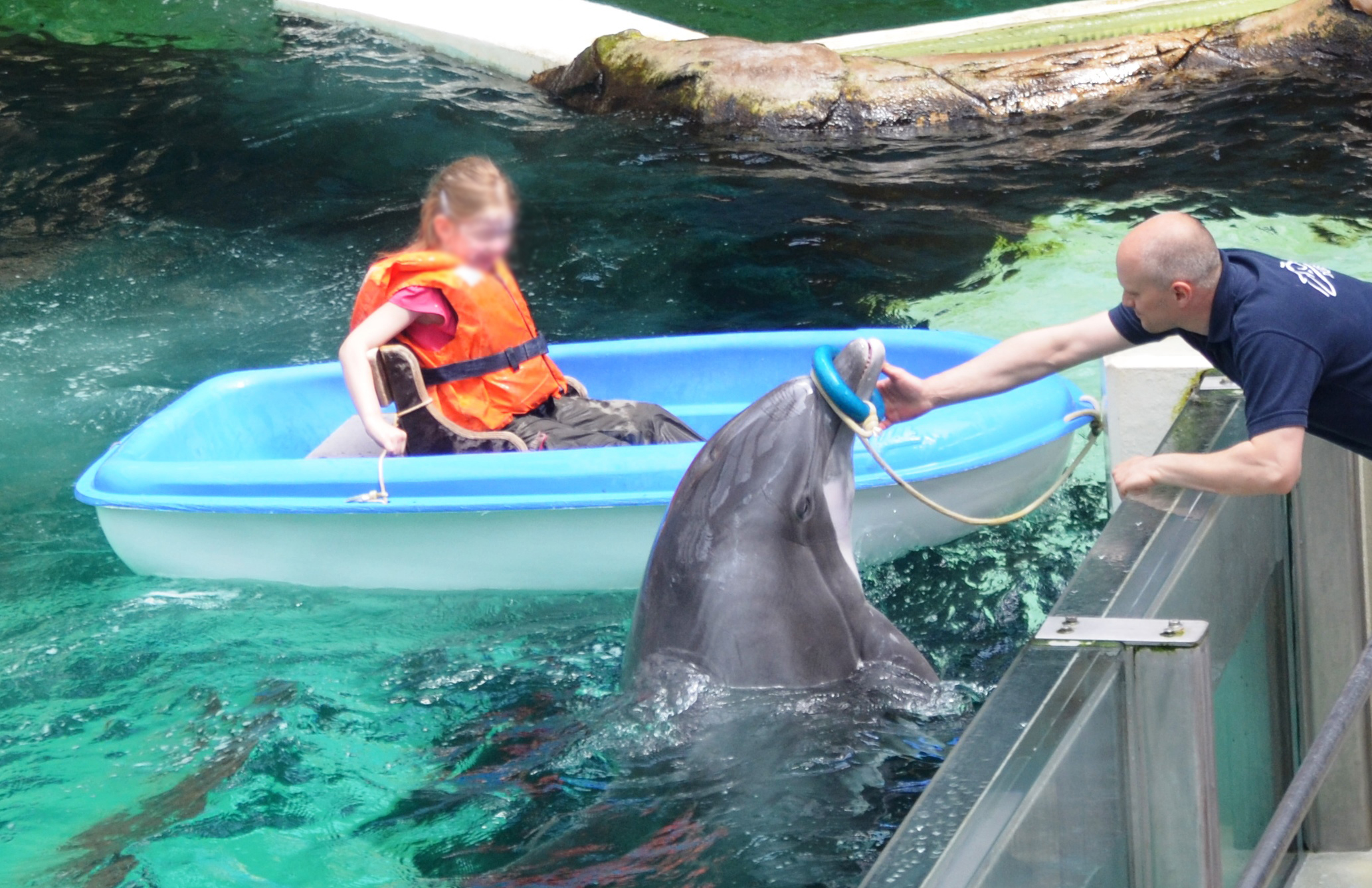 Based on inquiries we have received, it appears there is some amount of confusion about facilities that list themselves as "sanctuaries" yet keep dolphins for display and interactive programs. We've compiled some tips here to help potential customers research before they support a captive dolphin facility.
Red Flags
Signs that the facility may not be a legitimate sanctuary or rehab facility
Selfie or photo opportunities, or any form of guaranteed petting/kisses/etc. In order for a visitor to be guaranteed that they get to touch a dolphin, that dolphin has been trained and is actively receiving reinforcement to perform.
Facility descriptions can be misleading
Names and labels can be misleading. Just because a facility calls itself a "Wildlife Sanctuary" does not make it so– do your research before visiting any park with wildlife. Also beware that some facilities use their charitable status or scientific labels to mislead.
Many marine parks claim their dolphins can "leave any time". This may be technically true, but most dolphins will not jump a barrier or swim out of a pen because they cannot tell what is on the other side. Captive dolphin facilities would never take the risk of losing their investments. They know very well that their dolphins would not venture into the open sea, even if given the chance: Many captive dolphins have spent so much time in captivity, they have become dependent on people for food and other basic needs. Many of them were born into this unnatural existence, and they cannot simply "go home," as they have no family pod to connect with.
A natural sea pen may also be a captive environment. It does not equate with being free in the wild.

Wild dolphins can be exploited for profit too! If booking a swim with wild dolphins tour or whale watching tour, pursuit should never be allowed. A boat should never chase a pod of dolphins to get closer to them, or guarantee that you will see dolphins or be able to swim with them. Responsible tours do not permit touching wild dolphins or whales! A responsible tour operator will always abide by and endorse local dolphin/whale watching laws.
Paid interactions or scheduled activities such as shows, exhibits, or demonstrations should be a warning– it means that the dolphins are expected to be in place and remain for a certain period of time, or perform, which are indications of active training.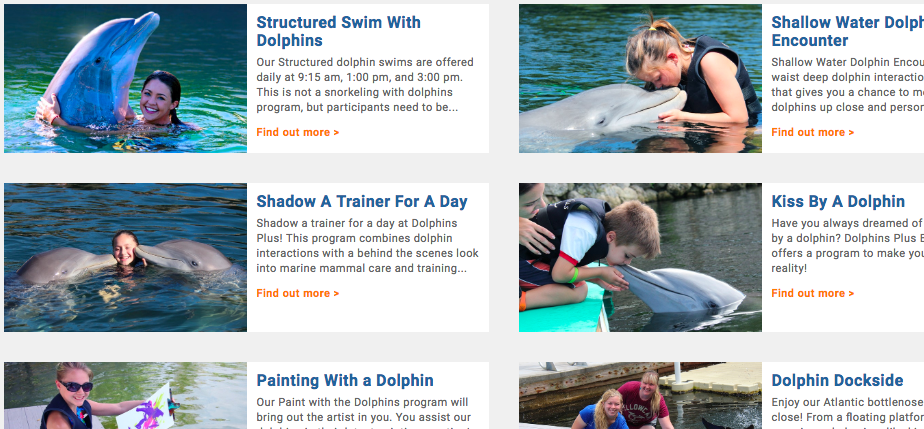 Breeding or the birth of calves: Staff may make it seem that dolphins are bred in captivity to help wild populations. In reality, these dolphins will not be contributing to wild populations as they will never be released. Dolphins are bred in captivity for the sole purpose of having more captive dolphins to profit from. Facilities that promote or celebrate calf births should be treated with caution.
Where did the animals come from?
If a facility buys, trades, or breeds dolphins, they are likely not a sanctuary. Real sanctuaries prefer to have as few animals as possible to ensure the most amount of space, attention and freedom. Businesses want more dolphins so they can sell more interactions. Sanctuaries have release as their top priority, rather than trying to keep as many rescues as they can.
Many captive dolphin facilities also serve as rehabilitation centers. While it is true that some rescued dolphins cannot safely return to the wild, they should not be forced to perform and entertain in order to earn their keep. Sanctuaries would not require participation of rescued dolphins in shows or force human interactions, which can cause stress.
Real Sanctuaries
What to look for
A real dolphin sanctuary is a place where non-releasable dolphins that were exploited by the dolphinarium industry can live out their lives with peace and dignity.
It is place where the dolphins' needs are met with no strings attached.
There are no dolphin shows and no interactions programs.
The dolphins receive food without having to perform any trained behaviors.
No commercial photo ops are offered to visitors.
The dolphins live in a sea pen or a floating sea enclosure away from crowds of people, traffic, and human noise.
Every attempt is made to make the dolphins' lives as natural and independent as possible.
The dolphins receive the food and medical attention that they need.
Whenever possible, live fish are introduced to the sea pen.
Dolphins in a true sanctuary are identified properly as victims, rather than ambassadors.
No visitors are allowed to touch or in any way handle the dolphins.
A true sanctuary makes educational material available to the public about the wrongs of capturing, confining, breeding, and exploiting dolphins in shows and various interaction programs.
A true sanctuary has a fundamental policy of opposing the use of dolphins as tourist attractions that aim to entertain.
A true sanctuary may allow visitors in order to educate them about the reasons why dolphins do not belong in captivity.
A true sanctuary acknowledges that dolphins belong in nature, wild and free.
A true sanctuary is for dolphins that cannot safely be released back into the wild.
A true sanctuary never tells visitors that the dolphins are free to leave whenever they want, as this ignores the fact that non-releasable dolphins depend on their caregivers to survive.
Captive breeding is not allowed in a real sanctuary. There is no reason for a dolphin to be born in captivity.
A real sanctuary does not accept donations from the captivity industry or the tuna industry.
Hopefully, the public will leave the sanctuary with enough knowledge to tell others not to buy a ticket for a dolphin show or captive dolphin swim program.
A true sanctuary will limit visitor access so that the dolphins are allowed to live in peace.
A true sanctuary will have clear rules in place about appropriate behavior for visitors, so that the comfort and safety of the animals remains the highest priority. A true sanctuary recognizes that visitors are guests, but the animals are the residents. They deserve dignity and respect in their home.
Image Credits
Skyphoenix6 [CC BY 4.0 (https://creativecommons.org/licenses/by/4.0)] https://commons.wikimedia.org/wiki/File:DolphinJahsa.jpg
VI Dolphin Voices
Photo: Protected Resouces Division, Southwest Fisheries Science Center, La Jolla, California. swfsc.nmfs.noaa.gov/PRD/ Jessica Redfern (according to photo caption)