04
Jun
In less than three months, the brutal capture and slaughter of dolphins will take place in the infamous cove in Taiji, Japan. Between the months of September and March, approximately 2000 dolphins of various species, including bottlenose dolphins, striped dolphins, Risso's dolphins, Pacific white-sided dolphins, pilot whales, false killer whales and pantropical spotted dolphins will be subject to harassment, injury, capture and slaughter, all in the name of profit, greed and ignorance.
The Taiji dolphin hunters work in tandem with dolphin trainers, choosing which dolphins will be sent to the butcherhouse and which ones will be shipped to marine parks and aquariums worldwide.
We are calling on YOU to help us end the madness – by letting the Japanese government and the World Association of Zoos and Aquariums (WAZA) know that these crimes against nature are unacceptable to the rest of the world. We must speak out against these atrocities loud and proud, while enlightening others who may not be aware of the dolphin killings in Taiji.
We are making a difference as fewer dolphins were killed last year. We will never stop until the slaughter in Taiji comes to a permanent end." ~ Ric O'Barry, Founder/Director of Dolphin Project
How You Can Help
We're calling on individuals, activists and organizations across the world to participate with us on this International Day of Action. Join activists around the world on September 1st and make a difference for dolphins.
Learn more
Want to join us on the front lines in Taiji, Japan as a Dolphin Project Cove Monitor? Our efforts in Japan are strictly legal and non-confrontational. Please note: no children under 18 unless accompanied by an adult.
Learn more
Help keep us on the ground at the cove for six months as we document and disseminate information (including revolutionary Livestreaming) for the world to see and to take action.
Learn more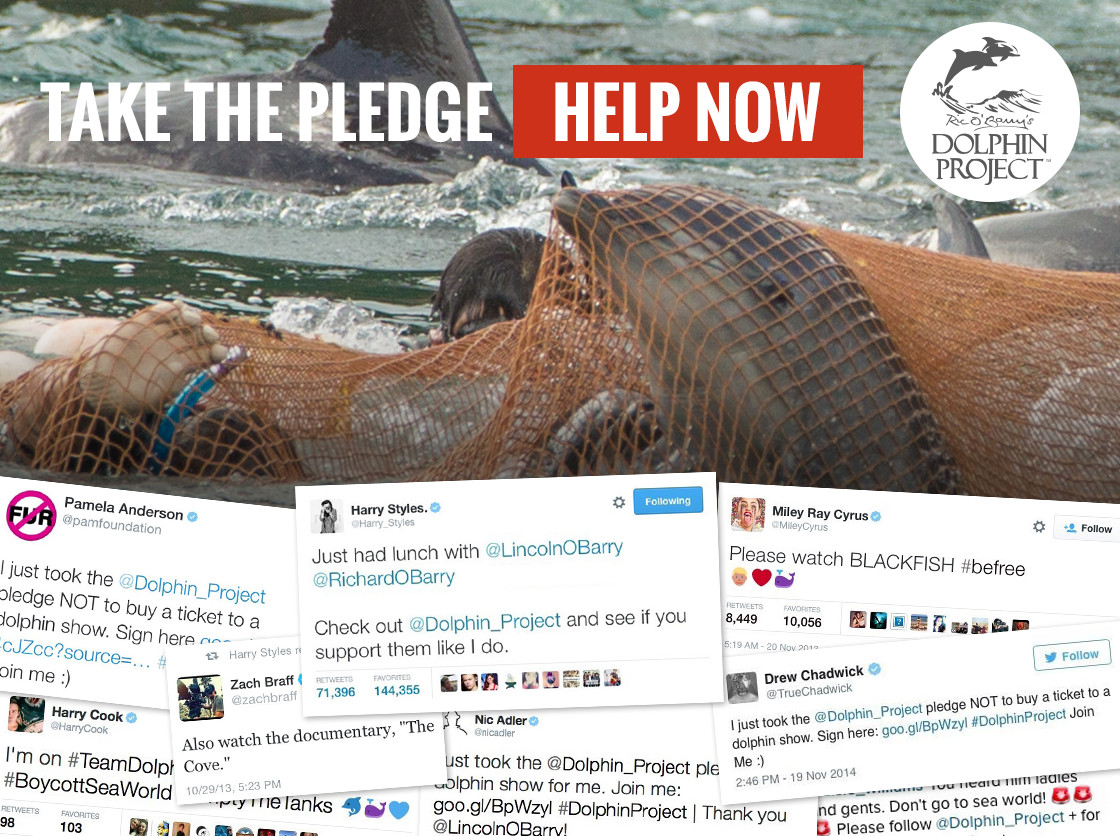 Join us and pledge that you won't buy a ticket to a dolphin show.
Learn more
There are a number of other ways you can take action to help end the Taiji dolphin slaughter.
The Mushroom Company Amsterdam made this animation to support Ric O'Barry and the Dolphin Project to help stop the slaughter of dolphins in the cove.
Ric O'Barry's Dolphin Project is a 501(c)(3) non-profit organization in the USA (Tax ID 47-1665067), and donations are fully tax-deductible.