01
Jan
Taiji, Japan: Everything about captivity is unnatural. From the brutal way dolphins are hunted, driven into the cove and selectively plucked from the rest of their pods for "life" in captivity to being born into an existence of servitude, where chosen behaviors are rewarded with dead fish meals – it's wrong on multiple levels. As Ric O'Barry, Founder/Director of Dolphin Project has said time and time again: "…the dolphin's smile is nature's greatest deception…"
Sure, it's thrilling to see these majestic, aquatic mammals close-up. But at what cost? And, the dolphins themselves are no more "real" than Mickey Mouse is an actual mouse. They are cartoon characters, living exhibits forced to perform tricks to survive.
Nothing about their captivity is educational. On one hand, you're told that dolphins will swim 50-100 miles a day in the open ocean, foraging for food. But what you see is a sentient being swimming in endless circles, or floating (logging) on the surface of the water, with absolutely nothing to do but wait until their next performance. So when someone you know visits a dolphin show, be sure to educate them on how captivity kills.
Captivity kills their spirit, taking away their freedom to make choices. They become completely reliant on their captors, and are stripped of the ability to use their natural, and highly-evolved skills. They are put into tanks with dolphins of different species, and from different pods. They are routinely medicated to prevent an array of known diseases, many of which are stress-induced. They have no privacy and no "time out" zones. They are ill-equipped to care for their young. In other words, they suffer – greatly – all so paying patrons can get their money's worth in "entertainment."
Last month, while volunteering in Taiji as a Dolphin Project Cove Monitor, I visited the Taiji Whale Museum to check on the captive dolphins there. I try to offer them comfort and attention, as it breaks my heart to see the dolphins in such disturbing conditions. The tanks are in deplorable shape, and many of the mammals have open wounds, which have been previously documented by other Cove Monitors. My heart sank even further when I realized one of the mammals was missing: a dolphin named "Mole."
Three years ago, this pantropical spotted dolphin earned his nickname, as he had a pronounced pink spot at the end of his rostrum. I would sit with him and the other captives for the longest time, sometimes singing quietly to them while putting my hand on the wall of their enclosure. He, more than the rest, would hover near me when I did. At other times, I would observe him thrashing and slapping his tail. Yet when I would start singing, he would immediately calm down.
Each time I came to Taiji, I would check on him, dreading both finding him still captive and finding him gone. The latter had finally happened. Mole would no longer be crammed into a filthy tank, no longer fed dead fish stuffed with drugs, and no longer be held against his will.
I'm certain when I return to Taiji, another dolphin will have taken Mole's place. Every dolphin in captivity across the globe, wild-caught or captive bred is "Mole." No matter how sophisticated the dolphinarium, living beings still populate these tanks.
And it isn't alright. After millions of years of living on this planet, dolphins deserve our respect, and their freedom. It's time to put a permanent end to the dolphin show.
HOW YOU CAN HELP
TAKE THE PLEDGE TO NOT BUY A TICKET TO A DOLPHIN SHOW!
It's fast, it's simple and it's effective. Take the Pledge now and share with your friends!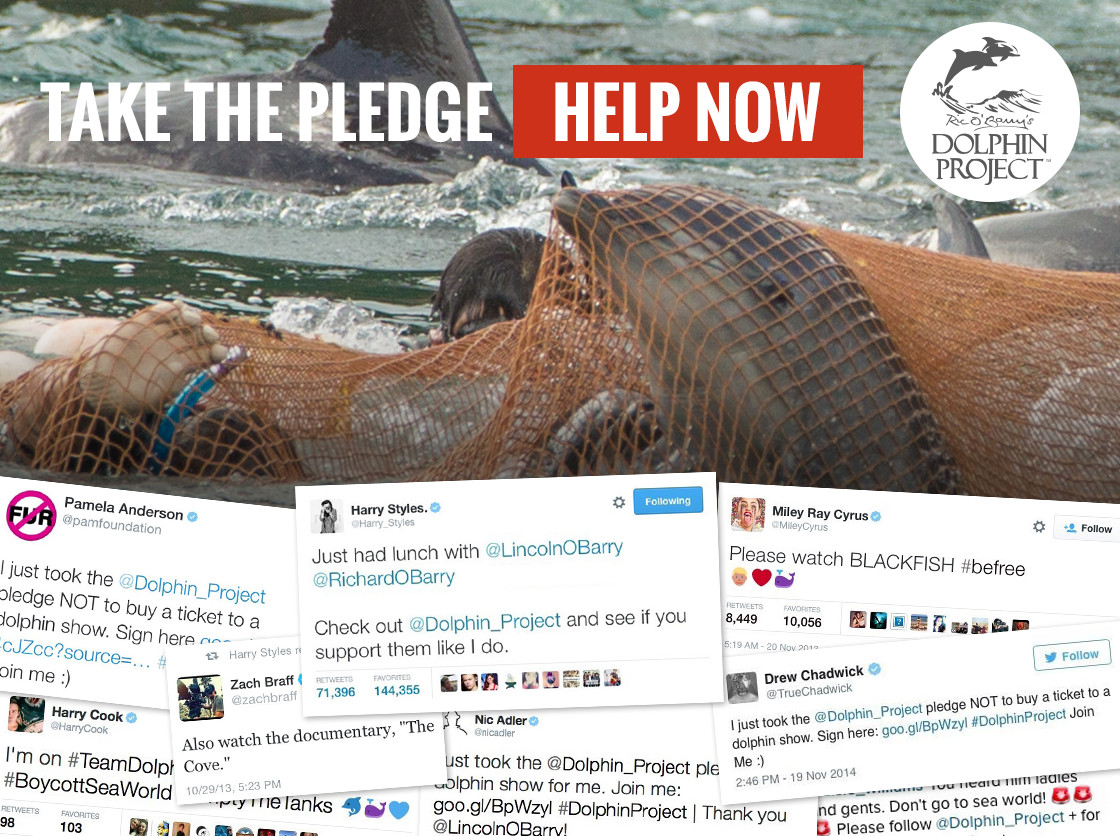 Click here for other ways to TAKE ACTION.
Featured image: Dolphin Project Cove Monitor Vicki Kiely checking on the captive dolphins at the Taiji Whale Museum, Taiji, Japan