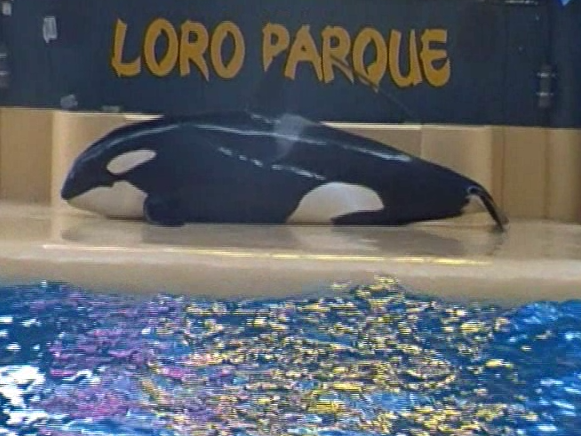 26
May
A recent video from the anonymous "Morgan Monitors" at Loro Parque in Tenerife, Spain, shows Morgan fully out of the water, and on the concrete slide-out. Morgan Monitors reports that after the final show of the day had ended, Morgan suddenly slid onto the slide-out, remaining there for a witnessed 10 minutes – and maybe longer.
"This is one of many examples of what is wrong with captivity. One would never see this bizarre behavior in nature"
"The decision to deny Morgan a chance to returned to the sea was a political decision. The decision makers can not provide any imperial scientific data to substantiate their claim that Morgan is not a candidate for release.
One can only guess as to how Morgan became the private property of SeaWorld. Morgan is now listed on SeaWorld´s website as one of SeaWorld´s assets. An asset worth millions of dollars. A pretty sweet gift to a corporation that has a very high mortality rate and a long standing record of abusing orcas and other marine mammals.
And let´s just say that Morgan cannot be reunited with her family: Does that mean she has to spend the rest of her life in a concrete tank at an amusement park in Tenerife? Of course not. If SeaWorld had a heart, they would transfer her to a sea sanctuary. They have the money to create such a place. The owe it to Morgan and the other orcas whose lives they have ruined." says Richard O'Barry star of the Academy Award winning documentary The Cove and founder of Dolphin Project.
While we cannot explain the reason for her behavior, the juxtaposition of a previously-wild orca against the stark backdrop of the park's performance area is unsettling, to say the least.
Some people took selfies with Morgan in the background. Sadly, Morgan was still out of the water by the time the videographers had to leave.
Dolphin Project urges the public to "Take the Pledge NOT to Buy A Ticket to a Dolphin Show"