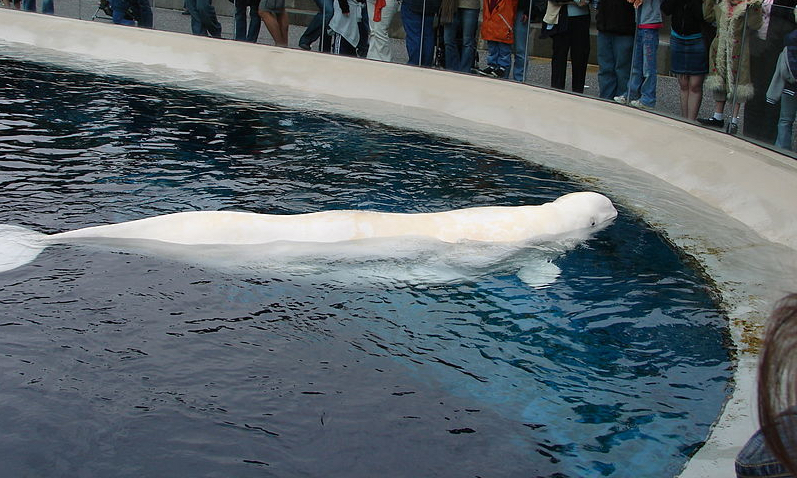 26
Nov
Aurora, the last beluga whale remaining at the Vancouver Aquarium in British Columbia, Canada has died. The 30 year-old wild-caught whale had been sick for the past two weeks with symptoms including loss of appetite, abdominal pain and lethargy. This was a double loss for the aquarium. Her calf, Qila, the first beluga whale conceived and born into captivity at a Canadian marine park, died on November 16 at 21 years of age after suffering from a similar set of symptoms.
The aquarium, which opened in June, 1956, is one of two marine mammal facilities in Canada. The other is Marineland, which on November 25 was charged with five counts of animal cruelty. The Vancouver Aquarium has also had its share of controversy, dating back to the mid-1960's.
…there is no denying the Vancouver Aquarium has had a checkered history of marine mammal care, most notably in 1964, when it became the first facility in the world to host a captive orca. Moby Doll, a male killer whale found near Saturna Island, was originally fated to be killed by an Aquarium sculptor to serve as an exhibit, but after being harpooned, the still-conscious animal was instead towed back to Vancouver harbour and put on display in a dry dock. After three months, the injured whale — who had initially refused to eat — died of exhaustion from trying to stay afloat in the low-salinity harbour water." ~ Source: The National Post, July 18, 2014
In February, 2015, Nanuq, a beluga owned by the aquarium died while on a long-term breeding loan to SeaWorld Orlando. As reported by The Globe and Mail, in one study, semen was collected from Nanuq 42 times and subsequently used for 10 insemination attempts with seven females, who were administered hormones to stimulate ovulation. This resulted in two pregnancies, one of which was twin calves.
Simply put, there is no captive environment large enough, enriching enough or diverse enough to compare to the native habitat of dolphins and other whales." ~ Ric O'Barry, Founder/Director of Dolphin Project
While the aquarium phased out its captive orcas in 2001, there are still over 50,000 animals housed at the facility.* With the deaths of Aurora and Qila, Dolphin Project is calling on the Vancouver Aquarium to put an end to the captive display of all their marine mammals.
*Source: Vancouver Aquarium website
Featured image: Wikimedia Commons, creative license 3.0, Antony Stanley
TAKE THE PLEDGE TO NOT BUY A TICKET TO A DOLPHIN SHOW
It's fast, it's simple and it's effective. Take the Pledge now and share with your friends!