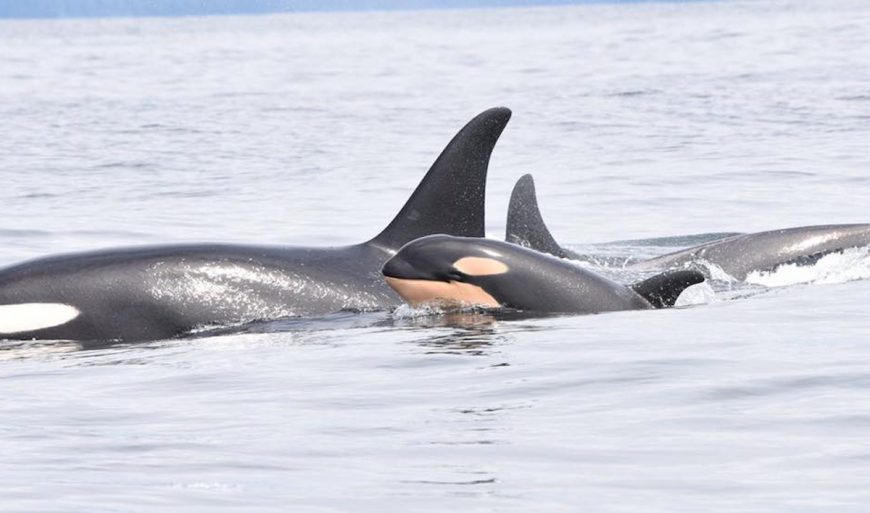 10
Jul
Updated 8/7/19: Dolphin Project can confirm three Southern Resident orcas have died: J17, K25 and L84, bringing the population down to only 73 mammals.
Updated: 7/17/19: As of today, there have been no sightings of J17 and K25, two Southern Resident orcas. We will update as we receive more information.
––––––––––––––––––––––––––––––––––––––––––––––
Just in time for World Orca Day, an annual event which takes place on July 14 celebrating "all things orca" we've got an update on the endangered Southern Resident orcas.
Southern Resident orcas spotted after 59-day absence
On July 5, after a two-month absence, several of the endangered Southern Resident orcas returned to the Salish Sea, a network of waterways spanning from southern British Columbia in Canada to northern Washington state in the United States.
Scientists with Fisheries and Oceans Canada (DFO) spotted members from all three pods – J, K and L – swimming off the coast of Vancouver Island in British Columbia. Researchers have also seen the pods swimming off San Juan Island in Washington state, in the Haro Straight. Only 76 wild orcas remain. (An orca from the L pod, Lolita, was captured in 1970 and remains incarcerated at the Miami Seaquarium). Normally the orcas are seen in these waters in June but were absent during the entire month, likely indicative of their increasingly burdensome search for Chinook salmon. (More on this issue below).
Baby born to J pod! 
It's a girl! A new calf born to J31 in late May was just seen swimming alongside its mother off of San Juan Island. The calf, designated J56, was born to a 24-year-old female who aside from an unsuccessful birth in January 2016, has had no other known pregnancies in the past decade.
According to Orca Network, in the past 21 years, only 41 orcas of the Southern Resident community have been born and survived. Yet, in this same time span, 73 orcas have gone missing or died. This illustrates just how fragile their population is.
Access to Chinook salmon critical to orcas' survival
Removing the four dams on the lower Snake River is the quickest way to provide more Chinook salmon into the Southern Resident orcas' habitat. During the spring and summer months, the mammals rely mainly on salmon near the Fraser River, but with fish populations in decline, along with other serious environmental threats, the Salish Sea is becoming less hospitable to the dolphins.
Watch the video below to learn why the four lower Snake River dams must be breached:
Legal challenges against the Trans Mountain pipeline
Multiple legal challenges have been filed against the expansion of the Trans Mountain pipeline. Ecojustice, a Canadian environmental law charity, along with several British Columbia First Nations including the Tsleil-Waututh Nation, Squamish Nation, Ts'elxweyeqw tribes, Shxw'owhamel Nation, Coldwater Indian Band and Stk'emlupsemc te Secwepemc Nation have all cited "…multiple significant legal deficiencies" with the Canadian federal cabinet's approval of the project. (See sources below).
The Trans Mountain pipeline carries crude and refined oil from the province of Alberta to the coast of British Columbia. Its expansion, which was just approved last month, will triple the capacity of the existing pipeline. Tanker traffic increase, amongst other factors have the potential to cause significant damage to the Southern Resident orca population.
How to help the Southern Resident orcas
Education equals empowerment! Learn about the issues affecting the Southern Resident orcas by following Dolphin Project on our social media as well as clicking on the links below. Together we can act as a voice for those whose voices cannot be heard. Each action taken, no matter how great or small, can help protect these mammals for future generations.
Related:
10 Ways to Help Protect the Oceans
Orcas Starving, Breach the Dams!
Sources used in this blog:
Center for Whale Research
Orca Network
Orca Behavior Institute
Dam Sense
The Globe and Mail
CBC News
Global News (First Nations launch legal challenge of Trans Mountain pipeline)
Global News (Ecojustice lawsuit against Trans Mountain pipeline)
Featured image: J31 swimming with calf (J56) off Vancouver Island, credit: Fisheries and Oceans Canada (DFO)