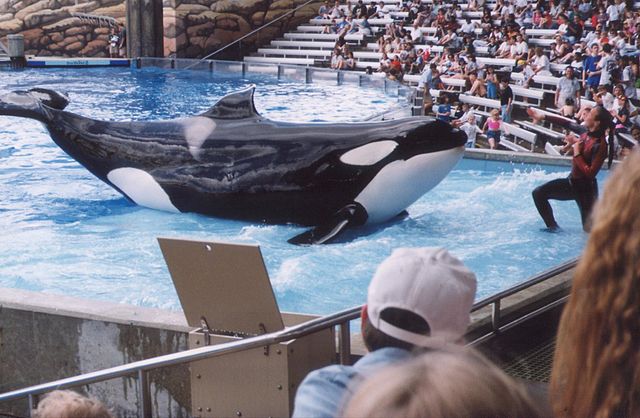 06
Mar
Part four in a series revisiting human deaths caused by SeaWorld orcas and the OSHA-SeaWorld case. See part one, part two and part three.
Daniel Dukes was a troubled individual with a history of petty thefts, marijuana use, and questionable decisions but as a human being, no death is meaningless. Unwittingly, Dukes will forever be remembered as Tilikum's second victim and SeaWorld's first major incident.
According to the Orange County Sheriff's Office (OCSO) report, OCSO received a 911 call from SeaWorld at 7:25 a.m., almost simultaneously with Dukes' body being spotted. This response time should be noted, it's an important factor in the timeline of events following Dawn Brancheau's death over a decade later.
OCSO immediately dispatched Detective Calhoun who arrived at SeaWorld eight minutes later:
At 9:21 a.m. Det. Richard Carson spoke with Chuck Tompkins, the then vice president of animal training at SeaWorld Orlando:
It was an incident that may have been relegated to a flash snippet of news but for the deaths that followed his. According to OSHA, Dukes' death never warranted an incident report by SeaWorld. His history combined with the fact that he was in the park illegally was answer enough for many people, SeaWorld included.
After the incident and in response to a lawsuit filed by Dukes' parents against SeaWorld, Vic Abbey, SeaWorld's executive vice president and general manager told the 'New York Times', "Mr. Dukes had been trespassing," and labeled the suit "as crazy as they come."" Furthermore, Abbey added, "Not only was that incredibly bad judgment to try to take a dip with a killer whale but, remember, this water is 50 degrees, ice-cold water."
By October, the lawsuit had been withdrawn. The 'Orlando Sentinel' wrote:
Why the family dropped the suit is a mystery, but there are two strong possibilities: SeaWorld may have reached a settlement with the family, or the Dukes may have simply decided to stop pursuing the issue.
Abbey denied there was any settlement in the case.
The investigation into Dukes' death was much shorter than the court case. It closed on July 26, less than three weeks after he was killed. His history unfolding in the media, the 'Orlando Sentinel' described Dukes as a "marijuana-smoking drifter from South Carolina with a string of petty arrests."
Written testimonies to OCSO provided by SeaWorld staff who had observed Dukes in the marine park on July 5th alluded to his "attire and lack of personal hygiene." Visitors said Dukes was "mumbling to himself … looked dirty and had a foul odor about him," and an aquatic life supporter named Rafferty said he spotted Dukes twice. On the second occasion around 10:00 a.m., Rafferty wrote in his testimony, he observed Dukes "wandering around the front gate plaza glaring suspiciously at young girls."
Of his dozen or so arrests, one was tied to violence and involved Dukes hitting a man, but the majority were for marijuana possession, petty theft, and trespassing. Just a few days before his death, he had served three days in jail for stealing a 'Three Musketeers' bar. Dukes, however, had no history of sexual deviancy and his autopsy reported zero evidence of drugs in his system at the time of his death.
Tilikum's second victim was far from a hardened criminal. He did break the law but stories from those who interacted with him suggested he also displayed a gentler side. One former neighbor described Dukes' love of nature, and a priest of the Hare Krishna temple where Dukes once resided, said the young man helped to feed the homeless and enjoyed feeding wild birds.
Dukes may have had issues with setting boundaries. He just didn't quite seem to fit within society's box and its idea of acceptable behavior.
Evidence of this occurred in March 1996. Obsessed with the game, 'Ultima', Dukes decided to break into the house of the game's creator, Richard Garriott. A startled Garriott fired off a warning shot at his uninvited guest. Rather than scaring Dukes, the trespasser simply ignored it and "walked up to Garriott's bedroom, stripped and got into bed. That's where police found him when they responded to Garriott's 911 call," writes Brian Crecente of Kotaku.com.
Garriott himself tweeted about the incident in 2015:
March 22 1996. Daniel Dukes breaks into my home… Giving me a great story I have told ever since. Start like this: pic.twitter.com/nPSNOtZ8S3

— Richard Garriott (@RichardGarriott) December 18, 2015
Dukes seemingly portrayed a strange lack of instinctual self-preservation for his wellbeing. Having escaped with his life in the first instance, he would pay for it with the second. He was afforded little understanding or sympathy by many. In one online post — which I'm choosing not to name, an author wrote:
"This loser gets drunk, he breaks into Sea World at night, jumps into the whale tank, and drowns trying to kiss a killer whale."
No part of this statement is supported by the investigation or the Medical Examiner's report, but it serves to shows the mentality surrounding Dukes' death.
Further on in the post, the author posts an e-mail he received from a woman named Susan, who claims she went to high school with "Danny." She writes that while she agrees Dukes' actions were "genuinely stupid," she wanted to let people know, "at one time in his life Danny was a clean-cut, happy-go-lucky kid who had a great sense of humor and was a good student and friend." Susan concluded:
When you call him a "loser" it compelled me to write to you to let you know that at one time in his life he was a contributing member of society – I haven't put all the puzzle pieces together yet, but I am sure something horrible must have happened to him in life to make him take such a sad path.
We might never know what that path entailed for Dukes, but one thing was clear. Twice now, people had entered the pool with Tilikum and in both cases had died.
Next time: Another SeaWorld whale kills a trainer.
Featured Image: Dawn Brancheau and Katina. By Mariomassone – Own work, CC BY-SA 3.0, https://commons.wikimedia.org/w/index.php?curid=30868819