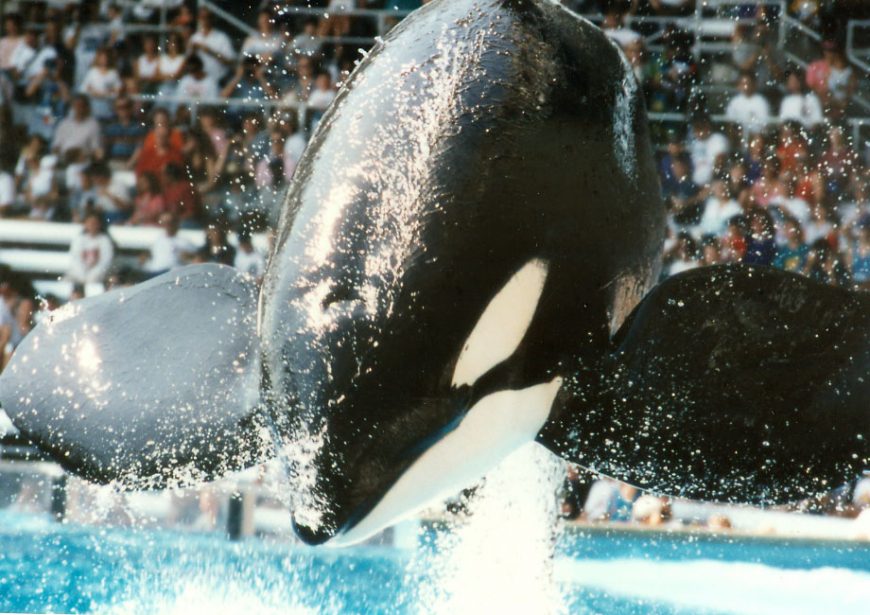 14
Mar
On March 08, SeaWorld announced that their prime bull orca Tilikum, the star of the documentary 'Blackfish', was very ill with a bacterial lung infection and might die. Six days later, we still await news of how he is faring.
Tilikum's history was covered well in the documentary. We know he was captured at the estimated age of two years old. We also know from an Icelandic progress report to the International Whaling Commission (IWC), that his captors wrestled him out of the ocean close to Djúpivogur off the east coast of Iceland on November 9th, 1983. The exact coordinates and his length (4.2 meters) can be viewed at Ceta-base.org.
Prior to being sent to North America, Tilikum was held at Hafnarfjördur Aquarium for almost a year before his transfer to Sealand of the Pacific in late 1984. Little is known about his time in Iceland, but Ceta-Base.org has managed to unearth some news reports which allow us to track him further.
It was 1975 when the call for wild whales appeared in the Icelandic newspaper 'Dagblaðið' on Oct. 17. Loosely translated (all translations are loose), it reads:
Live Killer Whale Wanted paid a very high price for living whales. Information Björgvin Gudmundsson, Stykkishólmi.
It would be several years after this date that Tilikum was captured. On November 15, 1983, this photograph of Tili was published in the 'Morgunblaðið' newspaper. The accompanying headline announces, "First Whale Arrives."
On Nov. 14, less than one week after Tilikum's capture, two other whales — a male and a female, were also snared. Samoa, the female and Nandu, the male, were taken South West of Papey at 64° 26'N, 14° 20'W. At the time of their capture, Samoa measured 4m long and Nandu was 3.5m long.
Two weeks later, a report about the holding of three whales appeared — again, in the 'Morgunblaðið':
Three killer whales have now come in larger whale pool (aquarium, where they wait for his new home in aquariums' abroad. According to Jón Gunnarsson, head of the aquarium, these are pretty expensive and well organized. The smallest animal is 3.5 meters long and the largest 4.20 and eat them all well and era spbk. It is the ship Gudrun HF, which have been fishing and killer whales were veiðzt out of Berufirth, si the first two weeks, while the other two for about a week. Killer whales Annexes of priority for public display until they leave the country later in the winter, but not yet finalized the sale of them.
Although only one whale is pictured and it doesn't specify which whale it is, clearly from the measurements, the whales mentioned are Samoa, Nandu and Tilikum.
Initially, according to another 'Morgunblaðið' report, Nandu and Samoa were destined for Italy. This appeared in the issue dated Jan. 18, 1984:
NOW stands for the two of killer whales aquarium will be sold to Italy. It is not yet fully concluded the agreements, the price of the two animals go outside later in the winter. Then the third killer whales remain in the pool of the museum and is uncertain about his destination. The following image shows two of killer whales accept a little bit and they seem fairly held.
Tilikum had still not been purchased at this point, but after the Italian deal fell through, he ended up being the first of the three whales to leave. From Iceland, he was sent to Canada's Sealand of the Pacific on Nov. 11, 1984. Just 12 days later — Nov. 23,  Nandu and Samoa were put onto a plane and sent to Brazil:
Two killer whales began yesterday with 737-jet Arnarflugs peace Keflavik to Frankfurt, from where they have Lufthansavél to Sao Paulo in Brazil, where they Vero first whales on display at the zoo in South America. Killer whales makers are male and female, approximately Three to four ira and each over tonnes. They were hunted down iri and have been since Aquarium in Hafnarfjordur. Here is being transferred killer whales on board, the aircraft has been specifically rented for the transport of these.
Six years after Tilikum's arrival at Sealand of the Pacific and his involvement with the killing of trainer Keltie Byrne, he was sold and transported to SeaWorld Orlando on January 9, 1992. He has remained there ever since.
Tili has become a global phenomenon and there is massive interest in his health and welfare. We urge SeaWorld to offer another update on his condition — it's incredibly cruel not to keep a concerned public informed on how he's doing. Withholding information has led to chronic speculation that cannot possibly prove positive for the marine park's already tarnished, image.
We care too, SeaWorld.
Sincere thanks to Ceta-Base for locating/sharing these sources and for the featured image.
Click here to take action