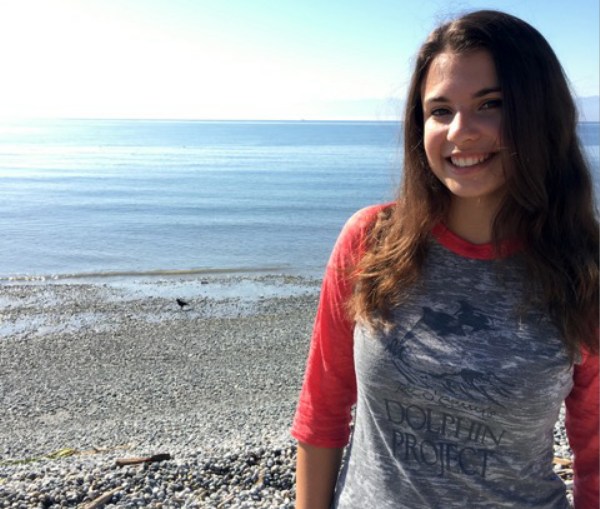 23
Aug
Ella Van Cleave writes about her new documentary film project. She is a Youth Ambassador with Ric O'Barry's Dolphin Project.
It all started because I wanted to save the dolphins.
I've been known as 'Dolphin Girl' among friends, family, and acquaintances alike since I was twelve years old after I was horrified by the content of The Cove, locked myself in my bedroom for a weekend, and emerged having created a website detailing all the horrific aspects of the Taiji dolphin slaughter that my pre-teen self could possibly research. But that was just the beginning of what would turn out to be a lifetime's worth of work battling the threats to both wild dolphin populations and the ones that still remain in captivity, something that Ric O'Barry knows very well.
I've always thought the term 'Dolphin Girl' to be endearing, but as time has gone on, and I've broadened my own horizon of conservation efforts, I've begun to see it as a way that others less familiar with the world of conservation are able to label me in accordance to my 'hobbies' or 'interests.' My love for the ocean and its creatures isn't the status quo, it's something worthy of a title that distinguishes me from the crowd. Maybe, that was the problem. Conservation is seen as a hobby, not a necessity.
It's no surprise that I reacted to The Cove the way that I did. The film was incredibly powerful, capable of moving those in even the most landlocked of places who have never so much as seen an ocean, but there's no denying I was certainly at a predisposition to connect with its content. I was no foreigner to the ocean, having spent much of my childhood romping along the white sandy beaches surrounding the Gulf of Mexico before making the move to Vancouver Island where I have lived just a brief walk away from the shoreline for almost ten years now.
I earned my scuba diving certification just about as early as they would let me and have been fortunate enough to dive in locations around the world. Of course, I was going to resonate strongly with a film that has strong marine conservation themes when I myself had seen the ocean's beauty first hand. If conservation wasn't mainstream, having the experiences with the ocean that I had in my young life certainly wasn't mainstream. The cogs started turning once again, and I thought to myself, 'No, this is the problem.' How can you expect the general public to care about marine conservation when they have no emotional connection with the ocean? Better yet, how can you expect them to care about something when they have no conception of how its health is inherently tethered to theirs?
The plight of the dolphins and all cetaceans is incredibly important, and deserves immense amounts of ongoing attention and support, but it's not the only thing we have to worry about. A warming climate, chemical pollution, and the exploitation of resources vaguely cover just a few of the topics that threaten dolphin populations and beyond in our world today, which isn't exactly revolutionary information. It is, however, information that is tricky to digest for the average citizen that has no particular training or interest in scientific information.
Hearing about the adverse effects of rising carbon dioxide levels in the oceans via scientific paper is likely to peak the interest of a very small percentage of the population. However, If you can show them what those adverse effects look like in application, and explain just how we got ourselves to this point in human existence in the form of a story, then maybe, just maybe, we can make conservation more mainstream.
It's this kind of thinking that lead me to the development of my latest and most exciting project, a documentary film endeavor titled To The Sea that seeks to rekindle the flame between humanity and the natural world by way of the sea. The ocean is at the heart of life on earth, but it is also known for being mysterious and incredibly complicated. I want to do what I can to change that, by making ocean exploration both exciting and personal.
This initiative is about bringing the beauty of the ocean into the homes and classrooms of the general public, and sparking an emotional connection with the sea that far too few people ever have the chance to experience otherwise. It is about taking one of the most inaccessible environments on this planet, and making it accessible, both educationally and experientially.
More than anything, To The Sea is about telling a story, one that highlights how humanity's relationship with the ocean has changed, and what measures are necessary to remedy the damage we have caused. It is a story filled with both despair and hope, and the best part? We get to choose the ending.
To The Sea is an entirely student-run project that hopes to bring a fresh perspective to marine conservation topics. We have a passionate and versatile team, and it is our mission to do this valuable information justice and make it accessible for free. Right now, we are calling on conservationists of all types for your support so that we can make this film as beautiful as possible. With our first filming location set for the beautiful Phoenix Islands Protected Area, it's crucial that we have the right gear to capture the essence of one of the world's last remaining pristine ocean ecosystems.
We have launched a Kickstarter campaign and it has only 30 days remaining. We would love your support! This project is for you, the public, to empower a group of untapped conservationists and change the way we interact with the natural world. Not all scientists need to wear lab coats, and we hope to do our part in creating a better world where conservation is mainstream.
Truly, every little bit helps. Please visit us at one of the links below:
To the Sea: Donate to the Kickstarter Campaign.
Learn more about us and our campaign at the To the Sea website or visit one of our other social media sites:
Instagram: @totheseafilm
Facebook: @totheseafilm
Thank you.