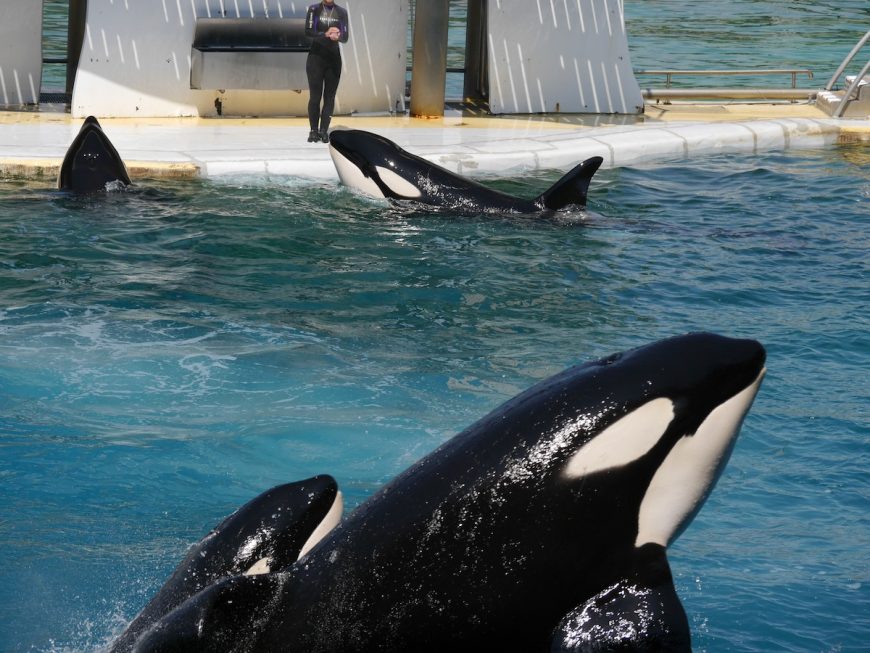 30
Jun
Europe has two captive dolphin facilities with orcas on display. One of them is Loro Parque in Tenerife, Spain, where currently one female and three male orcas perform in daily shows. The other is Marineland d'Antibes in France that also uses one female orca and three males in shows.
From 1970 to 1990, Marineland d'Antibes purchased eight wild-caught orcas: one from Canada, one from the United States, and six from Iceland. And over the years, Marineland's breeding program produced six offspring.
The following timeline gives an overview of Marineland's troubling history with orcas:
June 1970: Calypso was the first orca to arrive at Marineland d'Antibes. She belonged to the Northern resident community of orcas and was captured in December 1969 in Pender Harbour, British Columbia, Canada. The show stadium at Marineland had not been built yet, and Calypso was warehoused for several months at Cleethorpes Marineland and Zoo in England before she was shipped to the French Riviera, where Marineland is located.
October 1970: A male named Clovis became the second orca to arrive at Marineland. Belonging to the Southern resident community of orcas, he was captured in August 1970 during the infamous roundup in Penn Cove, Washington, United States, where seven calves were taken from their mothers and sold to aquariums.
December 1970: Calypso died.
February 1973: After living alone for 22 months, Clovis also died, and the orca stadium was empty for more than three years.
November 1976: Kim arrived at the aquarium. He had been captured off the coast of Iceland in October 1976. I believe he was the first Icelandic orca who survived capture and was sold to an aquarium abroad. Kim lived in isolation for the next two years.
November 1978: Betty, who was captured in Iceland in October 1978, arrived at Marineland, and was trained to perform alongside Kim.
July 1982: Kim died, and Betty became the sole orca at the facility.
March 1983: Two calves, Freya (a female) and Kim 2 (a male), arrived at Marineland. They were captured in Iceland in October 1982 along with three other orcas. (The three others were sold to Sealand of the Pacific in British Columbia, Canada.)
September 1987: Betty died.
January 1990: Female orca Sharkan and male orca Tanouk arrived. Both were captured in Iceland in October 1989, along with two others who were sold to an aquarium in Japan.
February 1993: Shouka was born. (Her mother is Sharkan, and her father is Kim 2.)
November 1995: Marineland sent Tanouk to Izu-Mito Sea Paradise in Japan, as he and Kim 2 did not get along.
February 1996: Valentin was born. (His mother is Freya, and his father is Kim 2.)
February 1999: Inouk was born. (His mother is Sharkan, and his father is Kim 2.)
November 2000: Tanouk died at Izu-Mito Sea Paradise.
June 2001: Wikie was born. (Her mother is Sharkan, and her father is Kim 2.)
May 2002: Marineland sent Sharkan's daughter Shouka to Six Flags in Ohio, United States. In 2004, Six Flags moved Shouka to its facility at Six Flags Discovery Kingdom in California, and in 2012, she ended up at SeaWorld in San Diego, California, where she continues to perform today.
November 2005: Kim 2 died.
March 2009: Sharkan died.
March 2011: Moana was born. He was conceived through artificial insemination. (Moana's mother is Wikie. His father is Ulises, who was captured in Iceland in November 1980 and has lived at SeaWorld San Diego since 1994.)
November 2013: Keijo was born. (His mother is Wikie, and his father is allegedly Valentin. If Valentin is indeed the father, then Keijo is inbred, as Kim 2 was the father of both Valentin and Wikie.)
June 2015: Freya died, and all Marineland's wild-caught orcas were now gone.
October 2015: Valentin died.
The four surviving orcas at Marineland are: Inouk, Wikie, Moana, and Keijo. They are all 100 percent Icelandic. Inouk and Wikie are brother and sister. (Their mother is Sharkan, and their father is Kim 2.) Moana and Keijo are half-brothers. (Their mother is Wikie.)
The current situation for captive orcas in France:
In 2017, there was much talk about new legislation in France that would ban the breeding of orcas and bottlenose dolphins. (These are two dolphin species held in captivity in France.) But the ban is still not in effect six years later. Our friends and colleagues at the French organization C'est Assez have worked tirelessly to abolish captive breeding of dolphins in France. I asked Julie Labille, who oversees communications and outreach at C'est Assez, what the situation looks like today. She explains:
"In France, the Parliament is composed of two chambers: the National Assembly (with elected MPs) and the Senate. In September 2020, the former Minister of Environment, Barbara Pompili, announced a breeding ban for orcas and bottlenose dolphins in France, and a bill was proposed to the National Assembly, on which we worked to ensure a breeding ban. The bill was adopted by the National Assembly in January 2021. It included a breeding ban on dolphins and whales in 2026. The bill was then sent to the Senate. Unfortunately, the Senate introduced a scientific exception to the breeding ban: Dolphins and whales will not be bred unless it's for scientific research. The law was voted on by both chambers in November 2021. Thus, for now, dolphins and orcas can still be bred in France."
C'est Assez recently received news that Marineland d'Antibes is planning to send Inouk, Wikie, Moana, and Keijo to an aquarium in Japan. This is devastating news, as their living conditions in Japan would be even worse than they are in France.
TAKE ACTION ➡️ Please sign this petition against sending the orcas to Japan
Featured image: Since 1970, seven wild-caught orcas, including a female captured in Canada and a male captured in the United States, have perished at Marineland's orca stadium. (They are: Calypso from Canada, Clovis from the United States, and Kim, Betty, Kim 2, Sharkane and Freya from Iceland.) Today, four captive-born orcas remain at the stadium, and rumors have surfaced that Marineland wants to get rid of them and is contemplating sending them to an aquarium in Japan. Credit: Cést Assez, France.