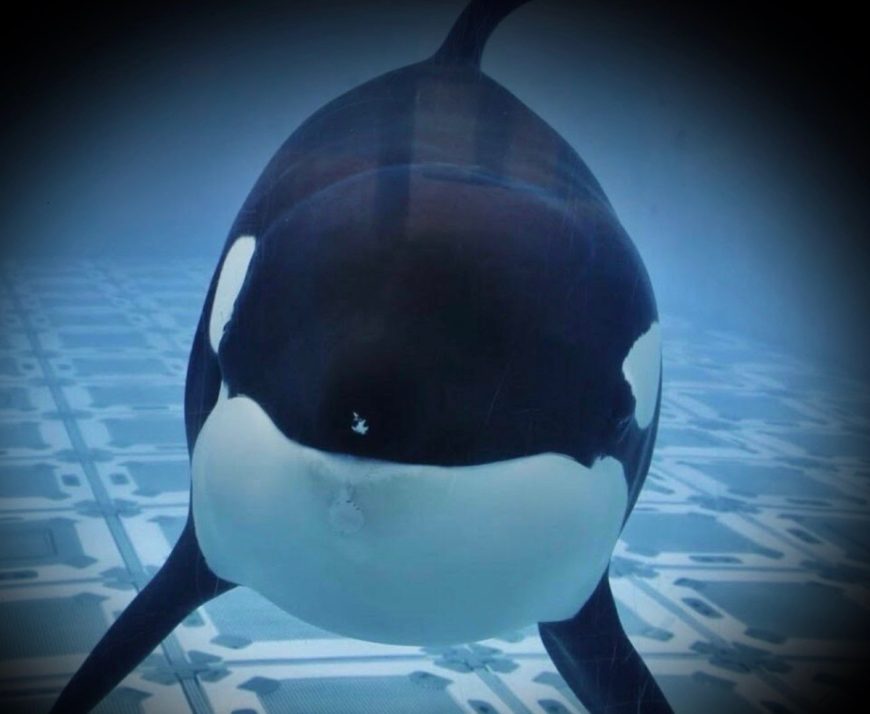 01
May
Kiska recently died at Marineland in Canada. She was one of more than 50 orcas captured off the coast of Iceland for the aquarium industry from the mid-'70s until the end of the '80s. The era of orca captures in the North Atlantic lasted more than 13 years and was driven by the dolphinarium industry's demand for young orcas that could be trained to attract large paying audiences. By the mid-'70s, the captures had become so controversial in Canada and the United States, members of the aquarium industry were seeking an alternate source of orcas. Icelandic authorities were quick to take advantage of an opportunity to commercially exploit pods of orcas that frequented its waters. Among the water-themed amusement parks that have used wild-caught Icelandic orcas to attract ticket buyers are Marineland in Canada, Marineland d'Antibes in France, and SeaWorld of the United States.
Perhaps the most plausible source of information about the captures is a 10-page article entitled "The Icelandic Live-Capture Fishery for Killer Whales, 1976-1988." Published in 1988, the paper is authored by Icelandic writer Jóhann Sigurjónsson and American marine biologist Stephen Leatherwood. As one reads the paper, it becomes evident that they don't see a problem with the captures; in fact, they seem to think the trade in orcas is a brilliant idea. They refer to the captures as "fishery" and write things like, "All phases of the operation are inspected by a government employed veterinarian," and "every effort is made to ensure the safety of the animals." If one can overlook these archetypal rationalizations to the cruelty, their paper provides valuable insight into the logistics of the capture process and a glimpse into the terrible ordeal that Kiska and other orcas fell victim to.
According to Jóhann Sigurjónsson and Leatherwood, all permit holders were Icelandic nationals, except for a Frenchman named Roger de la Grandière. (Grandière had travelled to Iceland to capture orcas for Marineland d'Antibes.) The hunters would take advantage of the orcas' lack of fear around humans, and most captures were carried out from an Icelandic herring purse seiner equipped with a modified cod seine net that measured about 1400 feet in length and was 300 feet deep. Sigurjónsson and Leatherwood describe how the unsuspecting orcas were lured to the boat: "Catches have usually been made in close conjunction with herring fishing operations, where killer whales are frequently found eating fish released when the remains are pumped out of the purse-seine. At such times, the animals do not respond when the purse-seine is released, and the large ring of net is closed around them. Often, the release of the leftovers is timed to help to capture the animals; on some occasions, a load of several hundred kilograms of herring has been dumped in front of a group of whales to make them easier to catch." They continue: "After netting, the desired animals are selected, and the rest of the group released. The animals are hauled on deck in a specially designed steel frame lifting device and placed in foam-lined boxes containing sea water to prevent injuries and overheating."
The orcas that were hauled onto the deck were typically young calves. Sigurjónsson and Leatherwood clarify that most aquarium owners wanted orcas in the lower size range. "Generally, the animals were two years old or less," they write.
During the early years, the calves were transported to a floating sea pen in Grindavík harbor on the Southern Peninsula of Iceland. They were kept there for a few days or a few weeks and then shipped abroad. In 1979, however, this changed. A small zoo—called Sædýrasafnið, also known as Hafnarfjörður Aquarium—got into the business of warehousing freshly caught orcas until buyers had been identified and the paperwork processed. Located about ten kilometers south of Reykjavik, Hafnarfjörður Aquarium constructed a cement pool. After the calves had been wrestled from their mothers out at sea, they were stored in the pool for several weeks or months before being loaded into planes and flown to whichever aquarium had placed an order. Hafnarfjörður Aquarium and its director—an Icelander named Jón Kr. Gunnarsson—even appear on several of the capture permits.
Sigurjónsson and Leatherwood's research shows that a total of 59 orcas were captured from 1976 to when their article was published in 1988. Three of them were released before they were taken ashore; two of them were released after being kept at the holding pen at Grindavík, and three were released after being kept for several months at Hafnarfjörður Aquarium. (Sigurjónsson and Leatherwood do not disclose why the orcas were released.) Of the remaining 51 orcas, three died at the Hafnarfjörður Aquarium's holding pool. Sigurjónsson and Leatherwood explain: "Two died in February 1979 after a period of severe weather that caused damages in water circulation in the pool and subsequent illness of two animals. The third animal, caught in November 1984, died in January 1985 of neck damages." (The authors do not uncover how the orca obtained those injuries.) The remaining 48 orcas were sold to aquariums in North America, Brazil, Europe, and Japan. Some of them were later resold to marine parks in Switzerland, Mexico, Hong Kong, and other countries. If Sigurjónsson and Leatherwood's figures are correct, then the total number of Icelandic orcas that were exported in the period 1976-1989 comes to 52, as four calves were taken in October 1989 during the last orca capture in Iceland.
Even though the era of orca captures in the North Atlantic is over, Icelandic orcas continue to suffer in aquariums around the world. According to a list of captive orcas published online, 20 of the 55 known orcas that currently perform in amusement parks in eight different countries are full-blooded Icelandic. Seventeen of them were born in captivity, and three are the last survivors of the orcas that were flown out of Iceland during the '70s and '80s. Female orca Stella, captured in 1987, performs at Port of Nagoya Aquarium in Japan. Another female, named Katina, captured in 1978, performs at SeaWorld in Orlando, USA. And a male called Ulises, captured in 1980, performs at SeaWorld in San Diego. Then, of course, there are all the hybrid orcas that have resulted from the dolphinarium industry's breeding programs that mix the genes of Icelandic orcas with those of other ecotypes. In their quest to produce orcas that can be used in shows, amusement parks around the world have bred Icelandic orcas with orcas from the Southern resident population, the Northern resident population, the Argentinian transient population, and the Bigg's transient population. Some of the offspring are 50 percent Icelandic, while others are 75 or 87.5 percent Icelandic. Even though they are physically equipped to travel long distances in the open sea, they will remain trapped in concrete tanks for life. If amusement parks continue to breed them, the tragic consequences of the Icelandic orca captures that ended more than three decades ago will carry on far into the future.
References:
The Icelandic Live-Capture Fishery for Killer Whales, 1976-1988" by Jóhann Sigurjónsson and Stephen Leatherwood
Twitter, Sigrún Helgudóttir
Featured image: Katina is one of three wild-caught Icelandic orcas that are still alive as of April 2023. She was captured off the coast of Iceland in October 1978 and flown by cargo plane to Marineland in Niagara Falls, Ontario, Canada the following month. SeaWorld purchased her in 1979 and repeatedly moved her back and forth between its locations in Ohio and San Diego. In the fall of 1984, SeaWorld transferred Katina to its amusement park in Orlando, and this is where she is currently being held. Over the years, Katina gave birth to four daughters and four sons. Captive-born Skyla who died in 2021 at Loro Parque in Tenerife, Spain was Katina's granddaughter, and Adán, who still performs at Loro Parque, is her great-grandson. Credit: @Cetabaker, Inherently Wild