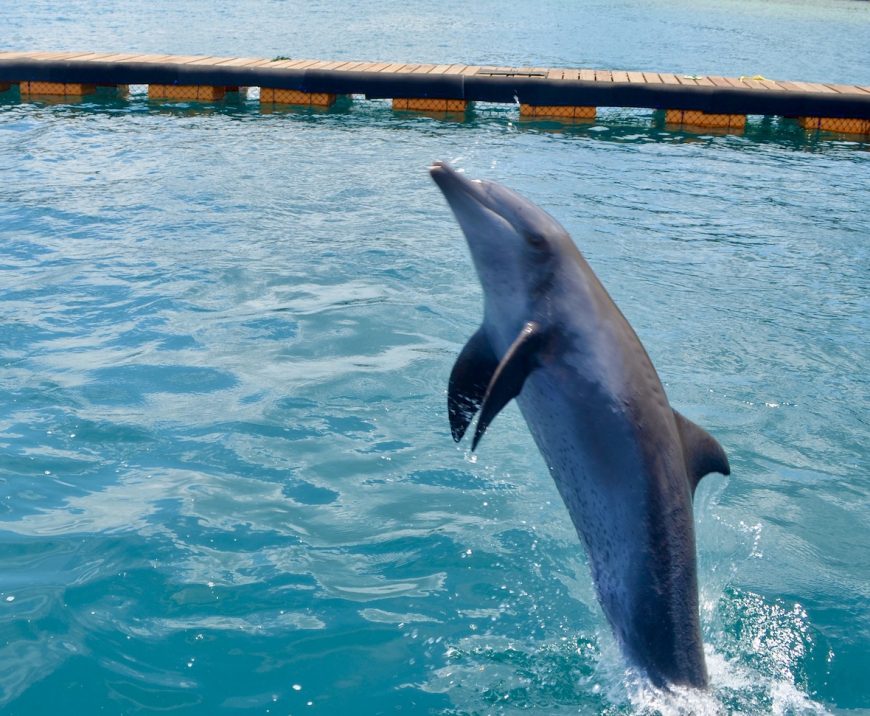 21
Jan
"Like air is to us, ocean water is to them." ~ Karl Avetoom
Time and again, workers at dolphinariums will tell their audiences that dolphins thrive in tanks and perform because they enjoy it. Making spectators buy into the illusion that a performing dolphin is a happy dolphin is easy. After all, spectators do not visit dolphinariums out of a desire to find out how the dolphins are being treated, or to question what lifelong confinement in small, barren tanks feels like to them. They buy tickets to dolphin shows with one goal: to have fun and be entertained. Watching dolphins jump and dance on command fits the bill perfectly.
On the surface, it all looks like harmless family entertainment. The water in the dolphin tank is invitingly blue. Upbeat music plays. And energetic trainers, with their perpetual plastered-on smiles, address the audiences with cheerful shout-outs such as, "Are you ready for some fun?" or "Say hello to our happy family of dolphins!" The dolphins, too, appear to be smiling, but that is due only to the structure of their jaw line.
Dolphins look happy no matter how they feel inside. The dolphin smile enables dolphinariums to put them through a wide variety of suffering without spectators ever noticing that something is wrong. Trainers are experts at making the dolphins' abnormal behaviors look like a voluntary display of fun and games. The dolphins jump through hoops, play ball, kiss their trainers, and in some dolphinariums, such as the Duisburg Zoo in Germany and Loro Parque in Tenerife, Spain, they even take children from the audience for fast-speed rides around the tank in small rubber boats. That stunt provides for fun photo-ops for parents, so what's not to love? Few people stop and ask how the dolphins feel about the arrangement. And when the music stops and the show is over, spectators leave the theater and move on to their next holiday adventure, oblivious to the display of human dominance they have just witnessed and applauded.
The dolphins, of course, are stuck in these tanks and never get to leave. They can't ever go home. Their journey stagnates right here, within the barren walls of lifeless, barren concrete tanks. By human design and intervention, they will spend the remainder of their lives far away from their natural homes, with little to do and nowhere to swim to. Nothing in these barren confinements resembles the ocean world they naturally belong to, and there is no way for them to express their natural abilities, such as foraging, navigating, and exploring. With everything science tells us about dolphins' astounding intelligence, highly evolved communication skills, and complex foraging techniques, it is preposterous that it is still legal in many countries to confine them under such outdated and poor conditions.
To keep the shows and ticket sales going, dolphinariums depend on spectators never acknowledging the desperate plight of captive dolphins. They do this quite effectively by conveying the message that the ocean's infinite depths, waves, currents, and sounds hold no real value to dolphins. Dolphins don't need to use their sonar, swim far, or dive deep. They don't benefit from using their natural skills to hunt live prey or play in the ocean's waves. The ocean, according to the dolphinarium industry, is highly overrated, and tanks make for a safer and more pleasant environment for dolphins than the ocean ever could. Even though captivity of dolphins defies all logic, dolphinariums have been successful at making spectators overlook the fact that dolphins have evolved in the oceans for millions of years to become what they are today: free-ranging, sonic, and powerful predators.
Until recently, the four dolphins known as Johnny, Dewa, Rocky, and Rambo were trapped in small, chlorinated tanks at the Melka Excelsior Hotel in North Bali, Indonesia. Like humans have done with so many captive dolphins, they exploited the dolphins in shows, a swim program for holiday makers, and a dolphin assisted therapy program for sick people. Thankfully, Indonesian authorities recognized the cruelty of the exhibit and closed it down. Working together with Indonesian authorities and the Jakarta Animal Aid Network (JAAN), our team was able to get them out of the tank and transfer them to the world's first dolphin sanctuary for captive dolphins, located in West Bali National Park. For the first time since they were captured in Indonesian waters, the four dolphins are finally back in the ocean. Members of the dolphinarium industry would argue that this move was not at all necessary. According to them, concrete tanks are perfect habitats for dolphins. But they are wrong.
At the Melka Hotel, Johnny, Dewa, Rocky, and Rambo would often languish on the surface of the water, lethargic and inactive. Dolphins in tanks don't have the option of navigating, foraging, exploring, or swimming in a straight line like dolphins in nature do. All they can do is swim in small circles, going nowhere. This abnormal behavior is interrupted only when it is time for the dolphin show or a swim session with fun-seeking tourists. For Johnny, Dewa, Rocky, and Rambo, the indignity of having to submit to this kind of monotonous life and theatrical madhouse is finally over. They will never perform for food again. Never again will tourists be allowed to pet, ride, and kiss them, nor will they ever have to endure a dolphin stadium's ear-deafening music and spectators' wild applause. At our sanctuary, they are surrounded by nature on all sides and can leap for the fun of it, not because a trainer tells them to.
We have spent days observing Johnny, Dewa, Rocky, and Rambo at the sanctuary. The best moments are when we don't see them at all while they are swimming fast beneath the surface of the water, or when they are engaging in energetic play that sends cascades of water splashing all over. This is when we get a glimpse of who and what they were before humans captured them and dragged them into show business. There is nothing better than sitting on the dock by the sea pen and watching them act like real dolphins, full of energy, vigor, and vitality.
Are Johnny, Dewa, Rocky, and Rambo happy all the time now? Of course not. They went through a lot of anguish and stress since their capture and suffered tremendous cruelty in the hands of humans. The emotional scars are not going away in a matter of a few months. Some of them will never go away at all. At times, Dewa reverts back to his habit of positioning himself vertically in the water, completely motionless and with eyes closed. One day, when I was watching him do that, my daughter Mai Li sat down next to me and said, "It's as if he is in some kind of trance, trying to escape the emotional pain." She said it with the certainty, intuition, and empathy that many children have for other living beings, and I feel sure she is right.
When Dewa falls into that state, the only other living being who is able to help him is Johnny. Johnny is blind, possibly due to chlorine toxicity, but his energy level has skyrocketed since he arrived at the sanctuary, and he loves to swim fast, especially when Dewa joins him. Johnny often reacts by swimming in circles around Dewa as he floats there motionless and unreachable, as if encouraging him to snap out of it and play with him instead. When it works, it is absolutely magical to watch.  Dewa races after Johnny, and the two of them swim fast, dive, and leap above the surface. We get to see what they would have been like if their paths had not crossed those of humans. Dewa's real identity is filled with energy, self-confidence, and a zest for life.
Continuous confinement in cramped tanks destroyed that, which is what captivity does: It reduces once wild opportunistic foragers to sickly pets and circus clowns. This is an industry that causes tremendous suffering. Its mission? To make people believe that dolphins are meant to perform in theatrical shows and don't need the natural world to thrive. But dolphinariums are wrong when they say dolphins don't need the ocean. They are wrong when they say that the waves, tides, and sounds of the ocean mean nothing to them. Hundreds of dolphins are trapped in concrete tanks around the world. Some of them can never be released back into the wild, as captivity has caused too much damage and destroyed their natural abilities to a point where they can no longer be repaired. But they can all be given much better lives simply by moving them out of their tanks and into a sea sanctuary where they are still being cared for by people but at least experience the healing elements of nature.
It is time for the dolphinarium industry to stop capturing dolphins and breeding them, thereby creating a population of mentally crippled dolphins that never get to experience anything that is natural and normal to them. In the name of profit, dolphinariums have created a staggering amount of damage in the lives of dolphins. They could undo some of the damage by letting their dolphins finally leave those dreary tanks and experience a piece of the ocean.
Most of the dolphins that end up in theatrical concrete stadiums never get out alive. Johnny, Dewa, Rocky, and Rambo did. The quality of their lives has improved tremendously as a result, and they are finally being treated with the respect they deserve. They got a part of their lives back. All dolphins could—if only dolphinariums would put compassion over profits and empty the tanks.
Related: