24
Sep
Taiji, Day 1, 9/23/16: After three consecutive blue cove days, hunting boats resumed their work. By 9:00 a.m. the rain returned, and along with it, the beginnings of a drive formation. With visibility near zero, Dolphin Project Cove Monitors moved to the seawall to document the hunt. Somehow, the boats were already there, too, their motivation and greed obvious as a pod of bottlenose dolphins were being pushed closer and closer to the cove.
Despite the blinding rain, hunters netted approximately 40 bottlenose dolphins into the cove, and by 10:00 a.m., they were done. The dolphins were observed, along with a baby and presumably it's mother, swimming tightly together. Back and forth they swam, and would be left alone without food or shelter until the following day.
With a standing order for 150 wild-caught bottlenose dolphins, placed by marine parks and aquariums around the world, of which, 42 had already been captured, the incentive was obvious. Dolphin meat doesn't command big dollars – it's the live captures where the real money is made – up to $154,000 U.S. dollars per mammal.
Taiji, Day 2, 9/24/16: Again, as in previous captive selections, work commenced at 5:30 a.m. And, as Dolphin Project Cove Monitors have documented before, the selection process was brutal. Four skiffs containing divers and trainers worked in the blinding rain for a full seven hours, without break. The dolphins panicked, thrashed, splashed and vocalized nonstop as one by one, the mammals were taken from the pod, and dragged away in slings.
Divers and fishermen separated the pod eight times, each time, choosing the dolphins they wanted for captivity. The chaos was horrific, the weather, unrelenting and while visibility was terrible, their cries were loud and heart wrenching." ~ Daniela Moreno, Dolphin Project Cove Monitor.
About 1:30 p.m., it was over, the pod irrevocably damaged. Twenty-six dolphins were taken captive, with the remaining dolphins, approximately 15 in total, pushed out to sea. It was noted that there were green tags on the mammals' dorsal fins, something our Cove Monitors have documented in past drives.
We first started seeing dolphins with tags attached to their dorsal fins in 2012. At the time, we were unsure whether they had been tagged in the cove, or if they were part of a research program. In 2014 and 2015, we attempted to contact universities which we were aware had been conducting tagging programs, but no one seemed to know anything about this." ~ Tim Burns, Dolphin Project Coordinator
Dolphin Project later learned from our colleagues in Japan that hunters have been the ones putting the colored tags on the dolphins they release. This is to ensure they won't drive in the same pods that have already been "sorted." We were told this process of organizing captive hunts was something Taiji hunters learned – from SeaWorld. The connection between the captive dolphin industry and the dolphin slaughter couldn't be clearer.
Continue to follow us on our social media for breaking news and live updates from #The Cove.
HOW YOU CAN HELP
DONATE
Dolphin Project will be on the ground in Taiji during the entire killing season, live streaming, blogging and disseminating information for the world to see. Your support has never been more crucial and is greatly appreciated.
WANT TO JOIN OUR TEAM AS A DOLPHIN PROJECT COVE MONITOR?
Interested in joining us in Taiji? Learn about becoming a Dolphin Project Cove Monitor and submit your application, free of charge.

TAKE THE PLEDGE TO NOT BUY A TICKET TO A DOLPHIN SHOW!
It's fast, it's simple and it's effective. Take the Pledge now and share with your friends!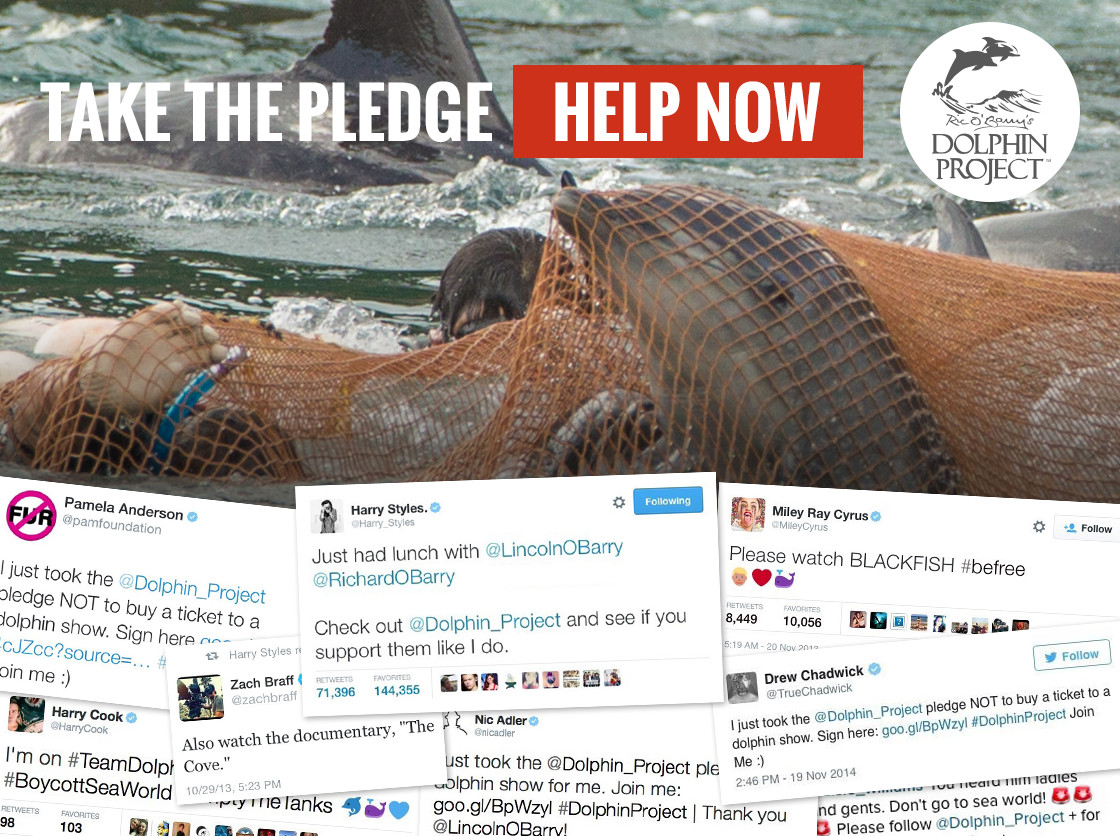 Ric O'Barry's Dolphin Project is a non-profit charitable organization, dedicated to the welfare and protection of dolphins worldwide. Founded by Richard (Ric) O'Barry on Earth Day, April 22, 1970, the mission of the Dolphin Project is to end dolphin exploitation and slaughter, as dolphins are routinely captured, harassed, slaughtered and sold into captivity around the world – all in the name of profit.
Every year from approximately September 1 to March 1, a notoriously cruel hunt of some of the most sentient and sensitive creatures on the planet takes place in Taiji, Japan, made famous by the 2009 Academy award-winning movie "The Cove." During this period, fisherman, or more appropriately, dolphin hunters, "drive" the mammals to their capture or deaths via means of physical violence and acoustic torture.
Dolphin Project is the only organization to have been on the ground in Taiji since 2003. We have revolutionized live streaming and broadcast throughout the entire season.
Dolphin Project works not only to halt these slaughters but also to rehabilitate captive dolphins, investigate and advocate for economic alternatives to dolphin slaughter exploitation and to put a permanent end to dolphin captivity.  This work has been chronicled in films such as, 'A Fall From Freedom,' the Oscar-winning documentary 'The Cove,' and in the Animal Planet mini-series, 'Blood Dolphin$.'