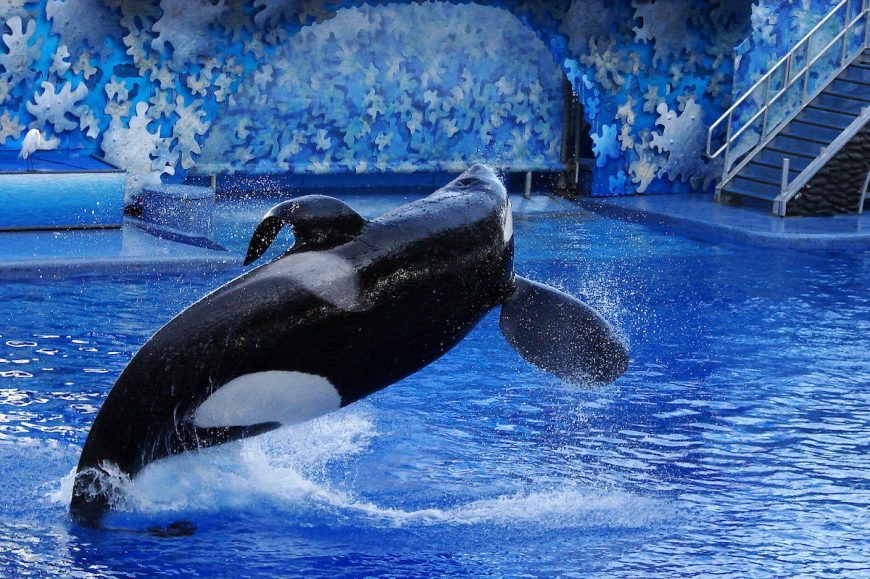 06
Jan
January 6, 2019 marks the second anniversary of Tilikum's death at SeaWorld's amusement park in Orlando, Florida. In the last two years, I have seen many social media posts about this world-renowned orca, and many have included the words 'Rest in Peace' or simply 'RIP'.  We humans often react that way to the death of a captive dolphin that we sympathize deeply with: we desire that they finally find some peace after spending years as performers in theatrical shows at a dolphinarium. That much-used term is completely well-meaning and sincere, but I have never cared for it when used in connection with dolphins who have spent their lives incarcerated in small tanks until they die, far from their real ocean home and their families. Therefore, no one will ever hear or see me tell Tilikum to rest in peace. I simply cannot imagine anything duller and more uninteresting than resting in peace after the experience captive dolphins have.
Tilikum was among the many wild-caught orcas that have ended up in one of SeaWorld's killer whale stadiums. Snatched from his mother off the coast of Iceland in 1983 when he was just two years old, he was moved to Sea World's amusement park in Orlando in 1992 to be used in repetitive theatrical shows. His main role in life was to entertain and attract the large paying audiences. To make matters worse, Tilikum was also used to produce more captive orcas that could be incorporated into the entertainment giant's killer whale shows. Tilikum sired 21 calves. Eleven of them died while he was still alive.
The orca is the largest animal ever to be held captive. In nature they swim up to a hundred miles every day, so saying they do not thrive in tanks is a huge understatement. Like others in captivity, Tilikum was surrounded by concrete walls and impenetrable iron gates. Gone was his family, his vast ocean home and the ability to swim freely. Tilikum fought back against the cruelty, however. On February 24, 2010, the six-ton orca pulled his trainer underwater and killed her — the third time that Tilikum had been involved in the death of a person.
I believe that Tilikum's attack on his trainer should be seen as nature's way of telling us that something is wrong. Terribly wrong – not with Tilikum or any of the other captive killer whales who have attacked humans – but with the ways in which these animals are treated in captivity. SeaWorld apparently did not see it that way, and the killer whale shows have continued as before, only now the trainers do not perform any water work with the orcas. This of course saves trainers from being attacked but does nothing to relieve orcas from the frustrations and anxieties of incarceration.
I saw Tilikum a few years prior to his death. SeaWorld had separated him from the other orcas that, accompanied by loud pop music, went through their repertoire of trained behaviors. Tilikum was logging on the surface of the water. Subjected to the glaring hot Florida sun, this majestic, powerful Icelandic orca just lay there, motionless and alone, trapped in a barren tank where he could barely move, his head facing the metal gate that prevented him from joining the others. It was surreal to see this complex and highly intelligent being having no choice but to surrender to such a deprived, monotonous existence with nothing meaningful to do and nowhere to go. Tilikum could swim only a few feet before a wall stopped him.
Over the years, SeaWorld has presented Tilikum and its other captive performers as ambassadors of their species. Their role, according to SeaWorld, is to teach spectators to respect and appreciate nature. But Tilikum was not an ambassador (nor are the others). He was a victim, stolen from nature and forced to live an unnatural and subdued existence. That is what captivity of orcas and other dolphins does: methodically prevents these complex social beings from letting any of their natural abilities unfold. These powerful marine mammals become completely powerless in captivity.
When Tilikum died, SeaWorld announced it this way: "While today is a difficult day for the SeaWorld family, it's important to remember that Tilikum lived a long and enriching life while at SeaWorld and inspired millions of people to care about this amazing species." SeaWorld often uses the word family when talking about its captive orcas, as if the orcas and their trainers make up one big, happy family who all love and care for one another. But Tilikum's trainers were not his family. His family and pod members are still swimming, navigating, hunting and socializing off the coast of Iceland. Had it not been for the dolphinarium industry, Tilikum could have been with them. SeaWorld continued its statement: "Tilikum had, and will continue to have, a special place in the hearts of the SeaWorld family, as well as the millions of people all over the world that he inspired."
Captivity robbed Tilikum of everything that makes life purposeful for an orca, and the hypocrisy of SeaWorld's words is almost unbearable. All those years wasted, bored and lonely, should have been spent swimming alongside his mother and pod when they were socializing, communicating, navigating, exploring and hunting down live prey. Tilikum was the largest orca on record in captivity, and if he had been left with his pod, he could have been an amazing hunter and tremendous asset to them. But he wasn't.
When I think of Tilikum now, the decades he spent languishing in Orlando, suffering the monotony and boredom of captivity, the last thing I want to tell him is to rest in peace. Instead, I want to say, "Tilikum, keep on swimming. Dive deep and leap high above the surface of the water. Reclaim your place in the ocean world that I would like to think is now yours to roam freely for as long as your heart desires. Repossess the life that was snatched from you. Let your speed, strength and intelligence unfold in an impressive display of nature being in control and taking charge, forever liberated from the claustrophobic chains and demands of humans."
That is how I see Tilikum when I think of him today: free at last and always in motion, living his life to the fullest. In my dreams Tilikum's life is now filled with purpose, excitement, challenges and boundless choices to make. He has places to explore and a real family to socialize and communicate with. There is never a dull moment, and Tilikum is unstoppable now.
Swim, Tilikum, swim.
Featured image: Tilikum, GNU Free Documentation License and the Creative Commons Attribution ShareAlike License, author: Loadmaster (David R. Tribble)