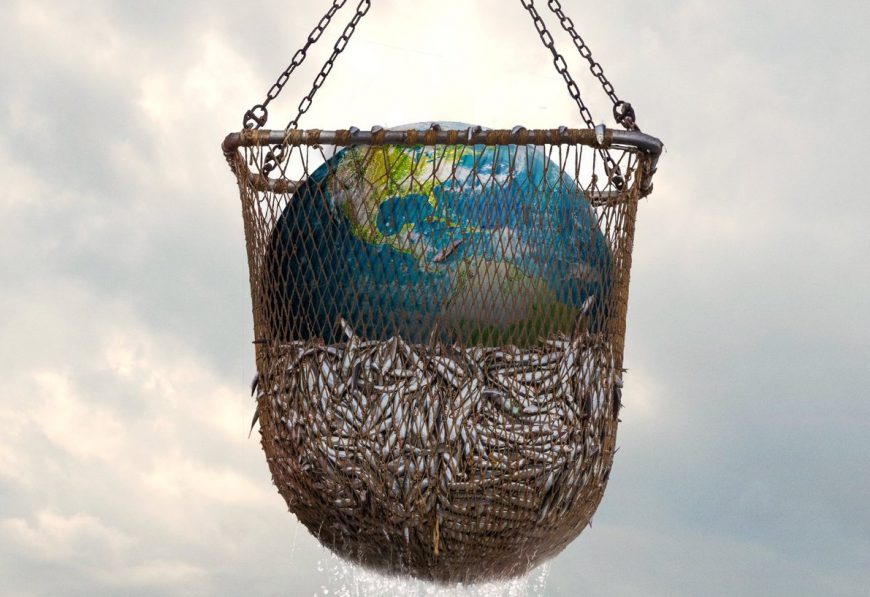 08
Apr
Slavery, taxes, fraud, pandemics, and murder. While it may sound like the conspiracy plot of the next big Hollywood hit, "Seaspiracy," has proven so shocking to many, that it has propelled itself into one of the top five most-viewed movies currently on Netflix, and its message continues to spread.
Released by 'Disrupt Studios' and directed by Ali Tabrizi, "Seaspiracy" follows Tabrizi as he makes his first foray into the rabbit hole of the fishing industry. What follows is an exposé of corruption – both within the industry and certain charities whose programs are funded by the public. These campaigns are ineffective, corrupt, and refuse to acknowledge the issue at hand, Tabrizi claims. The one common denominator shared by them all suggests the documentary, is money.
For ocean preservation advocates, "Seaspiracy," highlights a long-standing issue. One where once you step foot into the dark side, you can't unsee it. Casting that pebble is a double-edged sword. The deeper you delve, the more these concentric circles of corruption engulf you. It's not something you shove back into a bottle. It can't be ignored only exposed. 
Tabrizi casts his first pebble rather innocently with a simple desire to unearth how plastics impact our oceans. His naivety is not long-standing and is crushed. It's certainly no impediment to the documentary for his innocence becomes one of the film's core strengths. His inquiries are brilliantly simple but penetrate to the core of the issue.
One of the issues Tabrizi investigates takes him to the shores of Japan. A whale-hunting country whose government has to subsidize its fishing fleet to keep it afloat. Despite operating at a loss due to decreasing demand, on July 1st, 2019, after a 30-year cessation, Japan withdrew from the International Whaling Commission to resume commercial whale hunting.
One of Dolphin Project's major campaigns focuses on the smaller but equally brutal issue of dolphin hunting. The small town of Taiji, in the Wakayama Prefecture, conducts its dolphin drives from September to March every year. 
As suppliers of marine park dolphins, the hunts have changed priority. The dolphin trade is a lucrative business. With the expansion of marine parks around the world, trained dolphins fetch far more money alive than dead, and Taiji is content to keep on supplying them, but marine parks only desire particular species of dolphins, and others are typically slaughtered for meat. 
Wishing to investigate further, Tabrizi turned to our director, Ric O'Barry, who explains that outside of the marine park business, dolphins are seen as pests in Japan and competition for fish. In reality, Japan has overfished its ocean, but it's easier to blame the dolphins than address their own actions. Overfishing can be linked to many countries but Japan is the director's first encounter with corruption and ties to the fishing industry.
It is also the investigator's first brush with the dangers involved when you ask too many questions and dig a little too deeply. As Ric explains that he cannot go to Taiji without receiving a police escort upon his arrival, Tabrizi finds the claims somewhat incredulous. For our director, it is a part of the norm, Japan attempts everything to keep Dolphin Project out of Taiji. 
In August 2015, Ric was arrested for allegedly being unable to produce a passport. He was held overnight before being released without charge the next day. Just several months later on January 18, 2016, Japan deported Ric after holding him for 19 days at the Immigration Bureau at Narita Airport in Tokyo.
The deportation served its purpose. It meant that Ric could no longer return to Japan and Taiji. Dolphin Project legally challenged Japan in a fight that lasted for almost four years. Finally, on October 3, 2019, a Tokyo District Court declared that the deportation order by the Ministry of Justice must be revoked. The court ruled in O'Barry's favor. His denial of entry (dated January 20, 2016) and deportation (dated February 5, 2016) had no legal merit.
The government in a final attempt to keep Ric out lodged an appeal against the decision, but on November 17, 2020, the Supreme Court refused to accept the appeal. The decision was finalized by the Tokyo High Court and the revocation of the deportation order against Ric was effective.
To grasp the scope of what our director had told him, Tabrizi heads to Taiji. He immediately attracts a police escort but witnesses the dolphin drives for himself. Undercover filming at a tuna port in Japan, reveals another potential reason that Japan is killing dolphins as pests – the Pacific bluefin tuna industry. 
Thriving just decades ago, less than three percent of Pacific bluefin tuna remains today. In January 2019, at Tsukiji market in Tokyo, a 612-pound bluefin tuna sold for a record 333.6 million yen ($3 million). The Mitsubishi Conglomerate owns a 40% share of the world market in bluefin tuna – a $40 billion a year industry. Despite the crash in tuna stocks, in October 2011, the Mitsubishi Conglomerate was accused of freezing fish to sell later even as numbers plummet toward extinction. 
With the accusation that the fishing industry is wiping out species at an alarming rate, a darker side emerges as equally damaging to oceans' ecosystems. Whales are washing up on beaches, their stomachs loaded with plastics.
Plastics, or more specifically microplastics, have become the go-to target for many environmental campaigns. These fragments enter the oceans' ecosystems from a variety of sources but it is our social habits that often receive the bulk of the blame. Plastic straws and bottles are just two examples of the campaigns highlighted but Seaspiracy claims that while they do play a role, they do not make up the bulk of plastics in the ocean. That is reserved for megaplastics, primarily from discarded fishing nets.
"Every year," writes Intelligent Living, "about 12 million tons of plastic end up in the ocean, which is equivalent to dumping a garbage truck of trash into the ocean every minute. Among this annual pollution, over 640,000 tons of it comes from lines, nets, pots, ropes, and traps used in the fishing industry worldwide."
This toxic waste is one issue, further exacerbated when you consider bycatch. The process is indiscriminate, affecting multiple species and it remains largely unregulated. Dolphins, turtles, whales, seabirds, all pay with their lives as they are inadvertently trapped and hauled in alongside the catch of the day. Tabrizi reports that in the Bay of Biscay for example, along the western coast of France and the northern coast of Spain, it is estimated that up to 10,000 dolphins a year are killed by the fishing industry.
Worldwide, the numbers are staggering and unsustainable. It is estimated that 63 billion pounds of bycatch are caught every year in nets, and dolphins pay one of the highest prices. To address these numbers, in 1996, WWF – the World Wild Fund for Nature created the UK-founded Marine Stewardship Council or MSC.
The goal of the MSC is to certify fisheries by holding them accountable for unsustainable practices. Fisheries that comply are then allowed to add an MSC-certified sustainable label to their packaging. The international non-profit organization claims, "We recognize and reward efforts to protect oceans and safeguard seafood supplies for the future."
Unfortunately for the MSC, it has come under fire for this certification process. In 2013, in an NPR article written by Daniel Zergen and Martha Williams, an interview conducted with former MSC supporter, Gerry Leape, an oceans specialist at the Pew Environment Group said, "We would prefer it if they didn't use the word sustainable."
Leape and other critics told the NPR:
"The MSC system has been certifying some fisheries despite evidence that the target fish are in trouble, or that the fishing industry is harming the environment. And critics say the MSC system has certified other fisheries as sustainable even though there is not enough evidence to know how they are affecting the environment."
Earth Island Institute's 'Dolphin Safe' tuna label, which is run by the International Marine Mammal Project (IMMP), also complains about MSC's practices saying that the label "greenwashes" the dolphin-killing tuna industry. Their own dolphin-safe label program claims that dolphin deaths in tuna nets have gone down by 95 percent since the program was established.
Tabrizi interviews Mark Palmer, the Associate Director of EII's IMMP, Tabrizi concludes from Palmer's answers that the dolphin-safe label is somewhat lacking itself. The interview is rather uncomfortable and a tad strange to watch. When asked if his organization could guarantee no dolphins were ever killed during fishing for tuna. Palmer replies, "Nope. Nobody can."
Palmer also adds, "Once you're out there in the ocean, how do you know what [fishermen are] doing? We have observers onboard, observers can be bribed and are not out on a regular basis."
Tabrizi seems rather perturbed by the answer. With observers who are rarely there and who can be bribed, "You can't guarantee that dolphin-safe tuna is dolphin-safe?" he asks.
"That's certainly true of how the system works," Palmer concludes.
Since the documentary aired, Palmer claims that his answers were taken, "out of context."
David Phillips, the executive director of Earth Island Institute and the current treasurer for the Whale Sanctuary Project, issued this statement. claiming that 'Seaspiracy's' claims were false. 
"Tuna companies may place a dolphin-safe label on their products without charge so long as their tuna fishery practices comply with federal regulations." Companies who met the federal regulations plus, "certain additional protective measures may use a licensed logo from the International Marine Mammal Project."
This licensed logo, Phillips explained, involved a licensing fee, of which the proceeds, "go solely to defraying the cost of monitoring their facilities to ensure full compliance with the strict dolphin protection standards."
Three tuna companies dominate the canned tuna industry in the US — 'Bumble Bee Foods', 'Chicken of the Sea', and 'StarKist.' in 2019, all three were hit with a class-action complaint about the dolphin-safe label on their tuna products. 'Chicken of the Sea' is currently certified by the Earth Island Institute.
Seafood Source.com's, Christine Blank, writes that the suit was filed as a racketeering and fraud complaint in San Francisco, CA. The plaintiffs' complaint specifically addressed the Marine Stewardship Council and its "sustainable" label that fisheries, once certified, can apply to their packaging.
With regard to 'Chicken of the Sea', Blank said the complaint addressed several issues, including, "Labeling its tuna pouches as [Marine Stewardship Council]-certified, not tracking and reporting the number of dolphins killed and harmed in capturing its tuna, and not separating tuna that is not dolphin-safe from tuna caught where no dolphins were harmed (if any)," In specifically addressing 'Chicken of the Sea', the complaint alleges that the company, "is able to sell its … tuna products in several major retail stores to which it would otherwise be denied entry."
In the same year, all three companies were accused of price-fixing. Each one of them pled guilty and received fines that numbered into the millions. 'Chicken of the Sea', gained amnesty for blowing the whistle on the other two companies, wrote the 'LA Times'.
On March 10th, 2021, 'National Geographic' also addressed the issue of the dolphin-safe lawsuit in an article it published, "How 'dolphin safe' is canned tuna, really?" In it, Rene Ebersole talks to Zac Smith an attorney of the National Resources Defense Council (NRDC). Ebersole wrote how Smith believes, "That most tuna sold in the U.S. with a dolphin-safe tuna seal is legitimate," but tuna as a global commodity with very long supply chains, creates, "opportunities for fraud and deception."
Smith explained, "The U.S. laws are good if everyone is being honest," he said. "But that doesn't mean nothing ever gets in. There is an incredible amount of illegal wildlife moving into the country. [Law enforcement] can't catch it all."
And therein lies the problem. You're relying on the fishing industry, to be honest when policing itself, and nothing is ever that simple when money is involved.
This is one of the major issues Dolphin Project had when it was once an Earth Island Project. It chose to break with the company on September 30, 2014, because of its dolphin-safe label. Ric explained to Tabrizi: "It's a conflict of interest and I also think it's fraud […], and "I don't want to be associated with that."
Femke den Haas is a co-founder of the Jakarta Animal Aid Network, a small nonprofit started in 2008. JAAN is a non-governmental, non-profit organization established in January 2008 to help protect Indonesian wildlife and to improve the welfare of Jakarta's domestic animals. Currently, Femke is overseeing Rocky, Rambo, and Johnny, our three rescued dolphins, in West Bali, Indonesia.
"I worked for EII in 2012 -2014," Femke said. "I quit because it was unethical, it's a scam, and none of my reports about violations by the companies were followed up. Instead, I would get the response — "they paid their fee for the year, we can look into this report next year." That's the main reason why I quit," she added.
'Seaspiracy' has certainly put the cat among the pigeons. It has been criticized by the fishing industry and companies that it has chosen to highlight, but it delves deep, suggesting links to the industry to human trafficking and slavery.
This claim is supported by American Progress.org's Trevor Sutton and Avery Siciliano who wrote in a December 2016, Seafood Slavery report:
"Human trafficking related to the seafood sector has been documented in countries and markets as diverse as New Zealand, Thailand, Ghana, Ireland, and — most recently — U.S.-registered fishing vessels docked in Hawaii."
It was an issue NOAA fisheries also addressed in December 2020.
What with the disappearance of fish stock observers and monitors such as Keith Davis, and government subsidies that number in the billions. It's of interest to note the three largest recipients of these subsidies are Japan, China, and the United States. Backed by these subsidies, is it any surprise that the industry contests the documentary?
Much of what the documentary claims can be researched but one has to sort the wheat from the chaff. For the average consumer, the answers are likely ambiguous and confusing. The shopper tends to trust what they read on the can. In all probability, they assume that 'dolphin-safe is exactly what it means — no dolphins were harmed or killed when tuna was captured. Not just one of them — all of them, with no mitigating factors.
There certainly is no harm in watching the movie. Take it a step further and do the research. Read all of the responses to the documentary and you can form your own conclusions. No industry or company involved can argue with that.
Note: Dolphin Project does not condone Asian hate, we work very closely with local Japanese activist groups in Taiji and elsewhere. We support all Asian groups working alongside us, such as the Life Investigation Agency. We believe these groups are essential to ending the dolphin drives in Japan.