01
Mar
Dolphin Project can confirm that on March 1, Taiji's dolphin drive hunts ended for the 2020/21 season. During the entire six-month long hunting season, our collaboration with Life Investigation Agency (LIA), headed up by campaign director Ren Yabuki, ensured that an all-Japanese team was on the ground each day to document the drives and other events that took place.
Several species of dolphins, including the very young and the very old were routinely subjected to harassment, suffering and abuse, slaughtered for their meat or taken captive to be exploited in marine parks and aquariums. Entire pods of dolphins were decimated. Several incidental deaths also took place, but thanks to the tireless documentation of the team, we were able to record the hunters' shameless actions.
This season, there were a total of 46 red coves (where dolphins were either slaughtered or taken captive) and 135 blue coves (where no dolphins were slaughtered or taken captive) involving six species of dolphins. We estimate 547 dolphins were slaughtered, while 140 were taken captive. Many more may have died as a result of the drives themselves, their numbers never recorded.
"Never before has an all-Japanese team of dedicated activists taken up residence in Taiji, solely to document from a Japanese perspective, the suffering of dolphins that takes place annually at the Cove. As such, our educational outreach throughout Japan has never been greater." ~ Tim Burns, Dolphin Project
HIGHLIGHTS
The season commenced on September 1 – Japan Dolphins Day, an international day of action and awareness that we have coordinated since 2005. In response to COVID-19, the event went virtual, where thousands of people from dozens of countries (including residents from Taiji) voiced their opposition against the dolphin hunting season. Their message was loud and clear: the massacre of dolphins in Taiji is a crime against nature and must end immediately. Also on the first day of the hunts, dolphin hunters quickly located two pods of dolphins. They were driven into a single pod and four dolphins – three bottlenose and one Risso's were taken captive.
On September 17, a pod of Risso's dolphins was located. Hunters were able to drive the dolphins into the Cove, where they were slaughtered. The documentation indicates that the slaughter of an extremely young dolphin – perhaps even a newborn took place. LIA is investigating the legality of killing nursing calves, and/or separating them from their mothers.
On November 17, almost four years and ten months after I was deported from Japan, the decision of the Tokyo High Court to revoke the deportation order by the Ministry of Justice is now effective. In a judgement for the case of O'Barry versus Japan, the court ruled in my favor, citing that both my denial of entry (dated January 20, 2016) and deportation (dated February 5, 2016) were without legal merit. The Japanese government attempted to appeal this decision, however, the Supreme Court did not accept the appeal. Thus, case closed! Dolphin Project would like to thank each and every person who has fought on Ric O'Barry's behalf. Your tweets, emails, calls and donations made a difference! We would also like to thank Matt Sorum, Leilani Munter, Maisie Williams, Slash, Dr. Brian May and Tom & Kim Scholz. Thank you to Congressman Ted Lieu, the U.S. State Department, the U.S. Embassy in Tokyo and The Law Offices of Takashi Takano.
On November 29, the team documented a humpback whale caught in the offshore fishing nets (called "set nets"). Fortunately for the mammal, it was released without incident. Explains Ren, "Dolphins, orcas and whales get caught in fixed fishing nets all over the world. Penguins, sea turtles, seals and other animals often also become entangled in fishing nets and lose their lives – it's a global issue."
Taiji's dolphin hunters hit payday during a three-day captive selection of bottlenose dolphins (December 19-22). In total, 85 mammals were taken captive to supply the dolphinarium industry. Despite international condemnation, aquariums and marine parks continue to profit off the lives of these innocent victims.
Take the Pledge to NOT Buy a Ticket to a Dolphin Show
Footage taken on January 5, 2021, Taiji's first drive hunt of the year shows a pod of striped dolphins being driven into the Cove. Amongst the group were several young dolphins. One of them appeared to have drowned in the nets, and was documented floating motionlessly on the surface of the water for a long period of time. A hunter is seen approaching the dolphin, pulling it closer to the skiff by grabbing the mammal's rostrum, then "wiggling" its body as if to give it the appearance of movement. This action went on until another group of hunters dragged the dolphin to the tarped area where the rest of its pod was being slaughtered. Tragically, this isn't the first incident where juvenile dolphins have been mistreated or discarded. Over the years, Dolphin Project has documented the separation of nursing calves from their mothers during captive selection, juvenile dolphins being dumped at sea without the protection of the rest of their pods and juveniles slaughtered alongside adults in the Cove. In the case of young dolphins being left to fend for themselves, their chances of survival are extremely slim as they are no longer able to nurse from their mothers. These deaths are not counted against the drive fisheries' quotas.
In the same month, two whales, in two separate incidences, were caught in Taiji's set nets. A minke whale, after 19 days of imprisonment was deliberately drowned by Japanese fishermen. Explains Ren, "At 6:49 a.m., the minke whale's tail was tied with rope and then tied to the edge of the boat and hung upside down. The head of the minke whale was underwater for about 20 minutes, and at about 7:09 a.m., it drowned. The minke whale had its tail tied to the edge of the boat and could not breathe. It was clear it was suffering. It violently thrashed, as blood splattered around, but the fishermen were laughing while working."
On January 13, just one day after this slaughter, a humpback whale was spotted entangled in the set nets. Shortly thereafter, the association removed the dead whale from the outside of the nets, dragging it back to sea. Says Tim Burns, "This isn't the first time we have seen whales entangled in the sets nets off Taiji, but the number of incidences involving non-targeted species has become alarming." International attention led to the governments in both the United Kingdom and Australia to speak out.
On February 21 a brutal offshore capture of Pacific white-sided dolphins took place. The following day, out of the 29 mammals caught, one died and 22 were released, leaving six dolphins captive.
Also during this month, one of the largest showings of Japanese citizens demonstrating and speaking out against the dolphin hunts took place in Taiji.
Over and over, once driven into the Cove, the team documented the prolonged suffering of dolphins. Even before the mammals are netted into the shallow water, the drives themselves often leave the pod exhausted, with visible injuries. Dolphin trainers work closely alongside dolphin hunters, choosing which mammals will be selected for "life" in captivity, and which will be slaughtered. Marine parks and aquariums often use the terms "conservation" and "education" when describing their captive dolphin displays. The reality however, lies in the bloody waters of this tiny Japanese town: demand for captive entertainment is what fuels Taiji's drive hunts. Captive dolphin displays, including swim-with-dolphins programs aren't educational, nor are they entertaining. They are exploitative, and often responsible for the destruction of entire wild dolphin pods.
Compared to the 2019/20 dolphin hunting season, while we cannot know the reason for the decrease in numbers, 37 fewer dolphins were taken captive. Thus, it's imperative that we continue to keep the pressure on by educating the world why we need to say NO to the dolphin show.
"I am humbled that the world has stood up and supported Japanese grassroots activists in their efforts to enact positive change for dolphins within Japan." ~ Ren Yabuki, Life Investigation Agency
Dolphin Project and Life Investigation Agency are grateful to each of you who lent your voices in support. While the drive season has "technically" ended, permits to hunt pilot whales are valid for several more months.
We hope you will continue to stand by Dolphin Project's side as we continue our work across the globe, from the United States to the Solomon Islands and to Indonesia, where three dolphins are currently rehabilitating at the Umah Lumba Center in Banyuwedang Bay, West Bali, the first ever permanent dolphin rehabilitation, release and retirement facility for captive dolphins.
Ric O'Barry, Founder/Director of Dolphin Project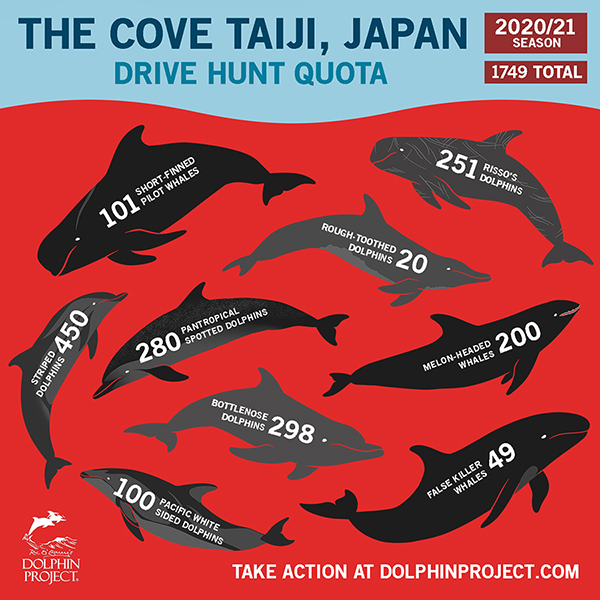 2020/21 Drive Season Statistics
Total number of red coves: 46 (where dolphins were either slaughtered or taken captive)
Total number of blue coves: 135 (where no dolphins were slaughtered or taken captive)
Total number of dolphins slaughtered and/or taken captive: 687
Slaughters: 547 total
Risso's Dolphins – 142
Melon-Headed Whales – 178
Striped Dolphins – 227
Captures: 140 total
Bottlenose Dolphins – 119
Risso's Dolphins – 3
Pantropical Spotted Dolphins – 12
Pacific White-sided Dolphins – 6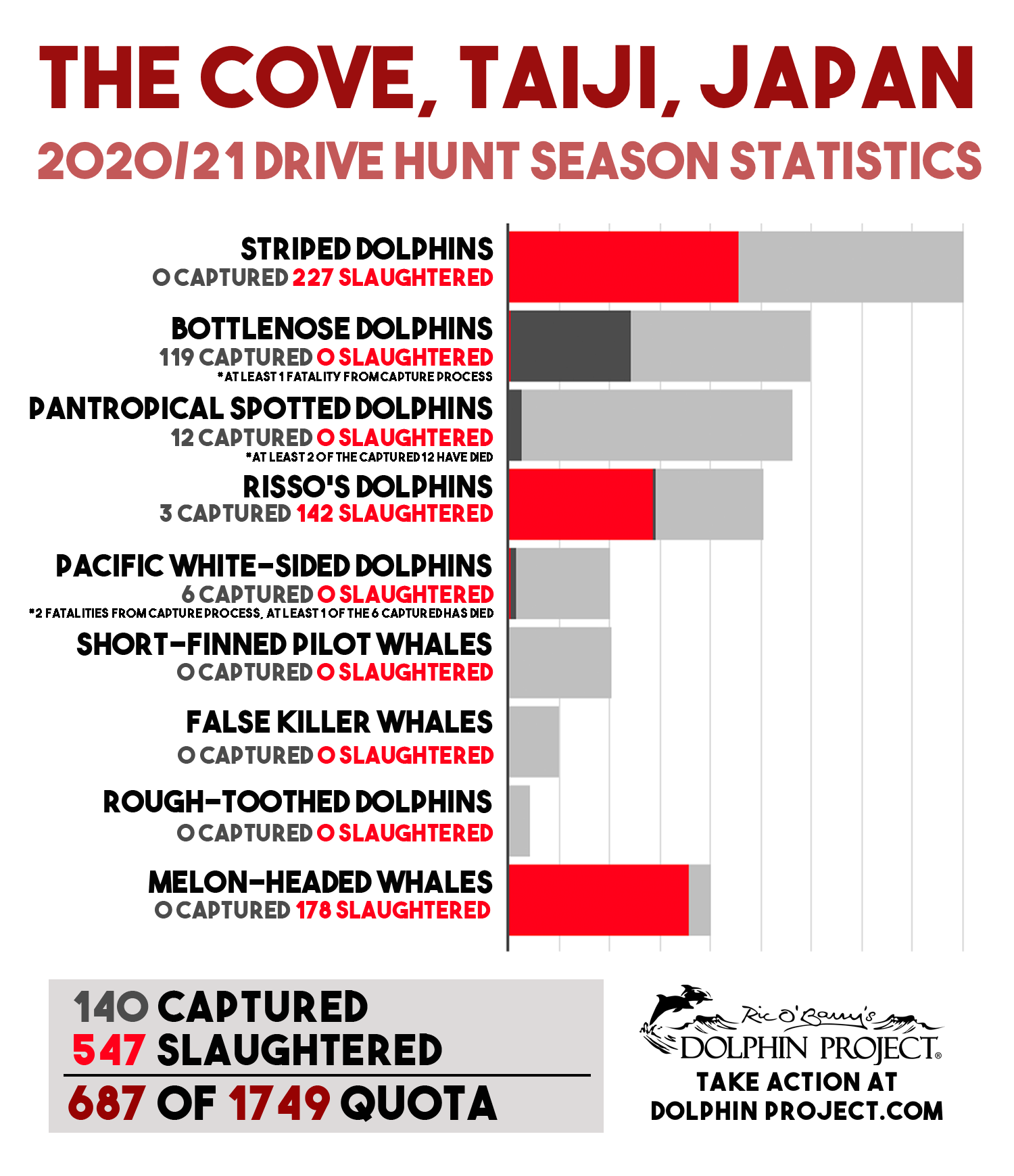 Featured image: Wild and free Risso's dolphins off the coast of California. Credit: Tracie Sugo
Every year from September through March, a notoriously cruel hunt of some of the most sentient creatures on the planet takes place in Taiji, Japan, made famous by the 2009 Academy award-winning movie 'The Cove'. During this period, dolphin hunters, "drive" the mammals to their capture or deaths via means of physical violence and acoustic torture. Learn more here.