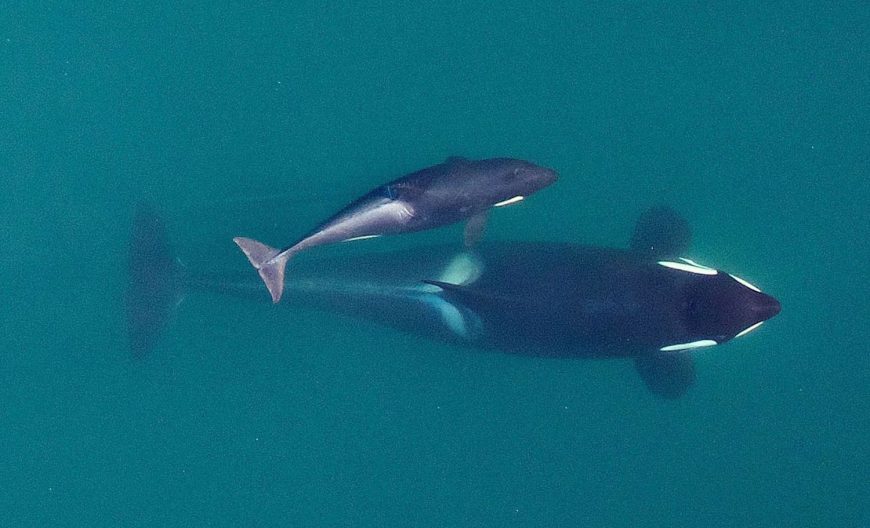 14
Sep
Scarlet/'J50′, a sick, 3+1/2 year-old orca who has not been seen since Friday, September 7, 2018 is presumed dead.
Scientists and environmentalists have fought to protect her and the rest of her pod. Activists have attempted to bring awareness to the suffering mammals. The National Oceanic and Atmospheric Association (NOAA) in the United States and the Department of Fisheries and Oceans (DFO) in Canada engaged in last-ditch efforts to save Scarlet.
Yet despite these efforts, all that stands between survival and extinction of the critically-endangered Southern Resident orcas of the Salish Sea are 74 mammals.
Seventy-four.
As photos were snapped of Scarlet displaying a "peanut head" – a condition where an extreme loss of adipose tissue (fat) causes the head to become concave in appearance – experts braced for the worst. Says Kenneth Balcomb, Senior Scientist for the Center for Whale Research, "We're watching a population marching toward extinction. Unless we do something about salmon recovery, we're just not going to have these whales in the future."
Less than two months ago, another dolphin from the same pod, Tahlequah, gave birth to a baby which would die 30 minutes later. For 17 days, the grieving mother carried her dead, her unprecedented display of mourning on full display. And the world took notice.
Watching J50 during the past three months is what extinction looks like when survival is threatened for all by food deprivation and lack of reproduction. Not only are the Southern Resident killer whales dying and unable to reproduce sufficiently, but also their scarce presence in the Salish Sea [of the Pacific Northwest] is an indication that adequate food is no longer available for them here, or along the coast. In accordance with an urgent plea by the American Fisheries Society in 2006, natural Chinook salmon runs must be restored throughout their range to avoid their extinction. We have known for twenty years that these fish, in particular, are essential to the SRKW diet. ~ Center for Whale Research Press Release, 9-13-18
The pod, who hasn't had a successful birth since 2015, is in dire need of intervention. The Southern Resident orcas have been subjected to continuous assault since the 1960's, from capture, to noise and chemical pollution to preventing access to their primary food source. We are under an ethical obligation to do all that is necessary to save them from demise.
"Orca Scarlet starved to death. Yet another man-made disaster. And the entire pod of Southern Resident orcas will face the same fate unless immediate intervention is taken to reunite the orcas with the chinook." ~ Ric O'Barry, Founder/Director of Dolphin Project
Your help is urgently needed to save the Southern Resident orcas
☎️Governor J. Inslee
phone: (360)902-4111
fax: (360)753-4110
e-message: https://bit.ly/2F7AWDN
Twitter: https://twitter.com/GovInslee
☎️Senator Patty Murray (425)259-6515
fax: (509)624-9561
e-message: https://bit.ly/2jsVl8T
Twitter: https://twitter.com/PattyMurray
☎️Senator Maria Cantwell (202)224-3441
fax: (202)228-0514
e-message: https://bit.ly/2lzQshJ
Twitter: https://twitter.com/SenatorCantwell
☎️NOAA, Barry Thom (503)231-6266
☎️Please tell the U.S. Army Corps of Engineers to supplement the 2002 Environmental Impact Statement (EIS) promptly and use Alternative #4 to breach the lower four Snake River Dams now! Telephone: (202)761-0000
Featured image: Scarlet/'J50' swims alongside her mother Slick/'J16', 2015. Credit: NOAA/Public Domain