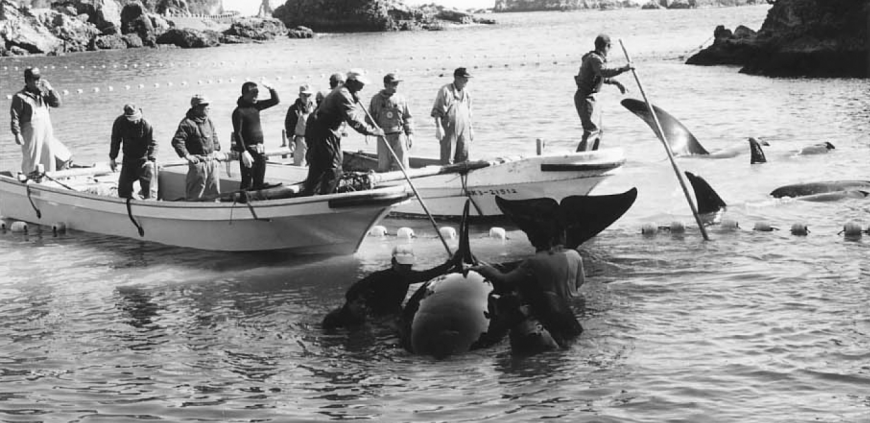 14
May
On February 7, 1997 a pod of ten orcas was driven into Hatakejiri Bay in Taiji by the Isana Fishermen's Union. Of this pod, five orcas were captured with the intent of being sold to aquariums for live display. These five came to be known as the "Taiji 5."
At the same time, on the other side of the world, Keiko, the orca from "Free Willy" was on track for rehabilitation and release. It would be the first-ever attempt to release a previously captive orca back into the wild. Keiko's story inspired a new wave of anti-cetacean captivity passion around the world. Yet despite outcry from both within Japan and from abroad, orcas were permitted to be captured in Taiji.
On the evening of February 7, Kansai News reported that 10 orcas had been captured in Taiji, but the captive selection process did not take place until three days later on February 10. Early that morning, trainers, aquarium staff and hunters came prepared to take five orcas (three females and two males) into captivity. The following were taken captive:
Asuka (female), sent to Izu Mizuno Sea Paradise

Ku (female), sent to the Taiji Whale Museum and later transferred to Port of Nagoya Aquarium

Unnamed ("A-chan," possibly pregnant female), sent to Nanki Shirahama Adventure World

Q-kun (male),  sent to Nanki Shirahama Adventure World

Unnamed ("B-kun," young male), sent to Nanki Shirahama Adventure World
"A-chan" thrashed so much during the capture process that she injured herself and was notably bleeding. After the five were lifted out of the sea for good and the nets on the cove were removed, the remaining pod members refused to leave. The hunters got aggressive, harassing them with the motors of their skiffs until they unwillingly swam back out to sea.
The five were reportedly sold for a total of ¥100 million (about $1 million USD).
According to Mr. Nishijima, head of the Fisheries Agency, the capture was carried out for the purpose of academic research. In 1991, five aquariums in Japan had submitted capture permit applications, along with research plans. After these application were reviewed, it was permitted to capture up to five orcas per year for "research" purposes. The alleged research was to investigate orca physiology, ecology and ultimately, reproduction. Despite this, the Taiji 5 were on public display, as part of the "entertainment" for each facility's paying customers.
All of the Taiji 5 are now dead.
At Nanki Shirahama Adventure World, the youngest of them, "B-kun" died just four months after capture on June 14, 1997. "A-chan" who was thought to be pregnant, died just a few days later on June 17. The other orca taken to this facility, Q-kun, died about seven years later in September, 2004. And in September, 2007, Asuka passed away.
The causes of their deaths are unclear, but all undeniably lived far shorter and lower quality lives than they would have in the wild with the rest of their pod. 
Ku was known to exhibit aggression towards humans. The former Taiji Whale Museum employee was bitten by Ku and still bears a scar from the incident; this employee had feared for his life. Then, after she was transferred to the Port of Nagoya Aquarium, a visitor caught another incident on video, where she lunged towards a trainer during a performance. Aggression towards trainers and tank mates is not uncommon in captive whales and dolphins.
Ku died of heart failure one year later in September of 2008.
According to a now-removed article from SHA-CHI.JP, there were over 100 orcas captured for captivity in Japan from 1960 until 1993 where they were classified as a "rare species." Since then, capture was only permitted for "research" purposes. This is around the same timespan when orcas were being captured in the United States (i.e., Lolita's capture in Penn Cove, Washington in 1970) and Iceland (i.e., Tilikum's capture in 1983) for captive display purposes.
Taiji has long been in the spotlight for the infamous dolphin captures and slaughters that take place in one of the town's small coves every year from approximately September 1-March 1. Orcas have not been on the hunting quota since 1997, but nine other dolphin species are still targeted to capture and slaughter. Take action and join us in ending the cruelty.
Featured Image: IKAN
Sources:
Orca Capture Case – Elsa Nature Conservancy
Taiji Orca Capture Case – IKAN
SHA-CHI.JP