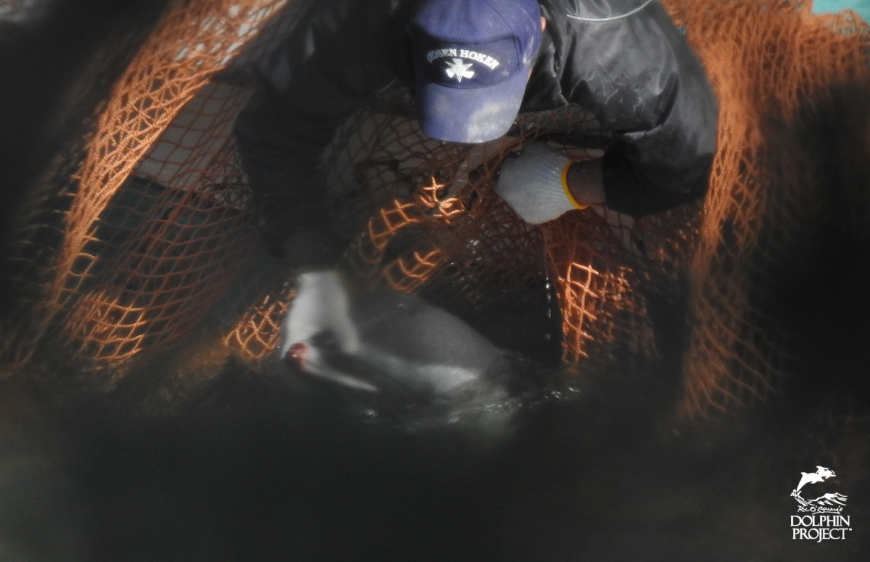 10
Feb
Taiji, 2-10-19: At the break of dawn, hunters went out in search of dolphins. What they found was a large pod of pantropical spotted dolphins – the first for this season. Dolphin Project Cove Monitors live streamed from two different locations, and as the pod fought fiercely while being driven into the Cove, the voices of Japanese activists rang out on behalf of the mammals.
"As the dolphins were being driven in, I relocated to the other side of the Cove to livestream from a different viewpoint. Three Japanese activists had placed a large banner on the beach. It said, in large, Japanese letters: STOP KILLING DOLPHINS!"

The coast guard and police were there, as were several towns people, who had come to see what all the fuss was about. Meanwhile, the hunters had pushed the dolphins into the Cove, netting off their escape. There were over a hundred of them, with many juveniles spotted in the pod. The activists began chanting in Japanese, "Leave the dolphins alone – this is not tradition!"

Shortly after, skiffs with trainers arrived on the scene, and the dolphins were forced closer to the killing beach, where tarps had been erected. Then the grueling captive selection process began."

~ Helene O'Barry
There was much turmoil and thrashing in the water. It was a scene of utter terror and fear. While hunters and trainers worked together in this display of savagery, the voices of the three brave women carried across the water, repeating their plea for mercy.
"The chaos amongst the pod was unimaginable. Divers swam through the terror-stricken dolphins, rolling them over to check their gender, then forcefully pushing the undesirable ones out of their way. A calf attempted to surface for air, then disappeared for several seconds underneath the surface, this process repeating over and over. One dolphin likely expelled its stomach contents, swimming with what looked to be a cephalopod hanging out of its mouth." ~ Heather Hill
Of the pod, 16 juveniles were chosen for captivity. They were loaded into skiffs and driven past their families, bound for sea cages. Before the skiffs had even left the Cove, trainers were busy administering injections of an unknown substance into their small bodies.
"My guess is that the injections might have contained antibiotics to combat infections caused by injuries sustained during capture." ~ Ric O'Barry, Founder/Director of Dolphin Project
The rest of the traumatized pod (approximately 100) were driven back out to sea. The scene was dramatic and heartbreaking as the dolphins literally swam for their lives – torpedoing out of the water then diving back in, in attempts to flee the horror they had just been subjected to.
The global captive dolphin industry is responsible for this barbaric cruelty. Dolphinariums that do not purchase dolphins from Taiji's drive hunts are also guilty of inexcusable betrayal against the mammals for not speaking out and for doing absolutely nothing to stop it.
"The contrast between the dolphin trainers' cruelty and the protesters' call for compassion was the most powerful and moving scene I have ever witnessed. These protestors really tried. They pleaded with the trainers to stop; tried to convince them to let the dolphins go. The trainers went ahead and put the dolphins through hell anyway, injuring many in the process." ~ Helene O'Barry