05
Sep
Taiji, Japan, 9/5/17: After three days of being held against their will in the shallow waters of the cove, with no access to food or water, and suffering from multiple injuries, the pilot whales' torment was palpable. Their breathing, normally coordinated and steady, was uneven and rapid. Several of the dolphins were floating on their backs; lifeless, near death or having already perished from the stress and trauma of the hunt.
The drive process is brutal. Hunting down a nursery pod full of juveniles, holding them for three days without access to food or water, and then manhandling the terrorized dolphins to their slaughters…what a savage and barbarous way to go." ~ Tim Burns, Dolphin Project Cove Monitor
Hunters proceeded to drag the bodies of every adult dolphin under the killing tarps, where they were tethered and slaughtered. The dolphins did not die quietly, their cries and violent tail slapping documented on our live broadcasts. Waters turned a murky red, with the surviving young swimming in the blood of their dead family members. When the bodies were eventually towed out through the cove, the juveniles, spy hopping while huddled close together, watched, occasionally vocalizing in a high-pitched manner consistent with extreme stress.
Twenty adults were killed, with one younger dolphin succumbing to injuries, for a total of 21 documented deaths. Trainers, while claiming to love and care for dolphins, worked alongside the hunters, selecting desired animals for "life" in captivity while others were slaughtered. Three young pilots were taken during the captive selection process. The remaining juvenile pilots, approximately 20 in total, were eventually pushed out to open water. Pilot whales are comprised of a matriarchal society, complete with their own cultures and traditions. With no adults or "pilot" to guide them, their chances of survival are minimal at best.
The captivity trade isn't a Japanese issue. It's a global issue. People need to STOP buying tickets to dolphin shows. No demand = no dolphin trade." ~ Cynthia Fernandez, Dolphin Project Cove Monitor
With Dolphin Project Cove Monitors documenting each day of this three-day drive, we were able to capture in video and audio the extreme cruelty of Taiji's dolphin hunts. We have included some of this media below and ask that you watch and share these videos.
HOW YOU CAN HELP
DONATE
Dolphin Project will be on the ground in Taiji during the entire killing season, broadcasting live on social media, blogging and disseminating information for the world to see. Your support has never been more crucial and is greatly appreciated.
WANT TO JOIN OUR TEAM AS A DOLPHIN PROJECT COVE MONITOR?
Interested in joining us in Taiji? Learn about becoming a volunteer Dolphin Project Cove Monitor.
TAKE THE PLEDGE TO NOT BUY A TICKET TO A DOLPHIN SHOW
It's fast, it's simple and it's effective. Take the Pledge now and share with your friends!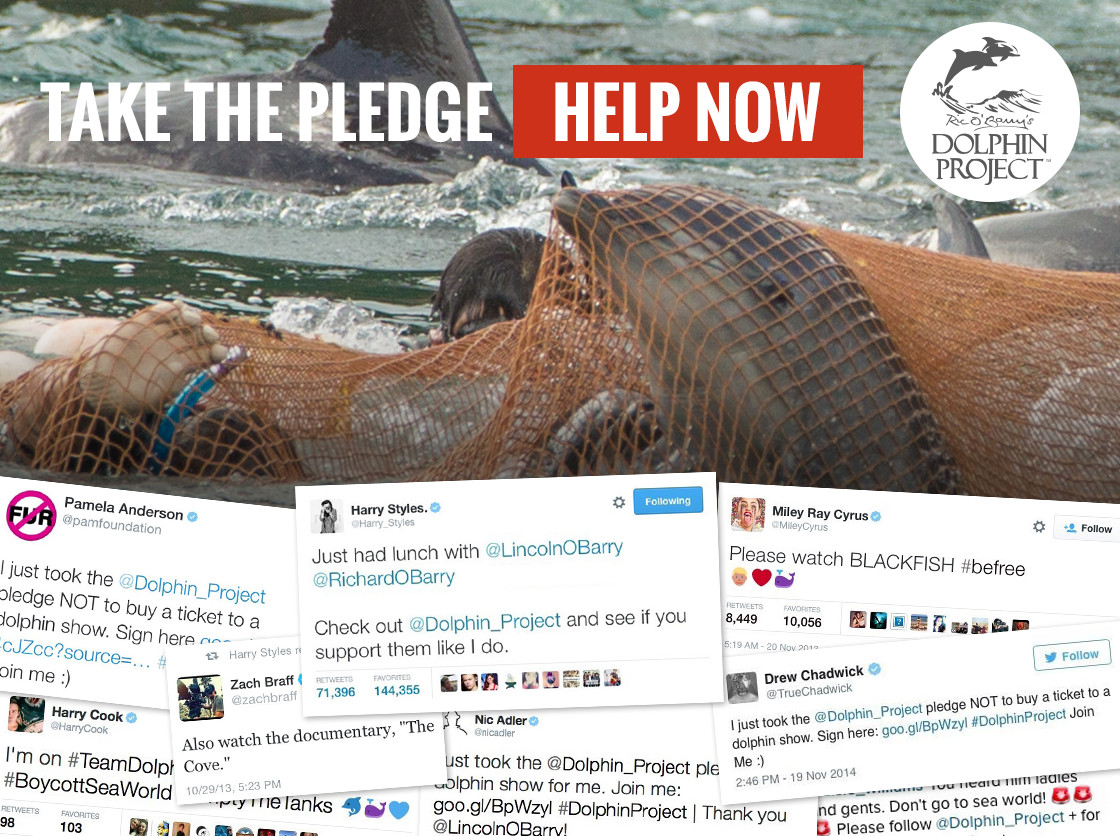 Ric O'Barry's Dolphin Project is a non-profit charitable organization, dedicated to the welfare and protection of dolphins worldwide. Founded by Richard (Ric) O'Barry on Earth Day, April 22, 1970, the mission of the Dolphin Project is to end dolphin exploitation and slaughter, as dolphins are routinely captured, harassed, slaughtered and sold into captivity around the world – all in the name of profit.
Every year from approximately September 1 to March 1, a notoriously cruel hunt of some of the most sentient and sensitive creatures on the planet takes place in Taiji, Japan, made famous by the 2009 Academy award-winning movie "The Cove." During this period, fisherman, or more appropriately, dolphin hunters, "drive" the mammals to their capture or deaths via means of physical violence and acoustic torture.
Dolphin Project is the only organization to have been on the ground in Taiji since 2003. We have revolutionized live streaming and will broadcast throughout the entire season.
Dolphin Project works not only to halt these slaughters but also to rehabilitate captive dolphins, investigate and advocate for economic alternatives to dolphin slaughter exploitation and to put a permanent end to dolphin captivity.  This work has been chronicled in films such as, 'A Fall From Freedom,' the Oscar-winning documentary 'The Cove,' and in the Animal Planet mini-series, 'Blood Dolphin$.'