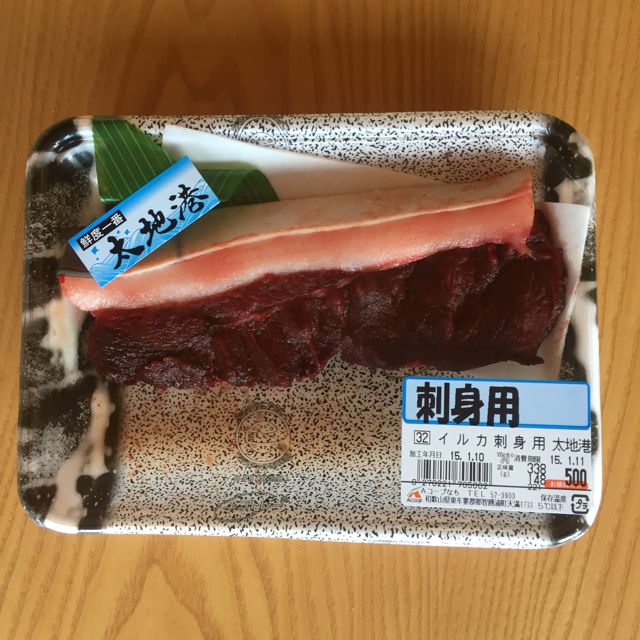 13
Jan
Approximately 35 striped dolphins were slaughtered in the Cove on January 8, 2015. I went looking for them a few days later. After searching several supermarkets along Highway 42, I finally found the pod in the '
A. COOP Supermarket'. It's not a pleasant sight to see these magnificent animals reduced to small chunks of packaged meat sitting in neat little rows in a refrigerated display case.
Three days earlier these very same animals were complete and perfect after 65 million years of evolution. They were killed for their meat, but the annual dolphin slaughter issue is not just about dolphins — of course dolphins are important, but so are people.
We know from Japanese scientists, that dolphins and small whales are heavily contaminated by mercury. No one should be eating meat from dolphins and small whales. Yet the Japanese government, fully aware of the dangers of mercury contamination, ignores this problem and allows mercury-poisoned dolphin and whale meat to be sold in markets. As a result, Japanese consumers are exposed to this danger, but not warned.
Mercury is the second most toxic poison in the world, second only to plutonium. Mercury attacks the brain and the nervous system, causing horrible damage to eyesight, hearing, and motor-skills, as well as interfering with memory and thought processes leading to dementia.  It further attacks fetuses in pregnant women, causing terrible life-long brain damage.
Mercury levels can be 20 to 5,000 times higher in dolphin and small whale meat than levels recommended by the UN World Health Organization (WHO) and the Japanese Ministry of Health. These levels raise grave issues of poisoning for Japanese citizens who consume dolphin and whale meat tainted with mercury. In addition to mercury, other dangerous pollutants like PCBs and cadmium can be found in dolphin and small whale meat bought for food in Japanese markets.
So why are the dolphin hunters of Taiji still selling this contaminated product to unsuspecting Japanese consumers? People are important too.
Click Here To