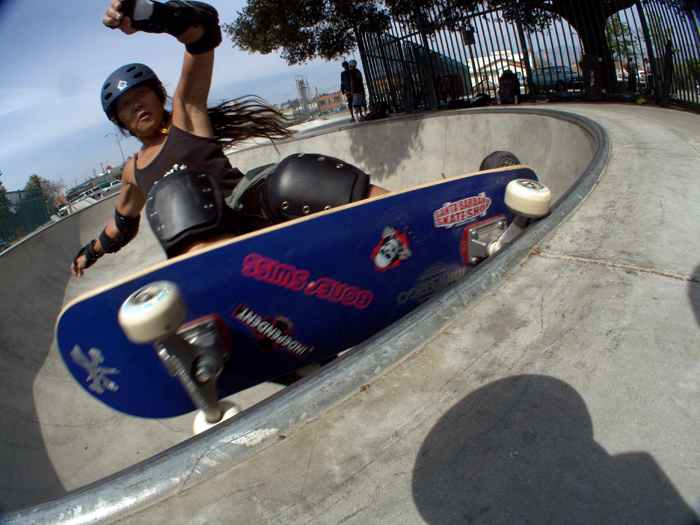 25
Jul
What happens when a graduate of biology, a pioneering skateboarder and surfer and an artist takes her passion for "all things wild" out to the world? Peggy Oki happens!
In the late 1970's, Peggy was an undergraduate biology student, studying field zoology as she had an interest in dolphins. When not completing course work, she took up skateboarding, becoming the only female member of the iconic Zephyr skateboard team, as featured in the documentary "Dogtown and Z-Boys." In 2012, Peggy was inducted into the Skateboarding Hall of Fame.
She also took up surfing, suddenly finding herself in the company of wild dolphins and other whales. They would serve as a constant inspiration to her, and as Peggy learned about their plight, her passion translated into activism. For the past 30 years, she has been acting as a voice for the voiceless, carrying her message of advocacy throughout the world.
I'm as passionate about my activism as I have been about my skateboarding. As a surfer of over 40 years, having experienced many close encounters with dolphins and other whales, I've been inspired by them and want to give back and ensure their protections." ~ Peggy Oki
Today Peggy runs, amongst many other initiatives, the Origami Whales Project. Through global public participation, a "Curtain of 30,000 Origami Whales" was completed and first displayed in Anchorage Alaska during the International Whaling Commission meetings in May 2007 as a powerful visual statement and memorial for the lives of whales killed since 1986.
One particular dolphin – an orca named Lolita – has been her focus of late. Lolita was caught in Penn Cove, Puget Sound, Washington on August 8, 1970. She was one of seven orcas sold to marine parks around the world. Her original name was Tokitae, however was renamed Lolita. And, for the past 47 years, has been held captive at the Miami Seaquarium in Florida.
We caught up with Peggy and asked her about her campaign for Lolita, entitled "16,425 Days A Slave", as well as what activists and non-activists alike can do to help.
DP: What can you recommend to people who are just learning about these issues and want to make a difference for dolphins? 
PO: It's critical to raise awareness about their plight. It doesn't matter what one's profession is, or their walk of life. Everyone can help and every positive action matters. Click the TAKE ACTION banner on Dolphin Project's website as well as the ACTIVISM page on my site to learn more.
DP: Why Lolita?
PO: When I learned about her story, which was filled with so much tragedy from the time of her capture in Penn Cove to her 47 years of incarceration, I realized it was our collective responsibility to act as her advocates, and do right for her.
DP: How can people participate in your event on August 8?
PO: People don't even have to be in California to let your voice be heard for Lolita! On August 8, we will be hand-delivering all the letters people have sent in to us to Palace Entertainment (the company that owns Miami Seaquarium, and Lolita), asking that she be retired back to where she was captured. Everyone across the world can help by collecting signatures and sending letters for Lolita for us to present on this day! For those who can attend, we hope all will join us protest in Newport Beach the same day.
DP: How can we best educate people on dolphin captivity?
PO: The future of aquariums and marine parks that feature captive dolphins will depend on the actions people take today. We must empower our youth and encourage people to speak up and be a voice for these mammals.
The more we can inspire positively, the more we can make a lasting and positive difference." ~ Peggy Oki
HOW YOU CAN HELP
Write a letter
Click here for sample letter to Palace Entertainment
Send to: Origami Whales Project, P.O. Box 864, Carpinteria, California, USA  93014
* Note:  Letters need to be received by August 4, 2017
Attend the demo

Let your voices be heard at the Protest March at Palace Entertainment! – #16425DaysASlave
Date: August 8, 2017, Location: Newport Beach, CA
Click here for event information

Take the pledge to NOT buy a ticket to a dolphin show
Featured image: Peggy Oki, Jeff Donovan