02
Nov
Taiji, 11-2-17: At 6:00 a.m., 11 hunting boats left the harbor in search of migrating dolphin pods. By 9:30 a.m., hunters hit payday, with the first drive of bottlenose dolphins for the 2017/18 season.
Dolphin Project Cove Monitors live streamed as the 16 member pod began exhibiting stress-induced behaviors, including tail slapping, rapid breathing and swimming in tight, repetitive circles. With trained bottlenose dolphins – the preferred species for marine parks and aquariums worldwide –  worth upwards of $155K USD, a massive payday would soon be in the making. Sadly, this will come at the expense of the dolphins' freedom, culture and natural world – a world to which they are perfectly adapted.
The connection between the lucrative captive industry and the dolphin slaughters that take place in Taiji couldn't be more obvious. Hunters and trainers work side-by-side, selecting which animals will be chosen for "life" in captivity, and those which will be killed. Trainers have often been observed joking with hunters while suffering mammals lose their lives.
The dolphin's smile is nature's greatest deception." ~ Ric O'Barry, Founder/Director of Dolphin Project
Visitors to marine parks are lured into a false notion that captive dolphins enjoy performing. Reality however, paints a much uglier picture. Dolphins perform because they are hungry. They are motivated to learn and execute behaviors as this is what earns them a fish reward. Logic would dictate that a mammal who routinely travels 50-100 miles a day in the open ocean would not thrive in a glass and concrete environment, where everything from water temperature to nutrition to socialization is controlled.
Learn more facts about captivity.
We filmed the bottlenose dolphins from the cove – the backdrop was so beautiful, calm and peaceful. Zen, in every way, but not to those dolphins. They're trapped, with a net preventing them from returning to the borderless ocean they know. And just like that, tonight will be the last night they remain as a family. So heartbreaking." ~ Ernie Ismail, Dolphin Project Cove Monitor
At the time of this writing, hunters and skiffs have left the cove, and it would appear that the pod will be left overnight, with no access to food or water. Please follow our social media for updates and scroll down for ways you can help.
HOW YOU CAN HELP
DONATE
Dolphin Project will be on the ground in Taiji during the entire killing season, broadcasting live on social media, blogging and disseminating information for the world to see. Your support has never been more crucial and is greatly appreciated.
WANT TO JOIN OUR TEAM AS A DOLPHIN PROJECT COVE MONITOR?
Interested in joining us in Taiji? Learn about becoming a volunteer Dolphin Project Cove Monitor.

TAKE THE PLEDGE TO NOT BUY A TICKET TO A DOLPHIN SHOW
It's fast, it's simple and it's effective. Take the Pledge now and share with your friends!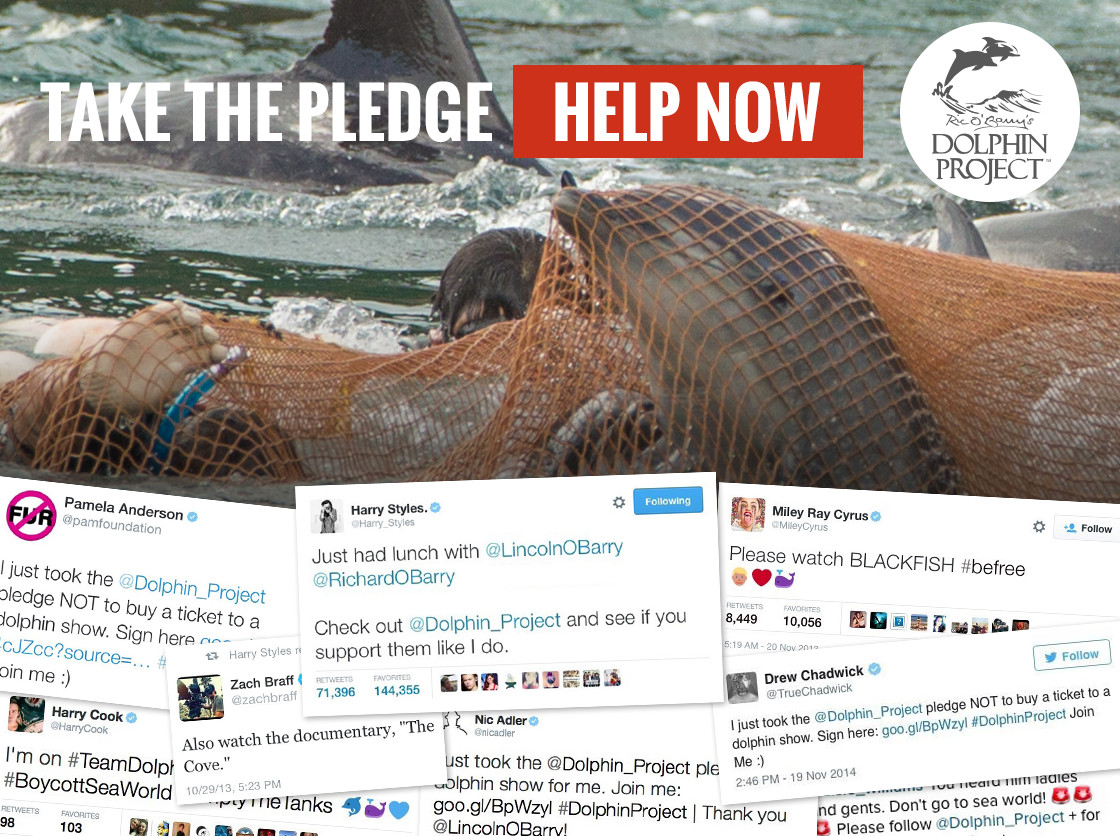 Ric O'Barry's Dolphin Project is a non-profit charitable organization, dedicated to the welfare and protection of dolphins worldwide. Founded by Richard (Ric) O'Barry on Earth Day, April 22, 1970, the mission of the Dolphin Project is to end dolphin exploitation and slaughter, as dolphins are routinely captured, harassed, slaughtered and sold into captivity around the world – all in the name of profit.
Every year from approximately September 1 to March 1, a notoriously cruel hunt of some of the most sentient and sensitive creatures on the planet takes place in Taiji, Japan, made famous by the 2009 Academy award-winning movie "The Cove." During this period, fisherman, or more appropriately, dolphin hunters, "drive" the mammals to their capture or deaths via means of physical violence and acoustic torture.
Dolphin Project is the only organization to have been on the ground in Taiji since 2003. We have revolutionized live streaming and will broadcast throughout the entire season.
Dolphin Project works not only to halt these slaughters but also to rehabilitate captive dolphins, investigate and advocate for economic alternatives to dolphin slaughter exploitation and to put a permanent end to dolphin captivity.  This work has been chronicled in films such as, 'A Fall From Freedom,' the Oscar-winning documentary 'The Cove,' and in the Animal Planet mini-series, 'Blood Dolphin$.'