03
Nov
Taiji, 11-3-17: At 5:55 a.m. the sun began to rise over the cove in Taiji, Japan. And along with it, to our Cove Monitors' horror, dozens more dolphins trapped than the day before. The only explanation is hunters must have gone out after the first drive of bottlenose dolphins to try to collect more, and it would appear they were successful.
Our team counted 41 dolphins – 25 more than their initial estimate. Held overnight with no access to food or water, the mammals were nervous; swimming tightly together, their breathing rapid. In the meantime, four hunting boats set off in search of even more migrating dolphins.
Shortly thereafter, skiffs began arriving, filled with divers and trainers. Captive selection would soon begin. And even though this tragic scene has played out over and over during past drives, one is never prepared for such violence – and suffering.
Every time I close my eyes I see their faces. You feel completely helpless knowing all you can do for them is record their pain, so we have to make our footage count." ~ Maria Nangle, Dolphin Project Cove Monitor
The selection process was brutal. Dolphins, splashing and tail slapping, were forced towards the beach. Divers jumped on the youngest and least-blemished mammals first, and at one point, our team observed five divers wrestling with one dolphin, dragging it towards a skiff where it was wrapped up in a net and restrained.
The dolphins were in a state of panic. They swam closely together, at times, appearing to swim on top of one another. They became aggressive, charging against the rocks or nets in attempts to free themselves. And divers did nothing, seemingly unconcerned about their potential for injury. Many animals were observed bleeding. Once again, hunters and trainers shouted and laughed throughout the dolphins' suffering.
When it was all over, 17 dolphins lost their freedom, two calves amongst the group selected for captivity. The remaining pod members (approximately 24) were driven back out to sea. Many injuries were observed on those that were released.
Terrorized, manhandled and injured – all so orders can be filled for aquariums and marine parks throughout the world. With a quota of 414 bottlenose dolphins for the 2017/18 season, many more dolphins might suffer a similar fate. Once again, the connection between the captive industry and the dolphin slaughters that take place in Taiji cannot be overstated. The key is to decrease the demand for performing dolphins, and the easiest way to do this is for people to STOP BUYING tickets to dolphin shows.
Keeping a camera on the ground in Taiji is imperative. Out of sight and out of mind is not an option for us." ~ Ric O'Barry, Founder/Director of Dolphin Project
HOW YOU CAN HELP
DONATE
Dolphin Project will be on the ground in Taiji during the entire killing season, broadcasting live on social media, blogging and disseminating information for the world to see. Your support has never been more crucial and is greatly appreciated.
WANT TO JOIN OUR TEAM AS A DOLPHIN PROJECT COVE MONITOR?
Interested in joining us in Taiji? Learn about becoming a volunteer Dolphin Project Cove Monitor.

TAKE THE PLEDGE TO NOT BUY A TICKET TO A DOLPHIN SHOW
It's fast, it's simple and it's effective. Take the Pledge now and share with your friends!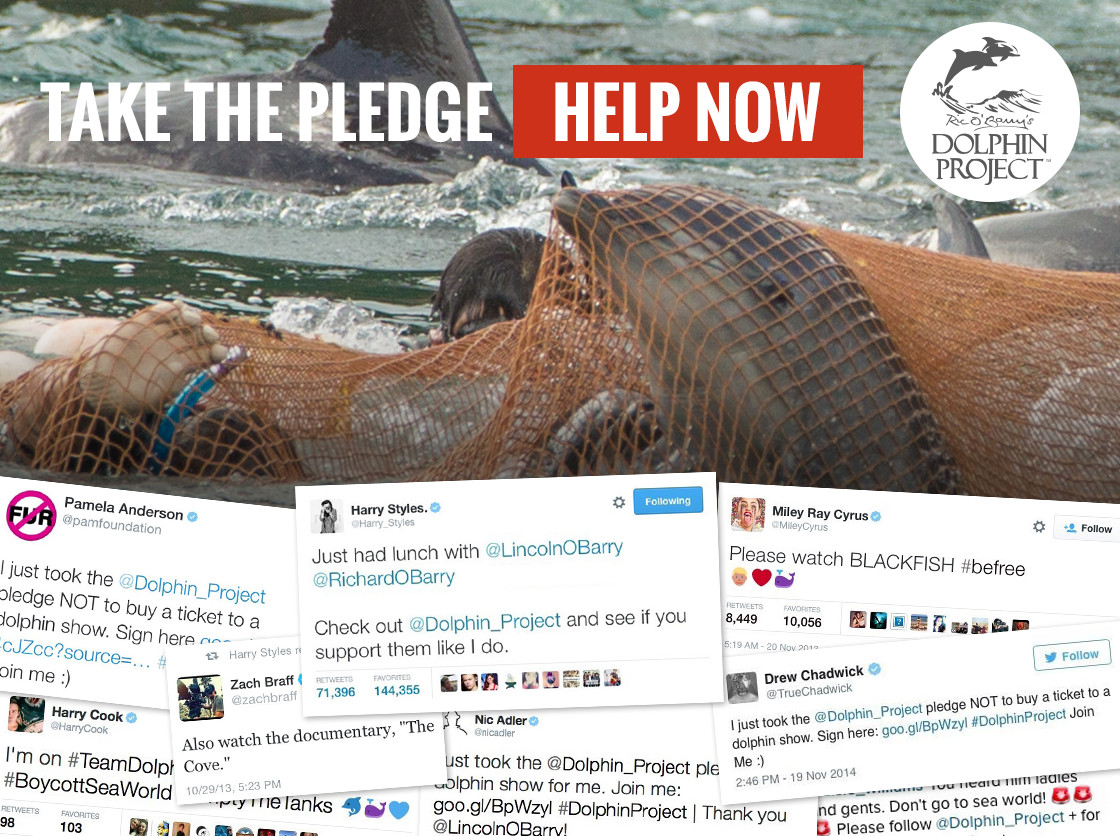 Ric O'Barry's Dolphin Project is a non-profit charitable organization, dedicated to the welfare and protection of dolphins worldwide. Founded by Richard (Ric) O'Barry on Earth Day, April 22, 1970, the mission of the Dolphin Project is to end dolphin exploitation and slaughter, as dolphins are routinely captured, harassed, slaughtered and sold into captivity around the world – all in the name of profit.
Every year from approximately September 1 to March 1, a notoriously cruel hunt of some of the most sentient and sensitive creatures on the planet takes place in Taiji, Japan, made famous by the 2009 Academy award-winning movie "The Cove." During this period, fisherman, or more appropriately, dolphin hunters, "drive" the mammals to their capture or deaths via means of physical violence and acoustic torture.
Dolphin Project is the only organization to have been on the ground in Taiji since 2003. We have revolutionized live streaming and will broadcast throughout the entire season.
Dolphin Project works not only to halt these slaughters but also to rehabilitate captive dolphins, investigate and advocate for economic alternatives to dolphin slaughter exploitation and to put a permanent end to dolphin captivity.  This work has been chronicled in films such as, 'A Fall From Freedom,' the Oscar-winning documentary 'The Cove,' and in the Animal Planet mini-series, 'Blood Dolphin$.'[/vc_column_text][/vc_column][/vc_row]