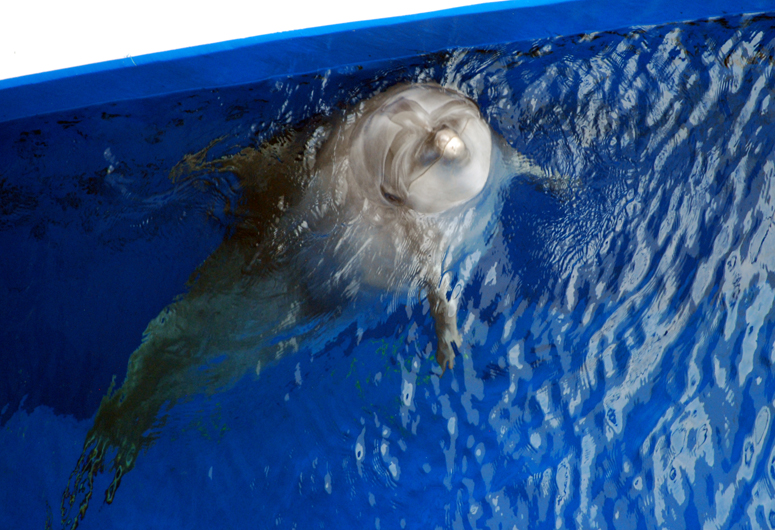 01
Mar
By Ric O'Barry
Campaign Director
Ric O'Barry's Dolphin Project

It isn't really time for a celebration, but our Save Japan Dolphins Campaign strategy in Japan is working.
Normally the dolphin-hunting season goes through the end of March, but Tim Burns, our volunteer Cove Monitor in Taiji, reports the fishermen are preparing their boats today for bonita fishing offshore.  Tarps are still set up in the Cove where the slaughter takes place, but all signs are that dolphin hunting is over for this season, with the exception of pilot whales (if the fishermen see pilot whales, they may again form a drive to push them in for slaughter).
Due to our relentless campaign of educating the Japanese people about the dangers of eating mercury-contaminated dolphin meat, the demand for such meat is way down in Japan.  And the hunters have killed far fewer dolphins than last year, according to our estimates.
So, how much are the dolphin hunts declining?
By our estimate, based on our Cove Monitors watching from the hillside (and occasional leaks of information from the Taiji dolphin hunters), we estimate 726 to 786 dolphins were slaughtered this hunting season, 2011-12.   This number does not include the number of dolphins kept for captivity or chased back out to sea.
That is a wide margin, I know.  It is extremely difficult to count dolphins in the water, because you can't tell how many are above or under water at any one time.  Watch some of our Cove Monitor videos of the dolphins being driven into the Cove, and you will see what I mean.  At some point in the coming months, the Japan Fisheries Agency will publish a detailed number of dolphin deaths, but until then all we have to go on is our estimates from our volunteers.
726-786 dolphins are still way too many dolphins to suffer needlessly in this cruel hunt.  But last season, 2010-11, the Taiji dolphin hunters killed 1,190 dolphins.  The previous season?  In the 2009-10 season, 1,336 dolphins died.  In the 2008-09 season, 1,484 dolphins died.
There is still much to do.  We continue to push educational efforts to inform the Japanese people about the dangers of mercury contaminated dolphin meat.  We conduct testing of dolphin meat, including now checking for radiation as well as mercury and PCB's.
We also are promoting alternatives – such as promoting eco-tourism and whale/dolphin watching programs in the wild, which is happening in several locations in Japan.  
And just to show how desperate the Taiji town fathers are, they announced an over-the-top "Petting Whale Farm" for Taiji that they want to build in five years, complete with captive minke and pilot whales and dolphins.  The story appeared in the Daily Yomiuri on Monday in Japanese.
According to our English translation of the story:
Because of the negative image of the drive hunt painted by the Academy Award winning US movie "The Cove," there has been interference by foreign anti-whaling organizations.
The town Mayor Kazutaka Sangen said, "We see the unfavorable circumstances as our opportunity to promote our town because we have co-existed with whales for generations. We will turn Taiji into a national park and museum with a whale theme."
The idea is to net off a huge portion of the bay, kicking out the pearl fishermen, and letting people swim and boat with the captive whales and dolphins.  Of course, minke whales have never been kept in captivity, so it is uncertain if this plan makes any sense at all.  Certainly the cost to Taiji taxpayers will be enormous just to build out the proposal, with resort hotel and other expensive facilities.
It should be noted that according to our Japanese friends, a similar proposal was made by Taiji a few years ago, but involving orca whales instead of minke and pilot whales.  For some reason the town was unable to get permits to catch the orcas.  Talk, as they say, is cheap.
We have a better plan for Taiji, which would more than pay for itself and truly make Taiji a wonderful magnet for tourists.   We would be willing to help promote Taiji nationally and internationally as well as put up money to transition.  
We believe we can help the people of Taiji prosper, if they are willing to help the dolphins.    It would be such an easy thing.
Again, I want to give my thanks to all our volunteer Cove Monitors who worked so hard this year in Taiji.  Many of them not only donated their time, but also often bought their own air ticket and paid their own costs for staying in Taiji.  I am very grateful for their efforts.
And thank you to all who have donated so far to our Campaign.  Our strategy is working!  I hope you will continue your support and help us spread the word.
We have made huge progress, but it ain't over yet.