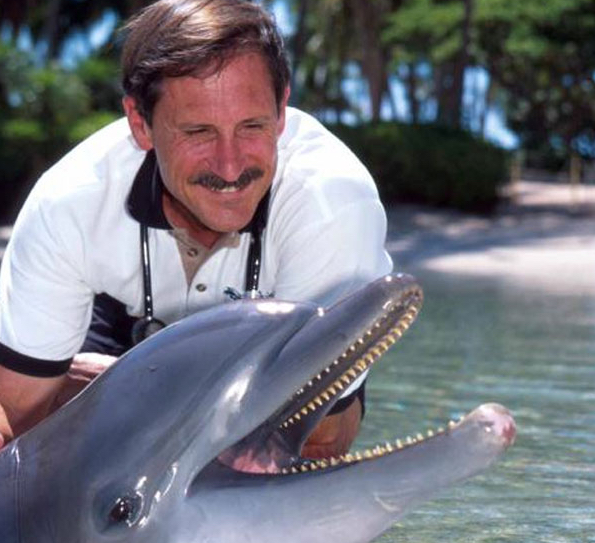 06
Feb
Updated 2/21/19: After multiple protests, including the hiring of a plane sporting a banner "Dolphinaris: Why Are 4 Dolphins Dead?" and worldwide condemnation against the beleaguered desert facility, Dolphinaris Arizona is closed.
————–
Four dead dolphins in the Arizona desert within a span of 16 months. Who is to blame? As far as I am concerned, there is no question about it:  It's Dr. Jay Sweeney and his business partner Dr. Ray Stone.
Dolphin dealer Jay Sweeney – who in the past captured scores of dolphins in United States waters for the entertainment industry – and Dr. Ray Stone are founders of Dolphin Quest in Hawaii, where dolphins are exploited in shows and a lucrative captive dolphin swim program. Several of the dolphins at Dolphin Quest were violently captured from the wild, in the Gulf of Mexico, and several of them have died there. As if that is not enough cruelty to dolphins, Sweeney was also involved in the trade in dolphins captured in Japan's gruesome dolphin drive hunts. This has been documented in the film A Fall From Freedom.
Prior to Dolphinaris Arizona's opening in October 2016, Dolphin Quest sent three of its dolphins to the facility on a "loan." One of them was named Kai. He was the fourth dolphin to die in Arizona. On their website, Dolphinaris Arizona officials said: "His condition deteriorated following signs of difficulty swimming, eating and breathing." The three other dead dolphins came from Mexico. They all suffered miserable deaths, and it didn't have to happen: Both Sweeney and Stone are experienced marine mammal veterinarians. Both live in Arizona. Both know better than anyone that dolphins do not belong in the desert. They should have disclosed right away that confining dolphins to a concrete tank in Arizona´s Dust Bowl is playing Russian roulette with the dolphins' so-called life. Their insatiable appetite for more money is what caused the four unnecessary deaths.
These two "doctors" need to be called out publicly. The victim dolphins are nothing more than a "rental unit" to them.