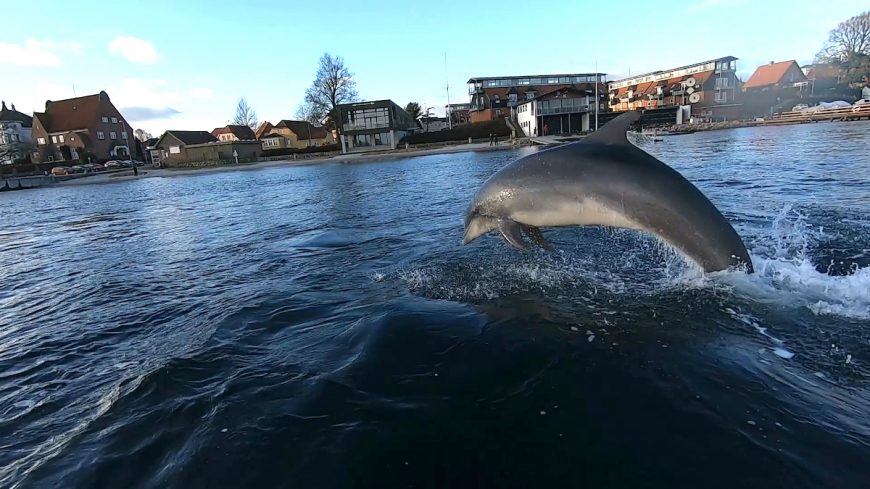 04
Mar
Yoda originates from a colony of common bottlenose dolphins in Scotland called the "Moray Firth Dolphins," named after the inlet—or firth—of the North Sea where they live. The Moray Firth dolphins are one of two resident populations in the United Kingdom and the most northerly colony of dolphins in the world. More than 200 dolphins are in the Moray Firth population, and researchers at the University of Aberdeen, which runs a long-term bottlenose dolphin photo-identification project, have named about 30 of them.
Ric and I saw Yoda for the first time in November 2020. Even though he was far away, we were still able to catch a glimpse of his impressive size. The Moray Firth dolphins are the largest bottlenose dolphins anywhere in the world, growing up to four meters in length. But we didn't see him in Scotland. Rather, we were off the coast of Denmark (I've omitted the exact location to help protect Yoda from crowds flocking to see him.) In September 2017, Yoda left his original home range. As far as we know, he showed up by Denmark in 2019 and has become what researchers refer to as "a solitary dolphin."
A resident of Denmark, Jesper Stig Andersen, told us about Yoda and asked if we would come to his home town and help assess the situation. He told us he saw Yoda for the first time over a year ago, while he was out on the bay. "I was on my standup paddle board, when all of a sudden a dark figure approached me. At first, because of its size, I thought it was an orca. Then I realized it was a bottlenose dolphin, at least three meters long. He stayed with me for about 10 minutes, swimming around my board and underneath me, and then he took off." At that time, no one in Denmark knew that the dolphin was in fact a missing member of the Moray Firth dolphins. Jesper started calling him Delle, and this is the name he mostly goes by in Denmark.
Yoda is believed to be about 13 years old. His mother is known as Chewbacca, and he has a sister named Kenobi and a brother named Skywalker. Yoda is not the only member of Moray Firth's bottlenose dolphin population to have left the area. Last year, some members of the group were found to have travelled to Ireland's southwest coast and the Netherlands. And a female Moray Firth named Moonlight made the Isle of Man her home last summer.
The UK-based dolphin and whale organization Marine Connection has been monitoring the phenomenon of solitary cetaceans for more than 25 years. The organization's Lone Rangers report highlights 114 documented cases of solitary cetaceans worldwide to when the last edition was published in 2018, with several more documented since. Most of them are bottlenose dolphins, but some have been orcas, beluga whales, common dolphins, Risso's dolphins, spotted dolphins, dusky dolphins, and even narwhals. Not all solitary cetaceans become sociable around people, but those that do face several manmade threats, such as boat traffic and fishing gear. Whales and dolphins can become entangled in fishing nets underwater, and, unable to reach the surface to breathe, they drown. Solitary cetaceans that end up in areas close to people, such as harbors or inlets, are at particular risk. Some of them have been known known to approach motorized boats out of curiosity, and the boats' propellers can cause serious injury.
But that is not all. A lone dolphin that lives close to shore often attracts an incredible amount of attention from people who want to swim with it or interact with it in some other way. We know of cases where people have jumped in the water to swim with a solitary dolphin or whale, touch it, and even ride it by its dorsal fin. Marine Connection co-founder Liz Sandeman cautions: "Dolphins are enigmatic marine mammals, and it's understandable that people want to get closer to them. But for the welfare of both the solitary dolphins and the public, it is vital that humans respect these are wild animals and do not indulge the dolphins' inquisitive nature by entering the water with them. Without question, interaction changes their behavior and makes them particularly vulnerable to danger. In May 2020 a solitary, sociable male bottlenose dolphin, Zafar, aged approximately 14 years old, died in Dutch waters. Danny, another bottlenose dolphin, died in UK waters the same year, at just 10 years of age. Both dolphins were victims of acute physical trauma from ship strikes. Sadly, the more friendly and sociable the solitary dolphin becomes, the less wary it is around boats and other potential hazards."
Zafar, whose mutilated body was found on a beach in Holland, had lost his tail fluke. He was known to follow ships and was familiar with the one that ended up killing him. Danny had become a local celebrity off the Dorset coast and regularly sought contact with humans. Just like Zafar, he was killed by a vessel that he had become accustomed to. Sadly, Zafar's and Danny's attraction to humans ultimately cost them their lives. Another solitary dolphin was found dead off the coast of Germany in January this year. She was a common dolphin, and her cause of death remains unknown.
And just last month, a young solitary common dolphin known as Luca washed ashore in Denmark. Luca had been living near the town of Sundby and was often seen in the harbor. She belonged to a fast-swimming pelagic species, and her prolonged presence close to shore was worrying, especially as Denmark has had a frigid winter. Some speculate that Luca froze to death or became trapped under the ice and drowned. When Luca was alive, many people admired her from a respectful distance, while others apparently took advantage and sought close-up encounters with her. A social media post earlier this month describes swimmers entering the water to swim with Luca and people on sup boards converging on her while she was resting.
People who do these kinds of things are usually well-intentioned. They see a dolphin and get excited at the prospect of getting close to it, but interaction can be dangerous for both the dolphin and the human swimmer, especially when the swimmer does not know how to read the dolphin's body language. When the dolphin slaps its tail flukes against the surface of the water, for example, it can easily be interpreted as playfulness by humans. However, it is more likely a sign of frustration and the dolphin's way of saying "Leave me alone." Dolphins are wild and powerful marine mammals, and an agitated, stressed-out dolphin can cause serious harm to a human swimmer, either through biting or with a single strike of its tail fluke. The most respectful approach is to observe the dolphin from a distance and not do anything that changes its natural behaviors.
In an effort to protect the Scottish bottlenose dolphin Yoda, Jesper has founded a Facebook group dedicated to establishing specific guidelines aimed at creating the necessary distance between Yoda and people. The group, which now has more than 4,000 members, encourages boaters to stay at least 50 meters away from Yoda. It also asks people to not feed him, follow him, or disturb him when he is foraging or resting. Jesper took it upon himself to erect a large banner in a specific area at the harbor telling people that this is the dolphin's resting and foraging place and to stay away. Last spring, a Danish news outlet published images of several speedboats chasing Yoda, rodeo style, thus exposing him to tremendous risk. "People wouldn't chase down a dog with scooters to interact with it, so why do they think it's okay to chase down a dolphin with speed boats?" Jesper points out. He tells us that an entrepreneur tried to set up a commercial dolphin-watching business last year, offering to take tourists out on the water to see Yoda up close. He stopped when the weather got cold, but Jesper fears that he might start again next summer. "I think most of the people here realize the importance of giving Yoda space, but when summer arrives, we once again have to educate tourists to the importance of not chasing him down," says Jesper who does not want to see Yoda turned into a tourist attraction. He spends a lot of his time advocating for Yoda's protection and has published informational leaflets in several languages in hopes that tourists will refrain from converging on Yoda. At one point, 10-15 kayakers were flocking around Yoda while he was foraging. Afterwards, they came over to Jesper and asked if he had noticed how playful the dolphin was during the encounter. Jesper told them the dolphin had not been playful at all. He was trying to catch fish, and they had disturbed him. "They were very surprised. It clearly wasn't their intention to bother him; they simply did not know how to tell when a dolphin is searching for food, and to leave him be. It shows how important it is to raise awareness," he says.
Solitary and sociable dolphins who live near land are extremely vulnerable, as they depend on humans to give them the space they need to forage, rest, and just be dolphins. It seems that they all need a team of human "ocean rangers" to look out for them and make sure they receive the protection required to survive. The dolphinarium industry, which uses dolphins in captive dolphin swim programs where participants get to kiss and hug the dolphins and ride them by their dorsal fins, is no doubt partially responsible for the way that some people treat solitary and sociable dolphins in nature, and the more popular these lone dolphins become, the more dangerous it is for them. Thankfully, many people in Jesper's hometown have made it their mission to ensure Yoda's safety. One significant change that Jesper has noticed in Yoda's behavior since he first arrived, is that he shows little interest in following motorized boats. He usually stays away from them, and this helps protect him from getting hurt by propellers.
"It would be wonderful to see Delle – or Yoda as he is known to many – once again connect up with dolphins of his own kind, but we obviously have no control over that. If he continues to live as a solitary dolphin near people, I sincerely hope that decision makers in my home town will take a more proactive approach and participate in efforts to protect him," says Jesper.
Featured image: The dolphin named Yoda by researchers in Scotland has been living as a solitary dolphin off the coast of Denmark for over a year. Credit: Jesper Stig Andersen