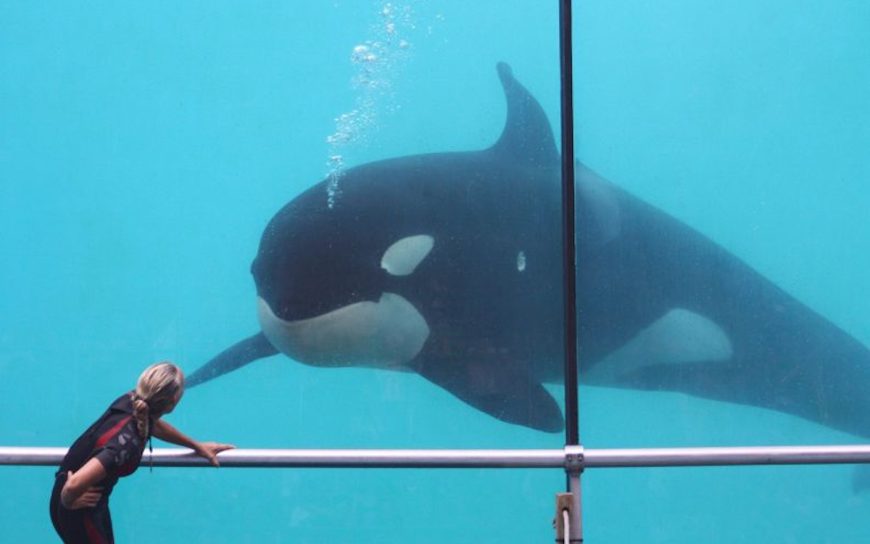 03
Apr
In October 1982, a female orca calf was captured off the coast of Iceland. She would become known as Freya and according to several online sources was just a year old, perhaps two, when taken. Four other Icelandic orcas were wrestled from their mothers that month and immediately after capture taken to the Hafnarfjörður Aquarium, which was located ten kilometers south of Reykjavik. For more than a decade, the facility functioned as a warehousing facility for orcas. Most (but not all) of the more than 50 orcas captured in Icelandic waters from 1976 to 1989 were warehoused there before being exported. Some were held for a few weeks, others for several months.
The water-themed tourist attraction Marineland in Antibes, France, placed an order for two of the orcas, and in March 1983, Freya and a young male named Kim 2 were loaded into a plane and flown across the Atlantic Ocean, arriving on the French Riviera five months after they were taken from their families. I would guess Marineland gave Kim 2 that name because he was supposed to replace another wild-caught Icelandic orca named Kim that had arrived at the stadium in November 1976 and died there in July 1982.
At Marineland, Freya and Kim 2 were trained to perform in shows alongside a female orca named Betty who had been captured in Iceland five years earlier.
When Betty died in September 1987, Freya became the sole female to perform at Marineland's orca stadium until January 1990 when two more orcas arrived in a cargo plane from Iceland. Sharkane, a female, and Tanouk, a male, had been captured off the coast of Iceland the year before, in October 1989.
Freya allegedly gave birth to several stillborn calves during her years at Marineland. When, in February 1996, she gave birth to a live calf, a male sired by Kim 2, Marineland named him Valentin, and as he grew older, he, too, underwent training to fulfill his role as a performer.
Freya died in June 2015, when she was approximately 33 years old, and her son Valentin died shortly thereafter, in October 2015, at the age of 19.
From 1976 to 1989, Marineland purchased a total of six wild-caught Icelandic orcas — three males and three females — and when Freya passed away, they were all gone.
Since 1970, seven wild-caught orcas, including a female captured in Canada and a male captured in the United States, have died at Marineland's orca stadium. (They are: Calypso from Canada, Clovis from the United States, and Kim, Betty, Kim 2, Sharkane and Freya from Iceland.)
From 1993 to 2013, six live orcas were born at Marineland. Marineland kept five of them but in 2002 sent Sharkane's first offspring, a female named Shouka, to the United States to perform there. This was the second time that Marineland would send one of its orcas abroad: In November 1995, Tanouk was flown to an amusement park in Japan where he died five years later.
As of February 2023, Marineland's concrete stadium holds four captive-born orcas: a female named Wikie and three males named Inouk, Moana, and Keijo. Born in 2013 to Wikie, Keijo's maternal grandmother is Freya, and his paternal grandmother is Sharkane. I've read in various places that Freya's son Valentin is most likely Keijo's father. To my knowledge, Marineland has never officially announced who the father is, but if Valentin did indeed sire Keijo, then Freya's only grandson is inbred, as Kim 2 is the father of both Valentin and Wikie.
Featured image: Taken from her mother when she was between one and two years old, Freya spent 33 years performing for tourists at a water-themed amusement park on the French Riviera. During her time in captivity, Freya allegedly gave birth to four stillborn calves. She died in June 2015, and her son Valentin died just four months later, at the age of 19. Credit Lisa S/Inherently Wild