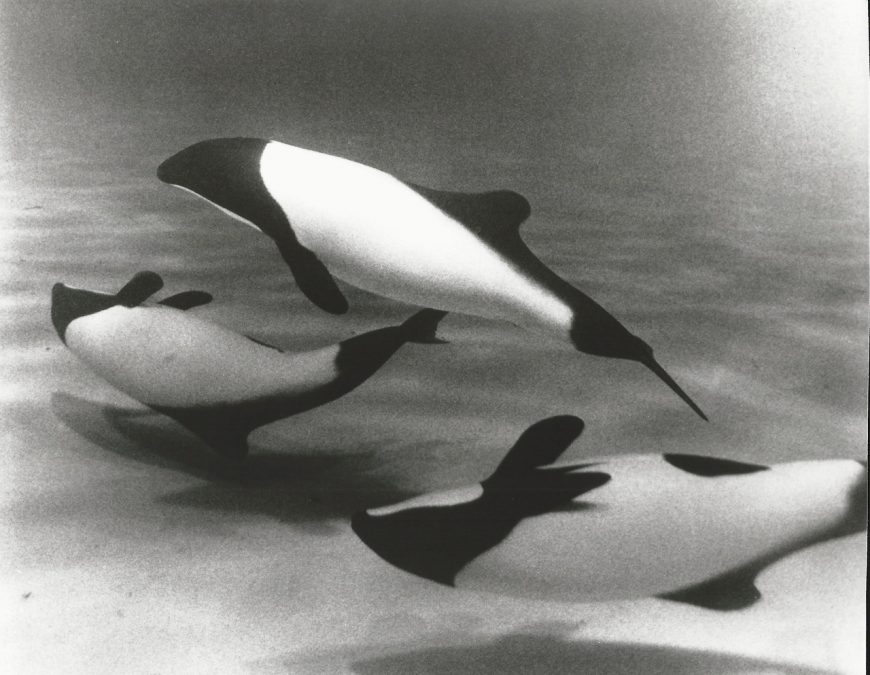 05
Apr
Quick Facts

Caught: Late November, 1978, Puerto Deseado, Argentina
Died: July 21, 1981, at Mystic Marinelife Aquarium, Connecticut, USA
In February 2016, SeaWorld announced they would not restock their shrinking Commerson's dolphin population, following the Virgin Pledge they signed in 2014.  This followed after Betsy, a 33-year-old Commerson's, died a week after transport from the San Diego park to Aquatica Orlando, due to "age-related cardiovascular and nervous system degeneration." Her two San Diego podmates, Ringer and Juan, acclimated and joined the two Aquatica dolphins, Ross and Pepe, without a hitch.
Betsy was the second-to-last wild-caught Commerson's in the United States. She, along with a dozen others, was caught off the frigid waters of the Straits of Magellan, Chile, by SeaWorld during the week and weekend of Thanksgiving 1983. The species' history in North America has been written much more extensively in an earlier article.
The Commerson's appearance in American aquaria did not start with SeaWorld. It started a five years earlier – with a confiscation at an airport.
---
The small, lively black-and-white dolphins (known locally as jacobita) made their splash in Bahia Blanca, Argentina, where two individuals were caught by dealer Avelino H. Cobreros in the beginning of 1978. After holding them for 48 days in a 'pond,' they were released. Former Duisburg Zoo director, Wolfgang Gewalt, soon heard about these little-known animals and wanted a pod of his own. The Sunshine International Aquarium in Tokyo placed an order of their own.
In all, ten Commerson's were captured in late fall. Six were earmarked and sent to Duisburg in November. Middleman Akiko Kawahara, employee of the family-owned Kawahara Bird & Animal Trading Company, flew to Argentina, along with an Sunshine Aquarium associate Mosaki Mori, on December 13th or 14th to pay Cobreros $28,000 for the remaining four dolphins (three females and one male) and help transport them to Buenos Aires, before going outbound.
The women had great concern for their fragile cargo, making arrangements for a stopover at JFK International Airport in New York, where they had planned to let the dolphins rest "in a temperature controlled facility prior to their transfer to another aircraft for the flight to Tokyo." However, they overlooked their paperwork, not bothering to ask for importation permits. Nor did one of them stay in the cargo-hold to monitor the dolphins.
During the 3 AM change-over at JFK Airport on December 15, an airline employee notified authorities about the live cargo. Two hours later, National Marine Fisheries Service agents, along with Mystic Marinelife Aquarium staff, arrived at the airport to confiscate the animals, just in time to watch a forklift unload "four coffin-like crates." The barest of labels marked precious cargo; just a simple "Head" and "Tail" at each end, along with "Commerson's Dolphin," and the address of the Sunshine Aquarium.
With two vets present, along with Mystic's Director, and the Curator, the NMFS agents pried opened the plastic-lined boxes; the four dolphins languished on foam pads, suspended by several inches of saltwater dirtied by excrecea. When they had landed in New York, they had been in the crates for at almost 36 hours. One of the four dolphins was dead on arrival: the unmelted ice on her body, originally thrown in to keep the animals cool during the flight, indicated she had died before takeoff in Buenos Aires. A necropsy later showed she had drowned, her crate filled with too much water. In fact, all the dolphins had been shipped in containers overfilled, which most likely shifted during landing and banking, covering their blowholes for unknown durations and magnifying their stress.
The surviving three were rushed to Mystic, Connecticut, and hospitalized in an indoor medical pool. The sole male of the group had to be restrained and given a dose of Diazepam after he "began to dash about erratically, hitting the walls of the tank."  Four and a half hours later, another female died, this time, from "pneumonia, gastro-enteritis, gastric ulcers and pancreatic fibrosis". Severe necrotic lesions had marked her ventral side, most likely inflicted during her capture two weeks earlier.
The remaining pair, christened Don Juan and Carmelita, were followed closely by local media. The distressingly thin Don Juan was successfully treated for lungworm but could not recover, dying eight days later from similar ailments the second-to-last female died of.
As Mystic Aquarium fought to stabilize Carmelita's health, the National Marine Fisheries Service dragged Sunshine International Aquarium and Akiko Kawahara to federal court for lack of shipping documentation, and violating transportation guidelines of the Marine Mammal Protection Act. During the hearings, Mystic Aquarium Curator and veterinarians stated that the none of the animals would have survived the estimated 75-hour trip, had NMFS agents not intervened. Kawahara stated she was not aware of the strict stipulations and rules of the MMPA, a claim that held little weight, given her duty as an animal trader is to be aware of such laws.
On December 26th, Judge Hugh J. Dolan, overseeing the case, fined Kawahara $7,500 and recommended forfeiture of Carmelita and the bodies of her companions. However, because Kawahara was not a US citizen, the order could not be enforced: the only way to make her pay up was to initiate proceedings in a Japanese court, which would have been costly. Given the situation, NMFS did not pursue further, and Kawahara disappeared, getting away scot-free.
Carmelita would not take fish until the nineteenth day, and throughout January, she was treated for severe ulcers and an nonspecific infection. She was given several injections of diazepam to reverse her worsening spinal curvature, to no avail. Mystic Aquarium officials suggested it was caused by injury and "severe muscle cramps during the animal's prolonged confinement in the shipping crate." From her dorsal fin to her flukes, she would be crippled for the rest of her short life. She was only able to swim and maneuver in her tank using her pectoral flippers, occasionally suffering from convulsions.
Carmelita lived alone, given her slow swimming speed due to her handicap. At one point, she was paired with a stranded juvenile pilot whale six months into her stay at Mystic. Marine mammal researchers provided some company, visiting her to study her food consumption and behavior. She was also thrown a small party by the Aquarium staff, celebrating her one-year anniversary at the aquarium for beating the odds.
On July 25th 1981, Carmelita stopped eating. By the next morning, she had died. Mystic Aquarium spokesperson Julie Quinn stated the "dolphin's health had been fragile and her death came as no surprise." Her necropsy showed the cause was pulmonary abscesses; this may have been due to her handicap "forcing her to spend more time at the surface of the water, exposing her to more bacteria that caused the pulmonary abscesses."
Her corpse, along with those of her three companions, were later relinquished to the US Department of Justice, which expressed wishes to donate them to the Smithsonian Institution. Their bodies were eventually submitted into Smithsonian's Division Mammals Collection in late 1982, and where x-rays of their skeletons can be viewed online.
---
Featured image:  Press photo of Commerson's dolphins at SeaWorld San Diego. 
Undated, presumably mid 1980's. Personal collection.
The author would like to extend her thanks to the Smithsonian Department of Vertebrate Zoology for taking the time to finding the entries for the four Mystic Aquarium Commerson's.
References Cited:
List of Cetacean Releases and Reintroductions by Ken Balcomb III, 1995.
The Commerson's Dolphin – Capture and First Experiences (1979) by Wolfgang Gewalt. Aquatic Mammals Journal, 1979.
In the Matter of: Akiko Kawahara, Respondent. U.S. Department of Commerce, Office of the Secretary. 10 Dec. 1980. Animal Legal & Historical Center. Michigan State University.
Notes on Commerson's Dolphins in Captivity, by Stephen Spotte, Charles W. Radcliffe and J. Lawrence Dunn. Cetology, Vol. 35. 1979.
Mystic Dolphin Still Suffering from Infection, The Hartford Courant, January 12, 1979.
Dolphin's Anniversary is Marked with Champagne, The Courier-Journal, December 16, 1979.
Scientists Study Data on Dolphin, The Hartford Courant, January 29, 1980.
Last of the Four Rare Dolphins Dies, Jeff Mill, The Hartford Courant, July 30, 1981.
Japanese Woman Fined in Dolphin Shipment, The Day, December 26, 1978.
US Files Suit to Seize Rare Dolphins' Bodies, The Hartford Courant, February 6, 1982.
Fisheries Group To Sue Suspected Importers of Dolphins by Edmund Mahony, The Hartford Courant, December 21, 1978.