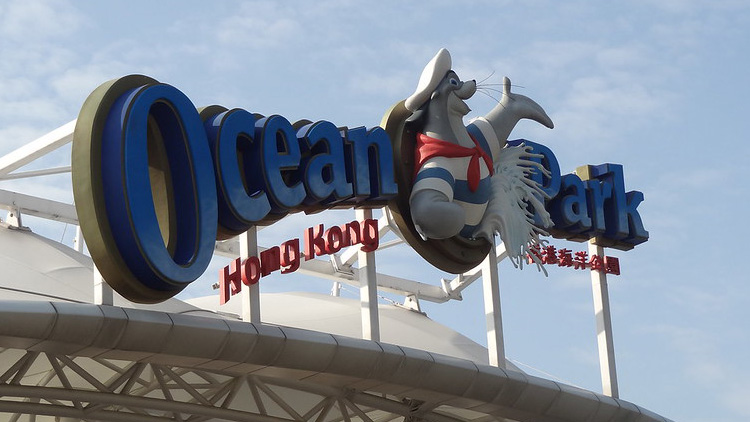 10
Jun
Hong Kong's oldest theme park, Ocean Park, announced in January 2020 they would end their dolphin performances, as part of their "strategic redevelopment plan." South China Morning Post's Young Post reporter, Wong Tsui-kai, wrote the "park plans to steer away from conventional animal shows and will focus on its animal exhibits and displays on environmental protection, marine conservation and education." Some twenty-odd new rides would be constructed, while a dozen aging rides or facilities would be demolished. This would include the Ocean Theater, which has hosted dolphin and sea lion shows since its 1977 debut.
Since 2010, the dolphin program has come under fire by local activists and conservation organizations, who question its ethical integrity and whether it continues to have scientific or educational merit. The home-grown park has run into its fair share of potholes this past decade. Since 2016, Ocean Park has started taking on a deficit, while facing decreasing attendance (which the last two years which have been blamed on the Anti-Extradition Law protests from 2019–2020 that have grid-locked the country).
Initially, the theme park stated their dolphins would be given an "upgraded and expanded" facility to live in, but this was before the COVID-19 pandemic. It was in danger of shutting down before it was given a HK$5.4 billion loan injection in May 2020; another bailout package of HK$361 million was granted this past January. In the same month, the park's board announced they would pivot and would transform Ocean Park "into a park and leisure resort for the Hong Kong people." Reactions were mixed; op-eds on how it should steer its future were published weekly in local newspapers.
While the battle over changing business models plays out, what will become of the dolphins is unclear. Current chairman Lau Ming-Wai reportedly told Ming Pao that while dolphin shows are over and done with, their dolphins will not be released. He explained that the management board is looking into whether they can keep their remaining animals for life, or consider rehoming them at other marine parks.
Animal welfare and marine conservation organizations have called on Ocean Park to at least consider footing a feasibility study into whether their dolphins could be candidates for retirement. It is an option they should thoroughly investigate: cetaceans, after all, have been ingrained into the theme park's identity and business model since the start. These animals have not only been on the forefront of entertaining audiences, they have been intrinsically involved with the park's scientific achievements.
---
Located in Wong Chuck Hang, in southern Hong Kong, Ocean Park was originally proposed as a marine life center as early as 1959, during the British rule. J.D. Bromhall, Chief Scientific Officer of University of Hong Kong's Fisheries Research Unit, announced a plan to create an oceanarium similar to Marine Studios of Florida.  After several years of "funding calls [being] batted between public and private sectors," Hong Kong Jockey Club announced in 1971 they would foot the HK$150 million (~$19.3 million) prestige project. The federal government offered the future park a free land grant of 170 acres.
Kenneth S. Norris, former curator of Marineland of the Pacific and a contributor to SeaWorld and Sea Life Park's conception, had been tapped as lead consultant. Norris, in turn, would scout for an available veterinarian, which would lead him to Dr. Douglas 'Ted' Hammond's doorstep. Initially working at the radiology department of Scripps Institution of Oceanography, Hammond took up the offer without hesitation. While Norris was only on board from 1970–1971 to advise the planning stages, Hammond would stay on board for the next fifteen years, eventually becoming the park's curator.
As the park was slowly being built into the steep hillside, Hammond and his team would establish satellite bases in three locations to search and collect dolphins. The locations included the Philippines, Japan and Penghu Island in western Taiwan. The 1974–1975 operations in Cebu, which captured spinners, Fraser's dolphins and melon-headed whales were unsuccessful. These pelagic species were far more sensitive, with the act of capture and adapting in an environment with barriers proving detrimental. All were either released back into the wild, or died prior to being transported to Hong Kong.
On the other hand, collecting went far more smoothly in Japan. In late 1974, Hammond and his team cultivated a relationship with fishermen of Izu Peninsula to take dolphins from drive fisheries. He would later do the same with fishermen of Taiji starting in summer 1975, and Iki Island in February 1981. More dolphins would be procured from drives in 1982–1984 and 1987, albeit the latter year was without Hammond's involvement.
Fishermen of Shagang Village, in northern Penghu Island, would also be approached by Hammond and his team in March 1975, asking to spare a few Indo-Pacific bottlenose dolphins. For at least a century, from November to March, fishermen hunted dolphins that migrated by northern Penghu as they followed shoals of squid. Once spotted, a fleet of boats were launched, and fishermen would create an 'acoustic net' using bamboo sticks and slapping the boat hulls. The alarmed dolphins were herded into the harbor, where they would be stranded and killed. While dolphin meat was an important source of protein during lean years and shared within the community, it was also a form of 'pest control' as fishermen perceived dolphins as competition.
According to a review of Ocean Park's records, from 1974 to 1987 "more than 90% of the captive stock of cetaceans in Ocean Park have consisted of animals captured in drive fisheries in Japan and Taiwan." In one way or another, Hammond's decision to obtain animals from drive fisheries would have a long-lasting impact. Oceanariums, zoological institutions, and unscrupulous dolphin brokers from Europe and the United States would embark on their own "salvaging" trips to Penghu Island, Taiji and Iki Island from 1978 to 1993. In some cases, Ocean Park even served as a 'halfway house' for drive-sourced animals that were destined for elsewhere, particularly for Knowsley Safari Park, the United States Navy and Ancol Dreamland in Jakarta.
---
Not long after Ocean Park's first dolphins arrived and began getting accustomed to human contact and training, the animal care team would face several disease outbreaks among the park's marine mammal population. In December 1974, three weeks following the arrival of 20 Pacific bottlenose-dolphins from Izu, Japan, 14 would die of erysipelas. Just when that situation appeared to be under control, a wave of melioidosis infections between 1975–1976 would take the lives of an additional 24 bottlenose dolphins, four pilot whales and four harbor seals. The epidemics delayed Ocean Park's original December 1976 opening date, pushing back to January 10, 1977.
To understand better what happened to Ocean Park's marine mammals, we must first examine the pathogens that wreaked havoc. Erysipelas is a blood-borne infection known to occur in pigs, sheep, goats, poultry and some reptiles. Caused by Erysipelothrix rhusiopathiae bacteria, it is considered an occupational disease. Cetaceans, particularly toothed whales and dolphins, can acquire the organism from their diet as it is a common contaminant in fish. While generally harmless to the whale or dolphin, is a much different story if it enters their bloodstream through a cut or wound. According to the Merck Vet Manual, dolphins are lucky if stricken with the chronic form, where diamond shaped skin lesions appear, as they can gradually recover with antibiotic treatment. The second septicemic form is less forgiving: affected dolphins can die unexpectedly with little to no symptoms.
Melioidosis is an infectious disease caused by the bacteria Burkholderia pseudomallei. Naturally found in soil and water, the organism can be transmitted by drinking contaminated water, or if said water or dirt enters through a skin abrasion. It is endemic in tropical climates, particularly in southeast Asia, portions of central Africa, and northern Australia. The illness's symptoms so resemble tuberculosis that it is occasionally misdiagnosed. Much like erysipelas, it comes in two variants: one "[infects the] lungs and form abscesses that spread throughout the body," while the melioidosis septicaemia form is far more quicker and fatal.
"B. pseudomallei bacteria grown on a medium of sheep's blood agar." Via CDC/ Dr. Todd Parker, Audra Marsh
A Gram's stain of E. rhusiopathiae in a human patient, viewed under a high-powered microscope. From a 2015 "New Microbes and New Infections" paper.
Hammond observed how the disease was  "very species specific," elaborating that it can "kill Tursiops (bottlenose dolphins) in three hours." Infected dolphins exhibit symptoms of "elevated body temperature, inappetence and respiratory distress" before expiring. While harbor seals can die "within a month after onset of clinical signs," sea lions appeared to be more resilient. When the deaths trickled out to the media, an unnamed park vet (presumably Hammond) explained to the South China Morning Post that "a having certain percentage of loss among imported marine mammals is expected." They would defend that while all animals were inoculated prior to arriving in Hong Kong, "it usually takes four to six weeks for the particular vaccine to take protective effect."
Melioidosis, however, would prove to be a long-lasting scourge for Ocean Park, causing "73% of [dolphin] deaths between 1976 and 1978, and 57% of those between 1979 and 1983." The bacteria entered park grounds through the "fertilizer, on farmers' boots and in fish fed to the animals." Outbreaks were particularly worse in the summer: the microbe would be spread extensively during typhoons, when soil is "washed down the mountains into bays adjacent to Hong Kong… [which] are used as a source of water for Ocean Park cetacean pools." Preventative measures such as disinfectant baths, sanitizing kitchen equipment, replacing Ocean Theater's water filters and increasing the chlorine concentration did little to curb it. To make matters worse, bacteria developed resistance to certain antibiotics "within three weeks."

Hammond turned for help in the microbiology realm. Andre Dodin of the Pasteur Institute offered an experimental oral vaccine, consisting of a dead strain of the B. pseudomallei bacteria. However, it was ineffective, triggering allergic reactions in some dolphins and had to be administered every five weeks. Hammond would later team up with Neylan Vedros, professor of microbiology and immunology at the University of California in Berkely. Vedros would produce a unique serum with a type of inactivated vaccine, which was hoped to induce an immune response and produce antibodies.
Armed with experimental serums, Hammond would order four Pacific bottlenose dolphins from Iki Island to serve as 'control subjects' before inoculating the rest of the park's cetaceans. One of the drive-sourced test subjects died despite being vaccinated, and its necropsy would "reveal severe tissue damage indicat[ing] a massive invasion bacteria." Vedros would discover the B. pseudomallei organism was surviving in the filters after thoroughly inspecting the Training Yards and Ocean Theater's water system.
After back-washing and improved water sterilization methods were implemented, along with a new antibiotic and better method of diagnosing, 1982 would be the first year where none of resident dolphins died of melioidosis. The vaccine would be improved over the next decade, with hopes that this "unique opportunity" would serve as a testing ground for a potential version for humans.
A 1987 news clip showing the activities and routines at Ocean Park's Ocean Theater. Includes scenes of Hoi-Wai the orca, animal food preparation, veterinary examinations and staff guiding newly-arrived false killer whales around the tank. (Video Credit: Radio Television Hong Kong)
Years later in 1994, while compiling a survivorship study into Ocean Park's cetacean population, authors Leatherwood, Reeves, DeMaster and Davis would investigate the cause behind the catastrophic die-offs. They hypothesized it was caused by a combination of overstocking animals, a failure "in husbandry and veterinary practices," and the fact that some cetaceans were simply out of their element. The dolphins sourced from Japan (particularly Pacific bottlenose dolphins) were from a more temperate climate, and were ill-suited to Hong Kong's warmer weather and endemic bacteria. The Indo-Pacific dolphins, taken from neighboring waters of Taiwan, adapted more readily.
---
As for Ted Hammond, he would leave his post as curator in 1984 and serve as a freelance consultant to aquariums and theme parks across Asia. Journalist Kieth Addison wrote that during his time as Ocean Park, Hammond was "instrumental in persuading Taiji whalers, who traditionally killed dolphins for their meat, to capture them instead and sell them alive to zoos and oceanariums," representing "a small step towards the conservation of dolphins."
Getting involved in conservation projects appeared to be the last thing on his mind. Prior to 2001, he reconnected with the fishermen of Taiji to help broker drive-caught dolphins, specifically for international clientele. The business arrangement would be lucrative for both parties. In a leaked provisional sales agreement from March 2008, ten Pacific bottlenose dolphins were sold to a Turkish facility for $28,000 USD each. The agreement was signed off by Taiji mayor Kazutaka Sangen and Hammond.
Late filmmaker Hardy Jones and Elsa Nature Conservancy's founder Sakae Hemmi encountered Hammond in the spring of 2001, while investigating the drive fisheries' relationships with Japanese marine parks. At that time, Hammond had his hands full: not only was he consulting for Port of Nagoya Aquarium's expansion project and the construction of an aquarium in Taiwan, he had a dozen dolphins kept at Dolphin Base. They were destined for Nagoya, the Taiwanese aquarium, and a facility in Mexico.
Ethics and animal welfare was not a top priority: he was very "aware of the fact that these dolphins are the survivors from the drive fishery, and acknowledged without regret that dolphins develop pneumonia while being transported." Hammond would continue his brokering activities until dropping out of the scene in 2009. Not once during his entire career did any of the veterinary associations he was a member of ever question, or reprimand him, for his involvement in drive fisheries.
---
(To be continued in Part II)
---
Featured Image: Entrance to Ocean Park Hong Kong, January 2014. © Martin Lewison/flickr/CC BY-SA 2.0 [cropped].
(Originally published June 10, 2021).

The author would like to thank University of Hong Kong Libraries Special Collections staff for their assistance.
Photographs of Burkholderia pseudomallei and Erysipelothrix rhusiopathiae bacteria were provided by the U.S. Food and Drug Administration, and the 2015 "Tenosynovitis of a digit due to Erysipelothrix rhusiopathiae: case report and review of the literature" paper from New Microbes and New Infections journal, respectively.
Sources Cited:
"Jockey Club to build an oceanarium." South China Morning Post. May 4, 1971
"A matter of love and patience at the… SCHOOL FOR DOLPHINS." Lydia Siu, South China Morning Post. December 8, 1974.
"Disease kills six park dolphins."  South China Morning Post. December 24, 1974.
"One of the dead dolphins had killer disease." South China Morning Post. December 26, 1974.
"Rare Disease Takes Toll of Sea Mammals." Agence France-Presse, News Journal (Mansfield, OH). October 6, 1976.
"Sir Murray opens Ocean Park with one big wish." South China Morning Post. January 11, 1977.
"

Epidemic of Pseudomonas pseudomallei in an Aquatic Park." Douglas D. Hammond, DVM. IAAAM Conference Proceedings. 1977.

"Lessons from a deadly disease of dolphins." Keith Addison, New Scientist. 100(1384). New Science Publications. November 17, 1983.
Cetaceans Live-Captured for Ocean Park, Hong Kong April 1974-February 1983. Douglas D. Hammond and Stephen Leatherwood for the International Whaling Commission Report 34 (1984).

A Review of Dolphinaria. For the Department of the Environment. Dr. Margaret Klinowska, Dr. Susan Brown. London, 1985/1986.
Experimental vaccine against Pseudomonas pseudomallei infections in captive cetaceans.

Vedros NS., Chow D, Liong E

. Diseases of Aquatic Organisms.

5:

157-161,

1988.

The Rose-Tinted Menagerie. William M. Johnson, Iridescent Publishing. 1990.
Survivorship of odontocete cetaceans at Ocean Park, Hong Kong, 1974-1994.
Reeves, R. R., DeMaster, D. P., Hill, C. L., & Leatherwood, S. Asian Marine Biology, 11, 107-124. 1994
Pathology of melioidosis in captive marine mammals. Hicks, C.L., Kinoshita, R., Ladds, P.W. Australian Veterinary Journal, 78(3). March 2000
"Hardy Jones Investigates Fishing Villages Of Japan, April 2001." William Rossiter, CSI Whales Alive! Vol. X No. 2. April 2001
Epidemiology of melioidosis in an oceanarium : a clinical, environmental and molecular study.  Reimi E. Kinoshita. Thesis, University of Hong Kong. 2003.
Hunting Cetaceans with Sound: A Worldwide Review. Brownell, R., Nowacek, D.P., Ralls, K. Journal of Cetacean Research and Management. 10(1):81–88, 2008.
Marine Mammal Zoonoses: A Review of Disease Manifestations. Waltzek TB, Cortés-Hinojosa G, Wellehan JF Jr., Gray GC. Zoonoses Public Health. 2012 Dec; 59(8): 521–535.
"Remembering an IAAAM Founder, Dr. Douglas (Ted) Hammond." Sam Ridgway, IAAAM News, 44(1), pg 12. February 2013.
"Bacterial Diseases of Marine Mammals." Michael K. Stoskopf, Merck Manual: Veterinary Manual. Revised October 2015.
"How Hong Kong's Ocean Park got off the ground 40 years ago." Chris Wood, South China Morning Post. January 6, 2017.
"Ocean Park Hong Kong to Stop Dolphin Show and Other Live Animal Performances." Wong Tsu-kai, Young Post, South China Morning Post. January 14, 2020.
"Show permanently cancelled, dolphin's "no release" destination to be studied." Ming Pao Canada. January 19, 2021 [Translated version]