22
Nov
Taiji, 11/22/16: It's with a cautious sense of relief when Dolphin Project Cove Monitors report that no dolphins have been slaughtered, or taken for a "life" of captivity. And, after four "Blue Cove" days, we were optimistic this would also be the case today. Not so. The day started off with tsunami warnings issued for northern Japan after a 7.4 magnitude earthquake struck the Fukushima coastline. Thankfully, while there were only reports of minor injuries and damage, everyone was on edge.
When the telltale signs of a drive began a few hours later, it soon became apparent which species was under attack yet again – Risso's.
November has been a particularly bad month for these large, gentle dolphins. The last four drives have resulted in approximately 65 Rissos's slaughtered, for a total number of approximately 100 killed out of a seasonal quota of 251. Out of these, only about 8 dolphins have been released back into open waters, most, if not all being juvenile animals.
During today's swift drive, tiny dorsal fins were spotted in the waters of the cove, trapped alongside their mothers and the rest of the pod. With no deep diving possible for the little ones, the pod were easy prey. As the sounds of tail slapping commenced, and then ceased, our Cove Monitors waited to learn the fate of the young. Moments later, as skiffs started removing bodies, it was obvious the entire pod of about 15 dolphins had been slaughtered.
There were quite a few little fins. I think that's why they drove them in so easily. There is no tradition or culture I know of that kills mothers with their children. Shameful." ~ Cynthia Fernandez, Dolphin Project Cove Monitor
As skiffs continued to drag the bodies of the Risso's to the butcher house, one of the boats had a problem with transferring two of the dead animals. Our Cove Monitors documented as their bodies were exposed, tethered to the boat, floating in the water.
The juxtaposition of witnessing these beautiful mammals swimming free in the ocean to bobbing dead in a blood-stained cove is heartbreaking – and it doesn't get any easier.
I will never desensitize to watching another living being fight so hard for their life, knowing it's a battle they will inevitably lose." ~ Alexandra Johnston, Dolphin Project Cove Monitor
Dolphin Project's inside sources tell us that whale and dolphin meat is being used as pig food, pet food and fertilizer, in addition to being used for human consumption. The internal organs, which contain the highest levels of toxins, are ground up for use in fertilizer, which in turn, is used to grow food.
Japan is selling poison to their own people by introducing toxic contaminants into the food chain. Whether the dolphin meat is being used for human consumption, pet food, pig food or fertilizer, it's unsafe. Where are their ethics?" ~ Ric O'Barry, Founder/Director of Dolphin Project
WATCH a video clip below of our final visuals of this beautiful pod. While the clip is graphic and disturbing, Japan needs to know their tarps cannot hide what takes place in Taiji.
HOW YOU CAN HELP
Dolphin Project will be on the ground in Taiji during the entire killing season, live streaming, blogging and disseminating information for the world to see. Your support has never been more crucial and is greatly appreciated.

TAKE THE PLEDGE TO NOT BUY A TICKET TO A DOLPHIN SHOW!
It's fast, it's simple and it's effective. Take the Pledge now and share with your friends!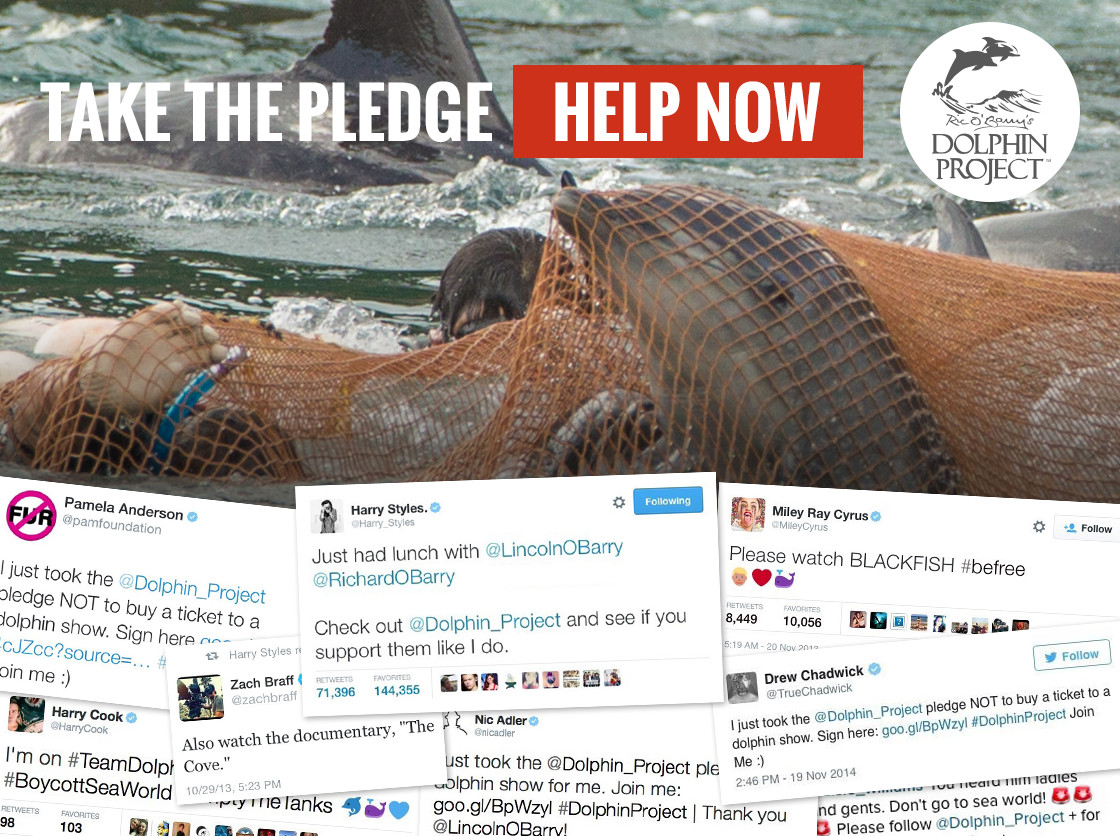 Ric O'Barry's Dolphin Project is a non-profit charitable organization, dedicated to the welfare and protection of dolphins worldwide. Founded by Richard (Ric) O'Barry on Earth Day, April 22, 1970, the mission of the Dolphin Project is to end dolphin exploitation and slaughter, as dolphins are routinely captured, harassed, slaughtered and sold into captivity around the world – all in the name of profit.
Every year from approximately September 1 to March 1, a notoriously cruel hunt of some of the most sentient and sensitive creatures on the planet takes place in Taiji, Japan, made famous by the 2009 Academy award-winning movie "The Cove." During this period, fisherman, or more appropriately, dolphin hunters, "drive" the mammals to their capture or deaths via means of physical violence and acoustic torture.
Dolphin Project is the only organization to have been on the ground in Taiji since 2003. We have revolutionized live streaming and broadcast throughout the entire season.
Dolphin Project works not only to halt these slaughters but also to rehabilitate captive dolphins, investigate and advocate for economic alternatives to dolphin slaughter exploitation and to put a permanent end to dolphin captivity.  This work has been chronicled in films such as, 'A Fall From Freedom,' the Oscar-winning documentary 'The Cove,' and in the Animal Planet mini-series, 'Blood Dolphin$.'