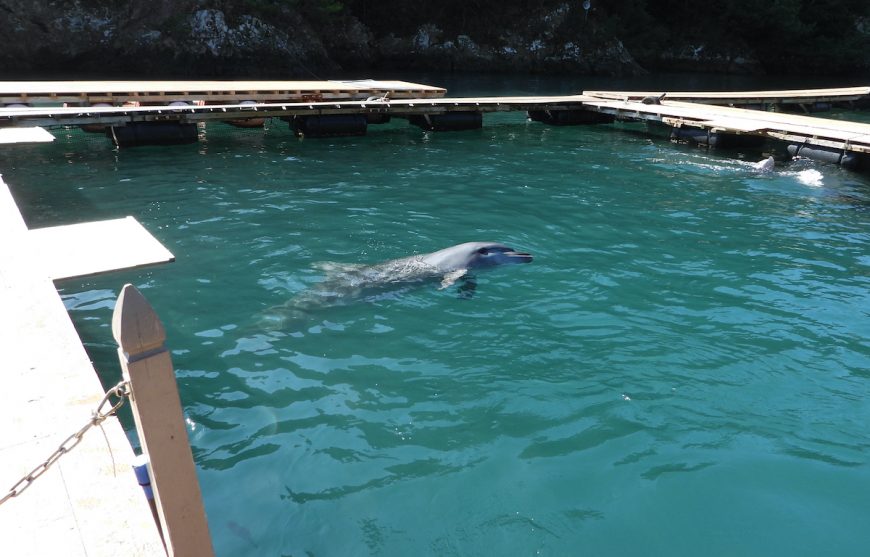 28
Jan
One only has to look at the profound, global changes brought on by the COVID-19 pandemic to realize some simple facts: we miss our freedoms, the ability to travel, the company of friends and family, and the ability to act spontaneously, to name just a few.
In other words, we miss our normal lives. And so do captive dolphins.
On the surface, visiting an aquarium or marine park sounds like a joyous way to get up close to these majestic, marine mammals. Surrounded by upbeat music, cheerful trainers and clapping audiences, what could be better than spending an afternoon watching dolphins and other whales do tricks? Visitors are having fun, so the animals must be too, right?
WRONG.
Dolphins belong in the wild, not a tank or other enclosure.
A pod of wild dolphins can travel up to 100 kilometers a day in the open ocean. Family members teach each other skills to survive in the wild and frequently remain together for life. Dolphins are known to have signature whistles much like how humans have names, and social communication and interaction among the pod is a key component of their daily lives. These mammals have perfectly evolved to thrive in the ocean, where they deserve to live freely. Captivity simply cannot provide an adequate environment for these wild species.
Did you know…?
Dolphins living in captive conditions face circumstances vastly different than those of the ocean. The surroundings are bare and sterile, with little mental stimulation or diversion. Many captive dolphins are regularly treated with ulcer medication or antidepressant medication to alleviate the frustration of captivity.
Wild-captured dolphins must endure significant training to adapt to captivity. They must learn to accept a new diet of dead fish, as well as to undergo a variety of invasive operations, such as tube-feeding and medical examinations.
Even captive-born dolphins must become accustomed to the human interactions required of them. This is accomplished, without exception, through food deprivation training. Labeled as "positive reinforcement" or "operant conditioning", dolphins are kept hungry enough so that they will comply with instructions from trainers, whether to learn new behaviors or to execute them during a performance or tourist encounter.
Learn more: Captivity Industry
If there are any lessons to be learned from 2020 (and now, 2021), perhaps they lie in the evaluation of how we treat other living beings, and how we interact with other species, including members of our own. By learning to co-exist with nature, rather than attempting to manipulate it, our lives and the lives of others can improve.
Some positive changes have already occurred this year: In South Korea, new cetacean exhibits, including imports and exports of captive cetaceans will be banned. Parc Asterix in France has announced they will be ending their dolphin shows (although work needs to be done to see the retirement, rehabilitation and/or re-adaptation of their captive dolphins). For almost 51 years, Dolphin Project has been working to end dolphin exploitation and slaughter, and with your support, we will continue to do so.
Education equals empowerment. When worldwide travel gradually resumes and someone expresses interest in visiting a facility where dolphins and other whales are kept captive, gently remind them how life has been these past several months. And, how freedom is to be cherished above all else.