01
Nov
Taiji, 11-1-17: After 20 blue cove days where no dolphins were captured or killed, in a bizarre turn of events things changed for dolphins today. At 6:00 a.m. 12 banger boats left the harbor in search of migrating dolphin pods, and just over three hours later, the familiar black smoke was spotted on the horizon.
Our team of Dolphin Project Cove Monitors began live streaming as a pod of dolphins was pushed closer to the cove. The sounds of hammers banging on the poles reverberated throughout our broadcast, and shortly after, two sets of nets trapped the mammals in shallow waters. And that's when a strange series of events began to unfold.
We saw that the hunters were taking a special interest in these dolphins, staring closely at them from their skiffs. One skiff began circling the small pod of 10, with photos and videos taken. Trainers from both the Taiji Whale Museum and Dolphin Base were brought into the cove, and tarps were pulled across the beach, preventing our view of what was to take place.
Dolphins were herded underneath the tarps for inspection, but aside from human voices, no thrashing was heard. At the same time, our team was trying to make a positive ID on the type of species driven in. Nine species of dolphin are presently on this season's quota – legally allowable to be captured or killed. The mammals hunted today had white markings around their lips and dark eye patches. They were relatively small, with no distinct beak. Their heads were not bulbous and their bodies were fairly streamlined. Via process of elimination, we concluded these dolphins were melon-headed whales.
The "Other" Blackfish
If this identification was correct, the pod represented the first capture of melon-headed whales, a deep water, oceanic species of dolphin new to this season's hunting quota. A total of 100 mammals can be taken for either capture or slaughter. Regardless of species, panic ensued as skiffs began using their engines to force the dolphins towards the beach. One mammal became entangled in a net and divers jumped into the water to assist.
Then the strangest thing happened. Divers started to take hold of the dolphins, restraining them by their dorsal fins. But instead of struggling, the dolphins remained calm. This went on for a long time, with divers holding the mammals while others were being inspected under the tarps.
I filmed a diver holding two dolphins by their dorsal fins and they just floated there on the yellow tarp, not thrashing around. How can anyone look into their eyes and still want to hurt them? I hope we all can learn to look at them with our hearts and not just with our eyes." ~ Ernie Ismail, Dolphin Project Cove Monitor
Skiffs were being prepared to carry slings containing live dolphins. Thus, we assumed this would be (at least, in part) a captive selection. Four dolphins were removed from the cove, but no trainers were onboard. And, instead of turning to the left, where the sea pens are located, it turned to the right, towards open water. We assumed these were young mammals that were going to be dumped at sea, in order that they not be counted towards quota. Then another two dolphins emerged, and the same thing happened. When four more emerged – with the entire pod now being set free – we definitely knew something wasn't right.
I rushed to see where they were taking the dolphins. Confusion set in as I watched the skiffs head for the horizon, only to see the dolphins dumped at sea. To know the whole pod was given their freedom back – a very rare occurrence – is something I will always treasure." ~ Maria Nangle, Dolphin Project Cove Monitor
A skiff with trainers left the cove, and hunters removed all nets. The day was done, but what just transpired? Why would hunters take the time to drive in the dolphins, pull each one under the tarps, only to release them back to sea?
The answer would eventually lie in our careful review of photographs and videos, along with a handy book from the Smithsonian Institution, in Washington, DC.
Confusion is most likely with Pygmy Killer whales which are very similar in appearance [to Melon-Headed whales]. There are subtle differences between the two species but these are difficult to recognize except at close range." ~ Mark Carwardine, 'Whales, Dolphins and Porpoises'
And herein lies our answer: These dolphins were not melon-headed whales at all, but rather, pygmy killer whales, a rarely seen species. With no permit for pygmy killer whales, the dolphin hunters had no choice but to release them.
No doubt there were plenty disappointed people today. But not us – who were very thankful these mammals were able to escape, with their freedom intact.
HOW YOU CAN HELP
DONATE
Dolphin Project will be on the ground in Taiji during the entire killing season, broadcasting live on social media, blogging and disseminating information for the world to see. Your support has never been more crucial and is greatly appreciated.
WANT TO JOIN OUR TEAM AS A DOLPHIN PROJECT COVE MONITOR?
Interested in joining us in Taiji? Learn about becoming a volunteer Dolphin Project Cove Monitor.

TAKE THE PLEDGE TO NOT BUY A TICKET TO A DOLPHIN SHOW
It's fast, it's simple and it's effective. Take the Pledge now and share with your friends!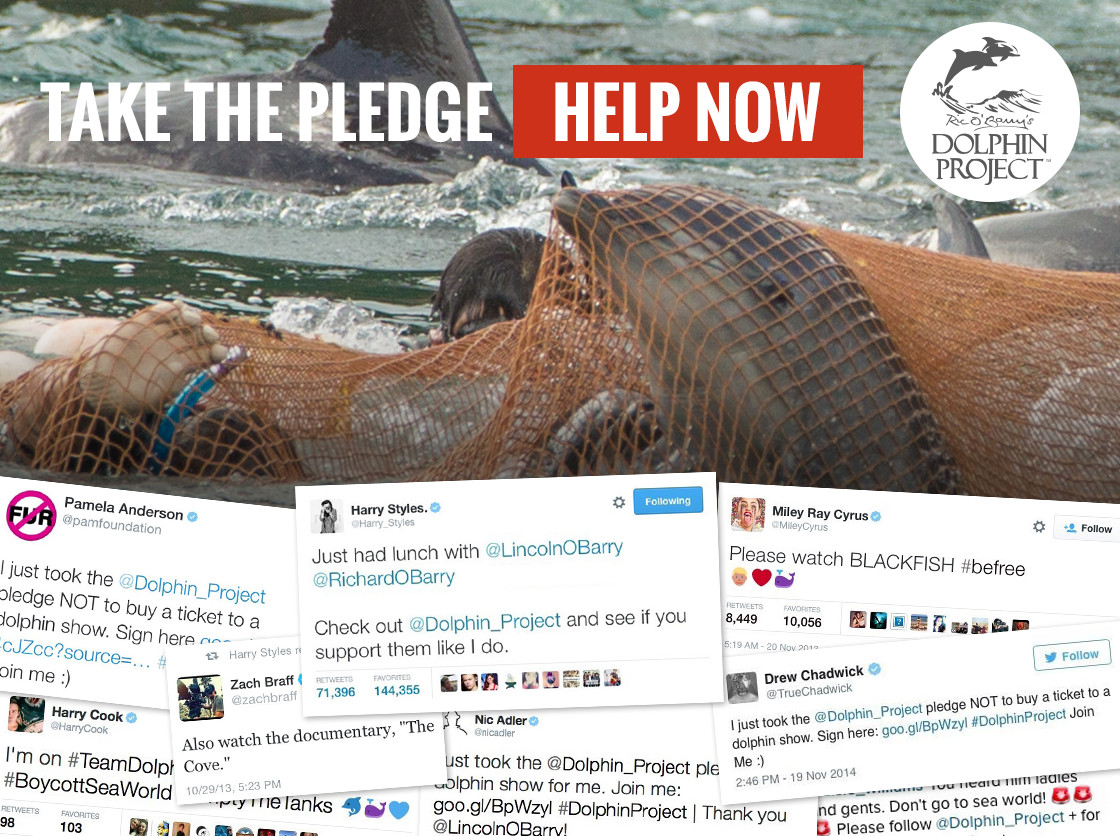 Ric O'Barry's Dolphin Project is a non-profit charitable organization, dedicated to the welfare and protection of dolphins worldwide. Founded by Richard (Ric) O'Barry on Earth Day, April 22, 1970, the mission of the Dolphin Project is to end dolphin exploitation and slaughter, as dolphins are routinely captured, harassed, slaughtered and sold into captivity around the world – all in the name of profit.
Every year from approximately September 1 to March 1, a notoriously cruel hunt of some of the most sentient and sensitive creatures on the planet takes place in Taiji, Japan, made famous by the 2009 Academy award-winning movie "The Cove." During this period, fisherman, or more appropriately, dolphin hunters, "drive" the mammals to their capture or deaths via means of physical violence and acoustic torture.
Dolphin Project is the only organization to have been on the ground in Taiji since 2003. We have revolutionized live streaming and will broadcast throughout the entire season.
Dolphin Project works not only to halt these slaughters but also to rehabilitate captive dolphins, investigate and advocate for economic alternatives to dolphin slaughter exploitation and to put a permanent end to dolphin captivity.  This work has been chronicled in films such as, 'A Fall From Freedom,' the Oscar-winning documentary 'The Cove,' and in the Animal Planet mini-series, 'Blood Dolphin$.'