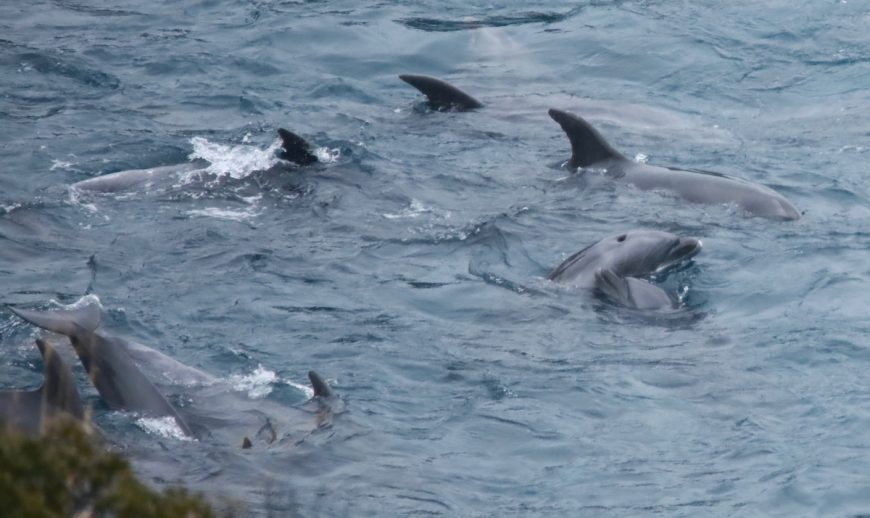 20
Jan
Taiji, 1-20-17: Rain beat down in the early hours of the morning, and we were hopeful the dolphin hunters would be kept away from the open water – and unsuspecting dolphin pods. We were mistaken.
Three hours after they left harbor, around 9:50 a.m., 11 banger boats began driving in a massive pod of bottlenose dolphins. It didn't take long for the mammals to be netted into the cove, and many juveniles and babies were spotted amongst the 250+ group. We suspect the hunters were tipped off, for while visibility was poor, they were able to spot the dolphins, and drive them in with relative ease.
The pod was clearly terrified. Most stayed in a semi-circle and remained like this for hours.
I could see them spy-hopping, dolphins laying backward, dolphins on top of dolphins (layers of dolphins in the cove), babies and juveniles with adults." ~ Terran Vincent Baylor, Dolphin Project Cove Monitor
Two nets were now in place to prevent the dolphins from escaping. Then, the unthinkable happened: The skiffs left, the coast guard left and, after an hour of waiting for someone to return, we realized the dolphins would be held, suffering, overnight.
Gray is the new green: it's the color of money in the dolphin slave-trade
Panic. Fear. Injuries. Stress. Shock. Exhaustion. Death = all synonyms for captive dolphin entertainment.
When hunters and trainers return to the cove (possibly tomorrow, however, we're not certain as Saturdays are usually a day off), the captive selection process will begin. And each of these beautiful, gray bodies will be slapped with a price tag: upwards of $155K USD for a captive dolphin, and "mere" hundreds for a slaughtered animal. It's clear that the big bucks are to be made from the dolphin slave-trade. 
Every time someone occupies a seat in a marine park or dolphinarium, this is what they are supporting, this is what they are funding and this is the cruelty they are condoning.
Related
Breaking: Real-Time Brutality in Cove as Dolphins Held Another Night
Breaking: Terror, Injuries During Day 3 of Captive Selection
Breaking: Taiji's Vile Abuse of Dolphins – Day 4
Breaking: 99 Hours of Hell
HOW YOU CAN HELP
CONTACT YOUR LOCAL JAPANESE EMBASSY/CONSULATE AND LET THEM KNOW YOUR OUTRAGE AT TAIJI'S DEPLORABLE ABUSE OF DOLPHINS, TAKING PLACE NOW IN THE COVE:
PRIME MINISTER OF JAPAN
Prime Minister Shinzo- Abe
Cabinet Office, Government of Japan
1-6-1 Nagata-cho
Chiyoda-ku, Tokyo. 100-8914 JAPAN
+81-3-5253-2111
Website: http://www.kantei.go.jp/foreign/index-e.html
Online comment form #1: https://www.kantei.go.jp/foreign/forms/comment_ssl.html
Online comment form #2: https://form.cao.go.jp/kokusai/en_opinion-0001.html
Japanese Embassies Worldwide:
Websites of Japanese Embassies, Consulates and Permanent Missions
List of Embassies and Consulates-General in Japan:
List of Embassies and Consulates-General in Japan
US Embassy in Japan:
Ambassador of the United States to Japan
Telephone: 011-81-3-3224-5000
Fax: 011-81-3-3505-1862
Send E-mail to the U.S. Embassy in Japan
CLICK THE "TAKE ACTION NOW" BANNER FOR OTHER WAYS TO HELP