07
Sep
Taiji, September 6: The day started like any other – waking up at 4:00 a.m., leaving the hotel by 4:30 a.m. and arriving to the harbor around 5:00 a.m. I was hoping the boats wouldn't go out today due to rain, but despite weather conditions, the boats did go out searching for dolphins.
Being by myself is something I find extremely enriching. Every morning, as I watch the hunting boats disappear in the horizon I do a little meditation, followed by a prayer. I pray that these amazing creatures swim fast, deep and far away from the coastline of Japan.
At around 8:30 a.m., while on lookout, eating my breakfast, I noticed black smoke coming from the north. I knew this wasn't a good sign. Six boats were pushing a pod of dolphins towards the harbor. I ran to get the binoculars to make sure boats were in formation, and unfortunately, I was right: the hunters had found a pod of dolphins and were pushing them pretty fast towards the harbor.
I can't explain the feeling…Your heart drops, but there are no tears. I'm constantly reminding myself that I'm representing Ric O'Barry, Founder and Director of Dolphin Project and the entire organization, so there's no room for panicking or getting hysterical. Believe me, even I'm surprised on how I handled today's situation.
After talking with Tim Burns, Cove Monitor Coordinator and one of our mentors, we decided the best scenario was for me to move towards the cove to have a better vision of the boats before we started livestreaming. Very quickly and calmly I drove towards the cove, put on a 20-pound backpack on my back, grabbed the video camera in my right hand and the tripod in my left. I had originally thought to make two trips to get all the equipment to the top of the mountain, but as I said, I was in work mode, and took everything in one trip. This was my week's workout, I'll tell you that.
Once at the top of the mountain, I could see how two boats were coming all-speed towards the harbor. This is normal procedure, as boats return to the harbor to get the skiffs ready. While talking to Tim on the phone, I mounted the video camera, set up the livestream and tried to get pictures. At this moment, I wished someone was with me.
Everything was set and ready. The dolphins were putting up a fight and I had a front row seat to this cruelty. Hunting boats kept pushing the pod from north to south, south to north. I honestly lost all hope that they would escape.
Hang on kiddo, you can do it! It's not over yet, they can still escape." ~ Ric O'Barry
These were the real-time messages I was receiving from Ric. I remember thinking what an optimistic person he was. I had already played the worst scenario in my mind while watching the pod fight the hunters.
After one hour, the boats moved south and stayed there for quite some time. I was ready to begin livestreaming, when all of a sudden the boats started heading towards the harbor. I thought to myself, "Darn it, they can't escape." And, despite all my efforts to try to identify which type of dolphin they were pushing, I wasn't able to see them. All I could see was black smoke and their formations…
As I looked at the boats go into the harbor, I thought, "This is not normal. I've never seen anything like this. Could they have driven them to the harbor?" ~ Daniela Moreno, Dolphin Project Cove Monitor
Or in fact, did they escape?
I grabbed all the equipment, and ran towards the car. The police were worried I would hurt myself, and asked me to go slower, but I couldn't. I needed to know what had happened.
As I got into the car, I'm shaking, I'm sweaty, I'm a mess, but I never lost focus. As I turned into the harbor, I saw the 12 hunting boats being docked and my excitement went through the roof! Ric was right –  dolphins sometimes outsmart the hunters and are able to escape.
I had never been so happy. That same moment, Ric called me, and I was able to give him the good news. He said, "I'm so glad. I'll be able to sleep tonight." The same thought crossed my mind.
Although today was a good day for dolphins, I know I will have to witness many drives, many captive selections, and probably many slaughters. And while I'm by myself here, I feel the love and encouragement from all of you, and for that, I would like to thank you from the bottom of my heart. It would not be the same without your support.
HOW YOU CAN HELP
DONATE
Dolphin Project will be on the ground in Taiji during the entire killing season, live streaming, blogging and disseminating information for the world to see. Your support has never been more crucial and is greatly appreciated.
WANT TO JOIN OUR TEAM AS A DOLPHIN PROJECT COVE MONITOR?
Interested in joining us in Taiji? Learn about becoming a Dolphin Project Cove Monitor and submit your application, free of charge.

TAKE THE PLEDGE TO NOT BUY A TICKET TO A DOLPHIN SHOW!
It's fast, it's simple and it's effective. Take the Pledge now and share with your friends!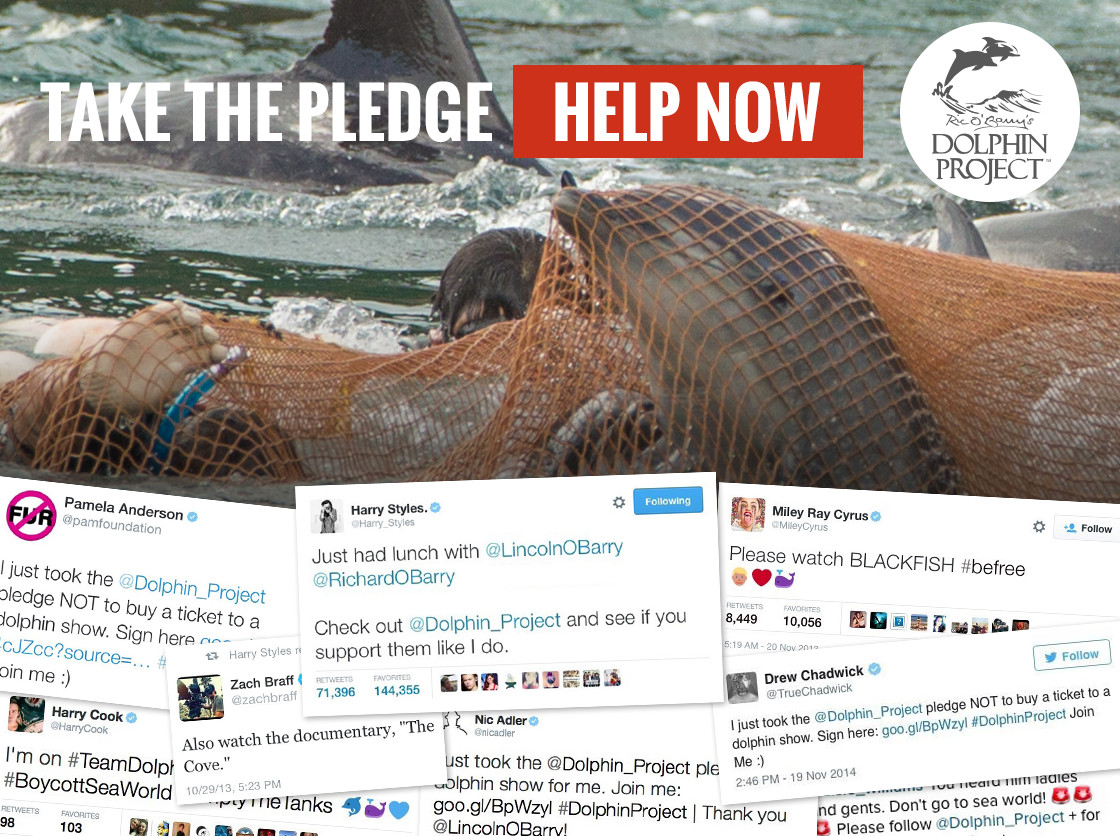 Ric O'Barry's Dolphin Project is a non-profit charitable organization, dedicated to the welfare and protection of dolphins worldwide. Founded by Richard (Ric) O'Barry on Earth Day, April 22, 1970, the mission of the Dolphin Project is to end dolphin exploitation and slaughter, as dolphins are routinely captured, harassed, slaughtered and sold into captivity around the world – all in the name of profit.
Every year from approximately September 1 to March 1, a notoriously cruel hunt of some of the most sentient and sensitive creatures on the planet takes place in Taiji, Japan, made famous by the 2009 Academy award-winning movie "The Cove." During this period, fisherman, or more appropriately, dolphin hunters, "drive" the mammals to their capture or deaths via means of physical violence and acoustic torture.
Dolphin Project is the only organization to have been on the ground in Taiji since 2003. We have revolutionized live streaming and broadcast throughout the entire season.
Dolphin Project works not only to halt these slaughters but also to rehabilitate captive dolphins, investigate and advocate for economic alternatives to dolphin slaughter exploitation and to put a permanent end to dolphin captivity.  This work has been chronicled in films such as, 'A Fall From Freedom,' the Oscar-winning documentary 'The Cove,' and in the Animal Planet mini-series, 'Blood Dolphin$.'