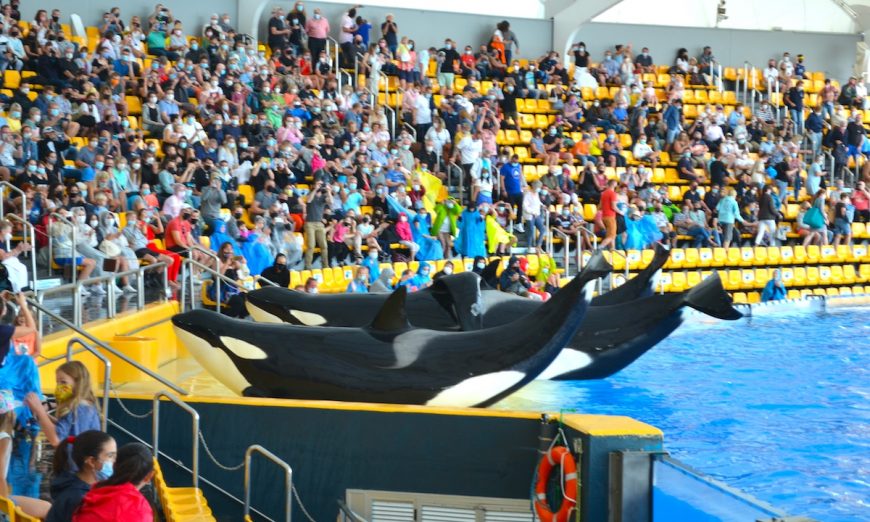 19
Jan
At 11:35 a.m. on a Thursday morning, the orca show at Loro Parque, a zoo in northern Tenerife in the Canary Islands of Spain, is about to begin. Visitors flock to the stadium to watch this first show of the day. I hear voices in several European languages, among them British, German, and Danish, and the stadium soon fills with commotion and chatter as suntanned holidaymakers decide where to sit. Some select seats in the so-called splash zone at the front of the stadium. This is where spectators can experience the thrill of getting drenched as orcas whip up cascades of water from the show pool with their tail flukes. Others choose seats farther up where they get a better view of the performance.
I haven't been here for five years. The amphitheater, with its ascending rows of plastic chairs placed in a half circle around it, is as bleak and dreary today as it was then. Five orcas perform here twice a day: three males named Keto, Tekoa, and Adan, and two females named Kohana and Morgan. Keto, Tekoa, and Kohana once lived at SeaWorld locations in the United States. SeaWorld sent them to Loro Parque in February of 2006 to help it launch its brand-new tourist attraction. A fourth orca—a young calf named Skyla—was on the cargo plane with Keto, Tekoa, and Kohana, but she died in March 2021.
Skyla and Kohana were just two and three years old, respectively, when staff at SeaWorld Orlando separated them from their mothers and sent them on the long journey across the Atlantic Ocean to Tenerife. Tekoa, five years old at the time, and Keto, then ten years old, both came from SeaWorld San Antonio. They were all listed on SeaWorld's website as part of the entertainment giant's beloved family of orcas, but in September of 2017, SeaWorld transferred ownership of them to Loro Parque, and SeaWorld no longer refers to them as family.
Adan was born at Loro Parque in October 2010. His mother is Kohana. At just eight years old, Kohana was one of the youngest orcas ever to give birth in captivity, and a Danish tour operator named Bravo Tours described her son as "a biological sensation." In August 2012 Kohana gave birth to another calf, this time a female Loro Parque named Vicky. But she died when she was less than a year old. Keto, Kohana's half-uncle, fathered both Adan and Vicky, making them inbred.
Keto, Tekoa, Kohana, and Adan were all born in captivity. Morgan, however, was born in the wild and found swimming alone in the Wadden Sea in June 2010. The emaciated orca was brought to Harderwijk dolphinarium where she was held for over a year. In November 2011, after a Dutch court decided that returning Morgan to her family was not an option, she was sent to Loro Parque. On September 22, 2018, Morgan gave birth to a daughter. According to a blog post on Loro Parque's website, published in July 2020, DNA tests confirmed that Keto was the father. Ula had a short life. She took her last breath on August 10, 2021, just 43 days before her third birthday.
Loro Parque displays each orca's name and birth date on a colorful flag hanging from the canvas ceiling above the bleachers: Keto, Tekoa, Kohana, Adan, and Morgan. Morgan's date of birth is unknown, of course, and is listed simply as "2008." Each flag also reminds spectators that Loro Parque is rated "Traveler's Choice Winner #1" by the American online travel company Tripadvisor, which compiles travelers' reviews of various travel experiences, such as lodging, restaurants, shopping, and tourist attractions. I don't see Skyla's and Ula's flags anywhere. I suppose someone took them down when they died. If Vicky ever got a flag, it was removed years ago. I see no mention of the fact that Kohana and Morgan each lost a daughter here, and it is as if Skyla never existed, even though she fulfilled her role as a performer for 15 years. It appears that Loro Parque wants spectators to experience the stadium solely as a place of delight and amusement, and any reminders that orcas' lives ended here, far from the ocean world they evolved to inhabit, get in the way of that.
Loro Parque goes to the extreme in its effort to create an atmosphere of holiday fun. Prior to the show, a video camera zooms in on members of the audience and displays the captured live images on a large screen that functions as the pool's backdrop. Today, as spectators get their iPhones ready to take images of the performance, the video camera stops on a guy eating a banana. Spectators laugh uncontrollably as he takes another bite, completely unaware that he is the center of attention. When he sees himself on the screen, he starts laughing too, perhaps to save face. The video camera changes to another spectator, and a cartoonish drawing of two beer mugs is inserted inside a speech bubble, as if he is ordering beer. Once again, the audience roars with laughter. For the next audience member the video camera zooms in on, the words "I'm sexy" are inserted onto the screen. The joke predictably generates the loudest laughter. It creates an atmosphere of "this is so much fun, and we are all having a great time!" At that moment, I am grateful to be wearing a face mask, so I don't have to pretend to be amused. I just wish spectators would stop laughing and instead ask themselves what it must be like for orcas to be trapped in such a barren world, with nothing meaningful to do and nothing to explore. This man-made madhouse, with its loud and repetitive shows, training sessions, and cheering audiences, is all they ever get to experience.
Meanwhile, three orcas are being fed in the holding pool located to the left of the show pool. I see trainers giving them various hand signals, and they immediately spin around or wave their pectoral fins, after which trainers reward them with some fish from stainless steel buckets. As far as I can tell from a distance, the orcas are Kohana, Keto, and Morgan. I am guessing they are being fed now to keep them calm, as they will not be used in the first segment of the show.
Despite the orcas' stagnant living conditions, Loro Parque calls the show "Life," and spectators cheer and applaud as the orcas jump, spin around, and beach themselves on the concrete platform. Spectators scream in delight as Keto splashes water on them with his tail fluke. He is clearly eager to be fed, and as soon as he has completed the task, he quickly swims to the platform to receive a handful of fish from his trainer.
As the show progresses, I get the impression that someone at Loro Parque has decided to respond to critics by trying to smokescreen the orca show as research, education, and conservation. They display numerous conservation messages on the backdrop, such as "We save endangered species," "We promote conservation projects," and "The animals need us." And this one: "Maintenance of orcas under human care is an extraordinary opportunity to be able to investigate in controlled conditions the most important issues that orcas face in the wild." It's as if the orcas' impoverished existence at Loro Parque's amphitheater, where they can't even swim normally, is warranted by using them as research objects as well as performers.
Loro Parque also uses the backdrop to inform spectators that orcas can use their powerful tail flukes to move lots of water. But the attempt to make the show appear educational seems insincere. In nature, an orca's tail fluke will break through the water as the orca moves it up and down, thereby enabling powerful swimming. In captivity, the orcas can swim only a few feet before they run into a wall. And here, during shows, the strong tail fluke is not used for powerful swimming but for something as contrived as splashing water on rows of screaming tourists. Nature has equipped orcas with their amazing abilities for a reason, yet Loro Parque acts as if it doesn't matter that orcas can't use them for anything that serves a real purpose to them, such as navigating, hunting, and traveling from one destination to the next. The bits of information about the orcas' anatomy that Loro Parque feeds to tourists during shows seem like a calculated attempt to greenwash the show and say, "Look, we are educating people!"
At the end of the show, a message on the backdrop encourages spectators to follow Loro Parque on social media, and a pre-recorded voice instructs: "If you want to know the truth, follow us." During a show a few days later, Loro Parque tells spectators that they seek to "battle misinformation." It appears that criticism from those who advocate for a ban on captive breeding and utilization of orcas as tourist attractions has made the zoo more determined than ever to convince spectators that orcas flourish in tanks and perform because they like it. But orcas in nature don't wave or spin around on command, and they don't beach themselves onto a concrete floor so humans can use them as photo ops. The human keepers train the orcas at Loro Parque to perform these unnatural behaviors, and their cooperation earns them rewards in the form of dead fish, ice cubes, and artificially colored gelatin.
Holidaymakers are typically eager to buy tickets to see wild animals perform tricks on a stage, and as Morgan beaches herself on the concrete floor and stays there, fully exposed, spectators' applause grows louder and louder. Their amusement at seeing this once-wild orca reduced to a compliant performer—trapped in a lifeless concrete box that bears no resemblance whatsoever to the ocean world she once belonged to—makes me fear that she and the others may never get out of here alive. When Keto, Tekoa, Kohana, Morgan, and Adan leave this planet one day, I suspect their flags, too, will mysteriously disappear from Loro Parque's show stadium. It will be as if they never existed, and the enormous sacrifices they suffered at the hands of humans meant nothing at all.
Featured image: During shows at Loro Parque, orcas are repeatedly given the command to strand themselves on a concrete slide-out, something they obviously would never do in nature. Credit: Helene O'Barry/Dolphin Project