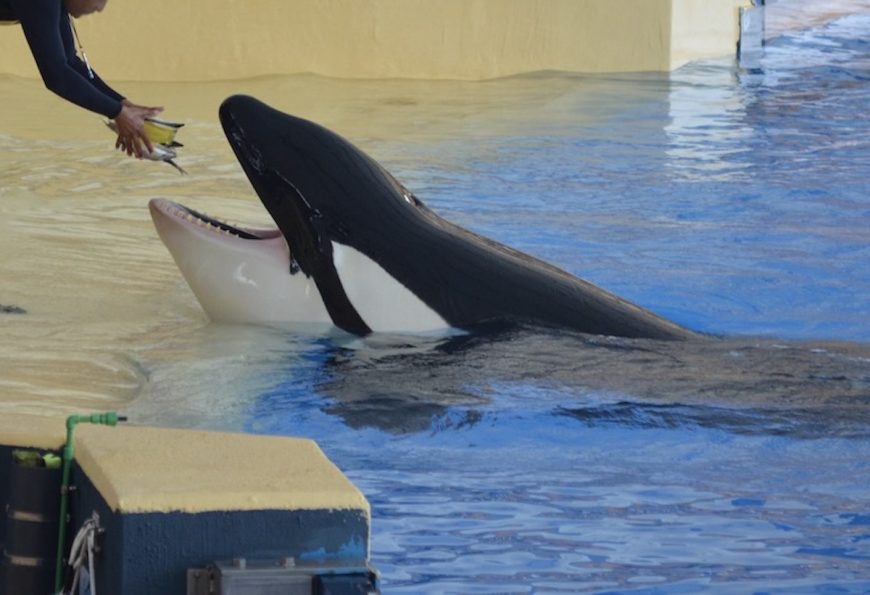 02
Jun
Loro Parque, a zoo in the Canary Islands of Spain, recently published a statement on its Facebook page in response to the plight of 11 orcas and about 90 beluga whales that have languished for months in small underwater cages near Vladivostok, Russia. The marine mammals were captured illegally during the summer of 2018. Many of them, according to Russian activists, were going to be sold to dolphinariums in China, where a booming dolphinarium industry represents an overwhelming animal welfare challenge for those of us who work to stop the capture, confinement, and captive breeding of dolphins worldwide. According to an online source, an orca can be sold for as much as $6 million USD at marine parks in China.
Our friends and colleagues in Russia fought long and hard to prevent the captures, but to no avail. In November 2018, shocking drone footage showed the beluga whales and orcas crammed together in cages off Russia's Pacific east coast. The cages became known as Russia´s whale-jail. On April 8, 2019, Russian authorities announced that the orcas and beluga whales would be released back into the wild. To the global animal welfare community, this is good news. (We will celebrate once we see just how the Russian authorities intend to carry out the releases, and it actually happens.)
In their Facebook post, Loro Parque, which uses several orcas and bottlenose dolphins in multiple daily theatrical shows, at first glance welcomes the news. The zoo posted: "We are glad that this case is finally resolved and that the responsible people will be sent to court! We hope that those animals may be released again to the sea where they won't have any problems to reintegrate because they were captured recently."
If only Loro Parque had stopped there, the statement would have merit. But it seems that Loro Parque could not resist the temptation to take advantage of the situation to promote its stance on the continued breeding of orcas and bottlenose dolphins at its own facility. The zoo continued: "These captures would not be necessary if there were breeding programmes in place within the zoological society. Unfortunately, capturing of the animals will continue to occur with the rising pressure from the radical activists aimed at prohibiting the breeding of cetaceans under human care." In other words:  The capture of orcas and beluga whales in Russia are the activists' fault!
In blaming dolphin freedom advocates for the Russian orca and beluga whale captures, Loro Parque ignores crucial factors:
Loro Parque's own orca exhibit is based on the capture of orcas from the wild. Four of the seven orcas currently held captive at Loro Parque—Keto, Kohana, Skyla, and Tekoa—were sent there from SeaWorld in the United States in 2006. Entertainment giant SeaWorld, in the past, has captured orcas in the United States and Iceland, and used them in breeding programs that, over the years, have produced several offspring that were incorporated into shows as soon as they were old enough to perform.
Keto, for example, was born at SeaWorld's theme park in Orlando, Florida, in 1995. His mother is Kalina, who was also born in captivity. Kalina's mother, Katina, was captured in Iceland at about two years of age. Kalina's father, known as Winston, was a wild-caught Southern resident orca who is now dead. Keto's father, Kotar, was wrestled from his mother off the coast of Iceland in 1978 when he was between one and two years old.
Tekoa was born in 2000, also at SeaWorld Orlando. His mother is Taima, and his father is Tilikum, who was captured in Iceland when he was just two years old. Taima, too, was born in captivity. Her mother, Gudrun, was captured in Iceland, and her father, Kanduke, was captured in British Colombia.
Then there is Skyla, born in 2004. She, too, came into this world at SeaWorld Orlando. Her mother is Kalina, and, just like Tekoa, her father is wild-caught Tilikum.
Kohana, who was presumably conceived through artificial insemination, was born at SeaWorld San Diego in 2002. Takara, her mother, was born in captivity, and Tilikum is her father. Takara's mother, Kasatka, and her father, Kotar, were both captured off the coast of Iceland.
The current orca exhibit at Loro Parque is founded on the violent, unethical, and inhumane captures of Tilikum, Kasatka, Kotar, Katina, Winston, Gudrun, and Kanduke. Their orca show would not exist without these captures that were just as cruel as the ones that took place in Russia. So, when reading Loro Parque's statement, which makes it sound as if the zoo vehemently opposes the capture of orcas and other dolphins, one must wonder if they have conveniently forgotten the story of their own performing orcas, whose parents and grandparents once roamed the oceans, wild and free.
Loro Parque also keeps several bottlenose dolphins in captivity. They, too, have been trained to perform in rowdy shows that attract scores of spectators. According to Cetabase, which monitors the status of captive dolphins worldwide, three of the performing dolphins were captured in the United States during the 1980s. Three of the dolphins that have perished at Loro Parque over the years were also captured in the United States. The others are descendants from dolphins that were captured from the wild. In other words, there is no way for Loro Parque to dissociate itself from dolphin captures and pretend it has nothing to do with them.
For Loro Parque to express such indignation over the orca and beluga whale captures in Russia seems insincere. The people who carried out the captures were going to sell them to dolphinariums in China and elsewhere, and those dolphinariums were going to incarcerate them for life and train them to perform in theatrical shows. Then they were going to breed them and produce offspring that would keep the shows going for years to come. The dolphinariums that were planning on purchasing the orcas and beluga whales would no doubt have presented any resulting offspring as ambassadors for their wild relatives. They would conceal from spectators the truth about how the shows are based on the capture of the animals' parents and grandparents—just like Loro Parque and SeaWorld are doing.
Another aspect that the zoo fails to address relates to the copycat syndrome that is taking place as a result of Loro Parque, SeaWorld, and similar facilities. As long as Loro Parque promotes dolphin shows as a fun experience, dolphins will be captured from the wild for new captive dolphin facilities in various parts of the world. In the name of conservation, Loro Parque continues to breed dolphins that are incorporated into the zoo's theatrical shows. These dolphins will never see the ocean or chase a live fish. By human design, they will spend their entire lives performing tricks for fun-seeking holiday makers. The dolphin show at Loro Parque attracts huge paying audiences, and spectators laugh and applaud as dolphins spin around in the water and jump and dance to loud pop music.
Loro Parque presents the performing dolphins as ambassadors for their wild co-species, even though they have lost every connection with the sea. Camouflaging entertainment as conservation is an important part of any dolphin show, and it has provided a great excuse for the capture and confinement of dolphins. But the idea that the use of dolphins in rowdy shows teaches respect for nature is seriously flawed. When the show is over, spectators do not leave the stadium with a renewed understanding of how important it is to respect dolphins and protect them from harm. They leave with a desire to see more dolphins perform, and this creates an even bigger demand for the capture of dolphins from the wild. Each of the world's dolphinariums, including the ones that do not exhibit wild-caught dolphins, is part of the reason dolphin captures are still taking place. Entrepreneurs in other countries look at the large paying audiences at show stadiums, and they think, If they can do it, so can we! In March 2018, it was announced that China had entered into a five-year agreement with the whaling town of Taiji in Japan to supply up to 60 show-quality dolphins per year. That translates into hundreds of dolphins being driven into the Cove and subjected to a grueling selection process, as documented by Dolphin Project's Cove Monitors. Captures for dolphinariums result in numerous dolphin deaths and entire pods of dolphins being harassed, tormented, and decimated. The demand for show-quality dolphins creates this nightmare for dolphins, and Loro Parque along with other dolphinariums have a huge responsibility in creating this demand. They are the ones that tell people over and over again that dolphin shows are fun, and dolphins thrive in tanks and perform because they like it.
Loro Parque makes it sound as if captive breeding is the answer to stopping the capture of marine mammals. It isn't. When scores of people continue to flock to show stadiums in the world's dolphinariums to watch dolphins perform, dolphins will be captured from the wild to fill up newly built tanks quickly. To establish captive dolphin breeding programs, the facilities must first obtain dolphins from the wild, and that is what the dolphinariums in China were planning to do. They were simply copying existing facilities. If Loro Parque and SeaWorld really wanted to save dolphins from harm, they would stop the shows and tell people that dolphins are wild creatures that belong in the oceans, not in small tanks playing the clown for our casual amusement. They alone could stop the deadly capture of dolphins once and for all, but then they would have to admit that they have been wrong all this time, and that is probably never going to happen.
The captures of orcas and beluga whales in Russia did not take place despite the dolphin shows and captive breeding that go on at dolphinariums such as Loro Parque and SeaWorld.
They took place because of them.
Featured image: Bottlenose dolphins perform tricks for food rewards, Loro Parque. Credit: Helene O'Barry