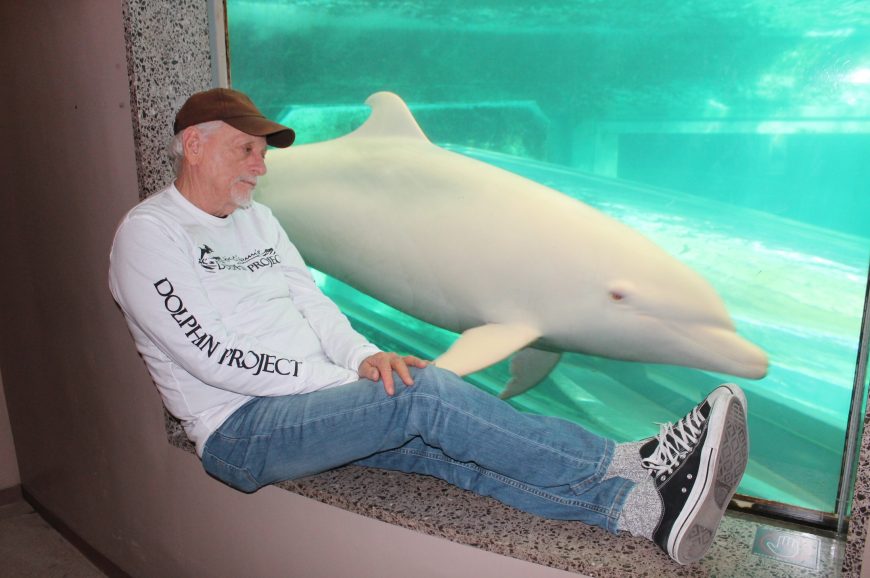 21
Jan
For Immediate Release: January 22, 2016     
TOKYO – The Japanese Ministry of Justice has denied an appeal from Dolphin Project Founder/Director Ric O'Barry to enter the country, three days since he was placed in a deportee's facility at Tokyo's Narita International Airport. Immigration officers have also issued an order of departure for today, January 21. O'Barry has refused to leave, vowing to fight the deportation order.
Expounding on their premise that his tourist status wasn't able to be "fully proven," immigration officials accused O'Barry of making false claims on his Facebook page. They also took issue with him attending an independent event in Tokyo for Japan Dolphins Day on August 29, 2015, when, during one of his regular interrogations, he told immigration officials he would not attend.
The Japanese government is cracking down on those who oppose their war on dolphins." ~ says Ric O'Barry, through his son, Lincoln O'Barry. He continues, "I'm incarcerated on trumped-up charges, just like in Taiji last August. For the past 72 hours, I have been behind bars in a detention facility, yet I have broken no laws."
O'Barry was initially refused admittance into Japan, when, on Monday, January 18, he was detained by Japanese immigration officials upon flying into Tokyo. O'Barry was repeatedly interrogated and placed in a deportees' facility, similar to a jail, where he has been held behind bars ever since. He has not received proper nourishment, his only food coming from the airport's 7 Eleven convenience store, and sleep has been minimal at best.
O'Barry is no stranger to two hour interrogations. Since the 2009 release of the Academy award-winning documentary "The Cove," he is regularly detained for questioning every time he visits Japan. The country's harassment of him escalated when O'Barry, also last August, was arrested for allegedly not carrying a passport. After spending a night in jail, all charges against him were dropped when police discovered the passport in the car O'Barry was driving. But nothing of this magnitude has ever happened before.
Our legal team, represented by The Law Offices of Takashi Takano, has initiated a formal administrative suit and injunction of the deportation warrant. Should O'Barry voluntarily leave the country, he would be banned from entry for a minimum of five years. For a man who has traveled to Taiji for 13 years, exposing the brutal dolphin drives taking place there, this option was unacceptable. With a formal deportation process now in place, O'Barry will be transported to a detention center near the airport.
Says Lincoln O'Barry:
This is a desperate attempt by the Japanese Government to hide the atrocities in Taiji. They have run out of excuses on why the slaughter and sale of mercury contaminated dolphin meat continues. Dolphin hunting in Taiji began in the 1950's and is hardly cultural or traditional. The dolphins that aren't slaughtered are sold to dolphin abusement parks around the world."
Dolphin Project Cove Monitors are on the ground throughout the entire killing season, from approximately September 1 to March 1 of each year, documenting and disseminating information. The team has always operated within the Japanese legal system.
I would publicly like to thank Congressmen Ted Lieu, the U.S. State Department, the U.S. Embassy in Tokyo and The Law Offices of Takashi Takano. Thank you to everyone worldwide who has fought on my behalf, and on behalf of the dolphins. Your efforts are deeply appreciated." Ric O'Barry, through his son, Lincoln O'Barry.

How you can help
Dolphin Project has mounted a legal defense fund, as our legal costs are escalating. All donations are greatly appreciated and urgently needed. Then please sign this petition and add your name to free Ric O'Barry.
I will never voluntarily go back home and will try my best to enter Japan. I am not an enemy of the Japanese people." Ric O'Barry, as told to his lawyer.