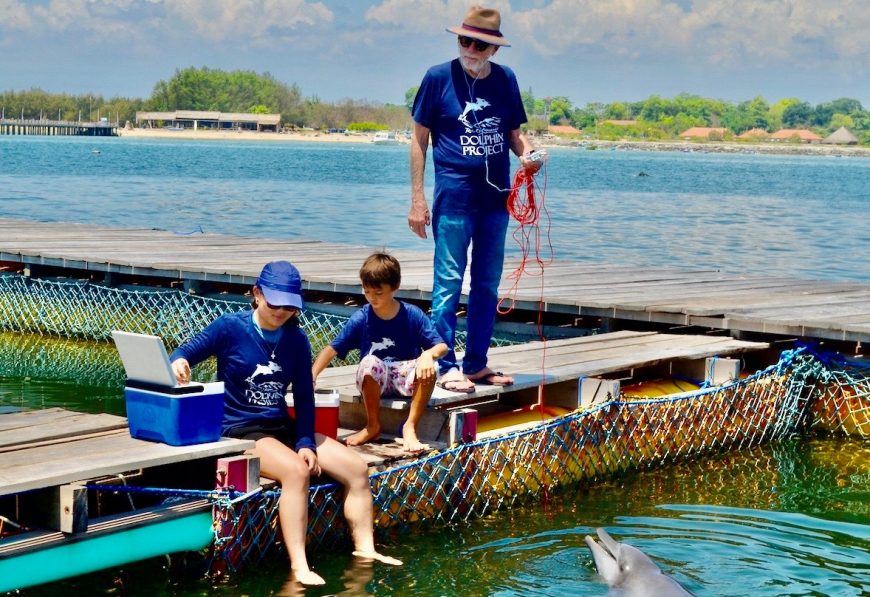 05
Dec
Bali, 12-4-19: In Sanur, Bali, our main focus is to keep Rocky and Rambo healthy before their big move to our new dolphin sanctuary. We are getting ready to take them on a journey over the mountains to Banyuwedang Bay in West Bali, where Femke den Haas, Dolphin Project's Indonesian Campaign Manager and our amazing team have designed and built a spacious sea pen for them. The sea pen is located close to the one that Johnny and Dewa have been living in since we brought them there on October 8, 2019. Soon, the four dolphins will be together at the same location for the first time since Indonesian authorities closed the dolphin exhibit and helped us rescue them from the shallow chlorinated swimming pool at the Melka Excelsior Hotel in North Bali.
Bringing Rocky and Rambo to the floating sea enclosure in Sanur was an important first step in securing their release from the Melka Hotel, and now that their new sea pen is ready, we can implement the next important step, which is to transfer them to our sanctuary, where a 13 meter deep sea pen awaits. In recent months, Rocky and Rambo have gained weight, and they both maintain a healthy appetite. We have been feeding them a diet of fresh, whole fish, and Rambo and Rocky are doing so much better since they got out of the concrete tank in North Bali, where they had been trapped since fishermen captured them in the Java Sea.
Dewa, Johnny, Rambo and Rocky had different jobs at the Melka Hotel: Dewa was used in a dolphin-assisted therapy program for people with various illnesses. Johnny was exploited in a swim program for tourists. Rocky and Rambo were both trained to perform in repetitive and theatrical shows that attracted crowds of fun-seeking holiday makers. All of that is behind them now, and they will never again perform for food or swim with people who demand healing or want to kiss, hug and ride them.
Most dolphins that end up in tanks never get out of there alive. These four did. It won't be long before Rocky and Rambo can swim, dive and leap in crystal clear water, just like Dewa and Johnny. We will make sure that they will never again be surrounded by barren concrete walls. At our dolphin sanctuary, the soothing sounds and rhythm of the ocean will remain a part of their lives forever.
Featured image: Dolphin caregivers Rio Kaj den Haas and Mai Li O'Barry feed Rocky and Rambo a diet of fresh, whole fish, while Ric is listening to the dolphins' sounds underwater with a hydrophone. Credit: DolphinProject.com
Related:
Donate to the Bali Dolphin Sanctuary