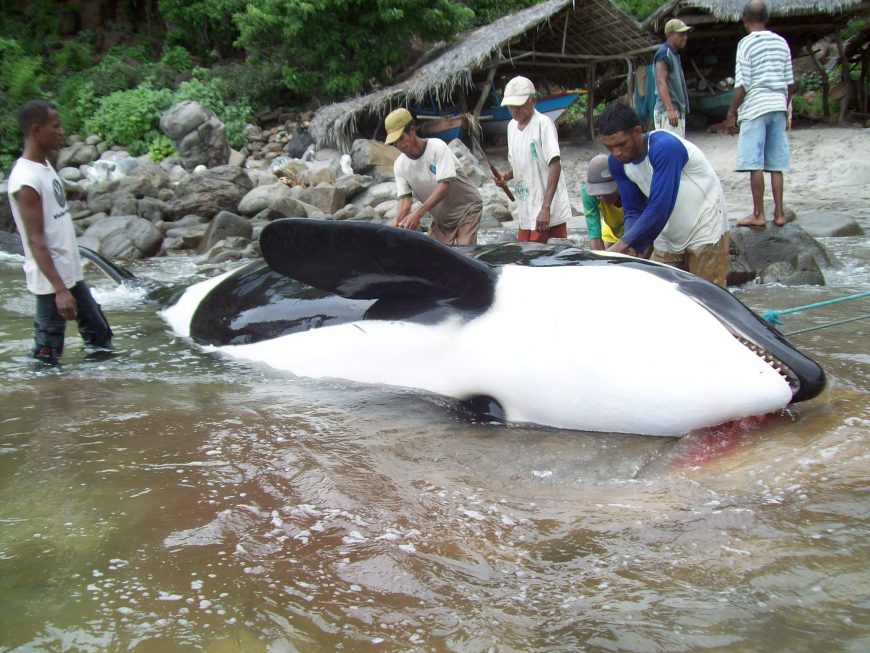 07
Jan
Since Dolphin Project exposed the killing of an entire orca family by fishermen in the village of Lamalera, positive steps have now been taken to end such slaughters.
Abandoning long-held traditions for modern outboard engines, fishermen in this tiny village on the island of Lembata in Indonesia illegally killed three orcas – a mother, father and a baby. While commercial whaling was banned in 1986, two whales are allowed to be slaughtered per year in a traditional manner for the purposes of providing food and a living for the village. However, with a hunting season extending from May to October, and motorized boats commonly used to catch dolphins and other toothed whales, sea turtles, sharks and manta rays, there may be a commercial aspect to their hunting.
Two meetings organized by the Ministry of Fisheries were held in November and December, for the purposes of discussing the killings of dolphins and other whales. Scientists, NGO's active in the area, as well as representatives from the Lamalera community were all invited to express their concerns. The meetings represented a real breakthrough as the slaughters had been previously unspoken of, and were under the guise of traditional whaling. In reality, the oil, bones, and teeth of cetaceans were being traded and sold, and fishermen were receiving payments from tourists (some of which were taking selfies with dead whales); thus, an entirely new economy had been created, with dolphins and other whales being negatively impacted.
All parties in attendance, including representatives from Lamalera agreed that the villages' activities are far from traditional and that the village should return to traditional whaling for the purposes of sustenance, not profit. Outboard engines, profiting off the sale of whale products and the influx of tourism as related to whale slaughters would need to be prohibited. In addition, a strict quota of two male sperm whales would have to be enforced. The new law goes into effect in March 2018.
What does this mean for the village of Lamalera? With the removal of commercial whaling elements, dolphin and other whale hunts could end. While we are not there yet, we have witnessed a huge step forward in protecting marine life. Dolphin Project's team on the ground in Indonesia will continue to closely monitor developments here.