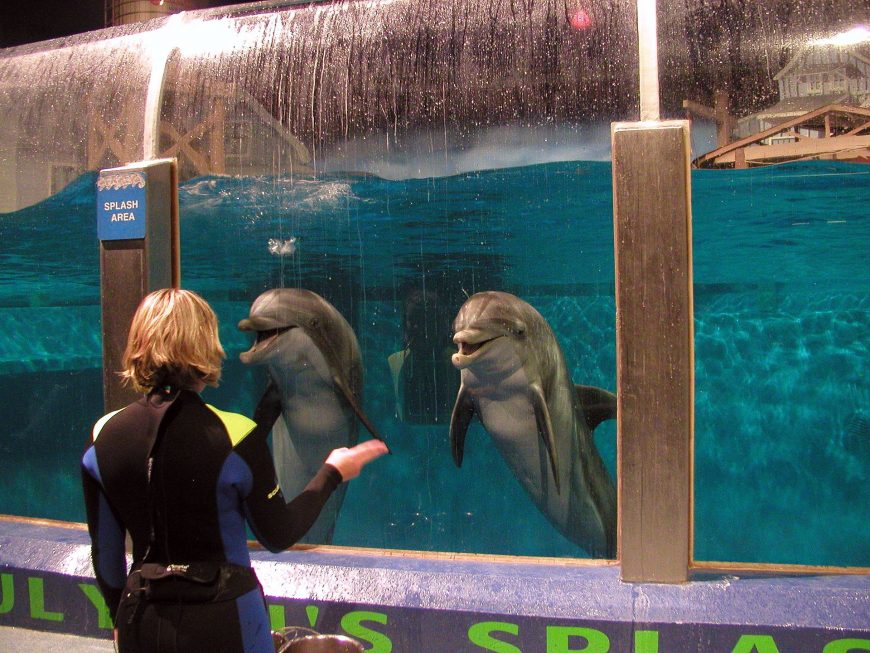 05
Apr
When you think of dolphinariums or marine parks, you would naturally envision them being located in warm-weather climates, smack dab in the middle of tourist traps. Sometimes, they are placed tauntingly close to the ocean. So, it may come as a surprise when you learn there are three facilities that house cetaceans nestled away in the Midwestern United States.
The Indianapolis Zoo, an AZA and AMMPA-accredited facility located in Indiana, is one of three in the Midwest to display cetaceans, along with Shedd Aquarium and Brookfield Zoo, in Illinois. Since 1989, the zoo has housed the dolphins in indoor tanks, all year round mainly due to the climate: the summers may be pleasant, but the winters are dreary, bitter, and tend to drag well into March. In comparison to SeaWorld's history and dirty laundry being aired over national media outlets, the Indianapolis Zoo barely makes a blip on the radar. However, its history is enough to raise some brows: past purchases from dolphin drives and the lack of success with their captive breeding program is worth giving them a closer look.
INDIANAPOLIS ZOO HISTORY 101
Originally opened by Indianapolis Star columnist Lowell Nussabaum in April 1964, the zoo was nothing like its present day, 64-acre establishment. Plans for expansion were made in 1982, and three years later, construction broke ground at the zoo's new home in the White River State Park within downtown Indianapolis. Two months later, construction was complete, but the zoo's rejuvenation didn't stop there. A new Whale and Dolphin Pavilion was announced, with then executive director Roy A. Shea boasting the facility would house "four false killer whales, four belugas, and eight bottlenose dolphins" – all in a 2.3 million gallon complex (the plans for the belugas never came to fruition).
Eight bottlenose dolphins were captured off Florida's western coast in early June 1988, and were quickly whisked to the mom-and-pop Theater of the Sea in the Florida Keys. There, over the next six months, the pod would undergo basic training. Tragedy struck almost two weeks before their departure date: on December 30th, a female named Rah drowned after her "jaws became caught in netting." She was never mentioned to the media, becoming just another casualty in the Marine Mammal Inventory Report. Years later, Tom Cranberry, Area Manager of Marine Mammals, confirmed in a 2005 Indianapolis Monthly interview that Rah died "in the care of zoo handlers" while at Theater of the Sea.
At the same time, in mid-December, two female false killer whales (or pseudorcas) – later christened Tsuki and Hoshi – were bought from a drive fishery in Taiji. They were flown to Indianapolis on May 20 1989, after a 40-hour flight (and $240,000 spent on purchasing and transporting the pair). The zoo was surprisingly open about the exact location of their capture, although staff would later disingenuously defend their decision as 'saving them from slaughter.'
Captive breeding programs for both species were planned since the beginning; for example, Hoshi and Tsuki were being trained to beach themselves on the slide out, making it easier for trainers to perform hormone checks and pregnancy tests in the future (once the zoo was able to get their hands on a male). That schedule was shelved in September 1991, when the paint and coating inside the pavilion's tanks began to chip and blister, forcing the staff to temporarily relocate the false killer whales to Shedd Aquarium, and the bottlenose dolphin back to Theater of the Sea. Although all nine dolphins returned in April of 1992, the zoo faced another setback when Tsuki perished from bronchopneumonia and hepatic fibrosis in October of the same year.
Determined to stay the course, the Indianapolis Zoo announced they would obtain four more pseudorcas in August 1993, asking the National Marine Fisheries Service (NMFS) for an extension of their 1988 capture permit. They would face swift and vocal opposition by a coalition of national and local animal rights organizations who had the zoo in their sights.
Previously, Shedd Aquarium and Marine World/Africa USA (now Six Flags Kingdom) had attempted to import several pseudorcas in 1989 and 1993, respectively. While Shedd was taken to court in 1992 and won, it would be Marine World's case that would draw the line on drive-sourced imports. In a May 3, 1993 letter by attorney Joshua R. Floum (on behalf of the coalition) to NMFS's then assistant administrator William W. Fox Jr., Floum argued Marine World was violating the permit because the facility did not have documented proof stating the method used to capture the dolphins was humane, nor were there any Marine
World representatives present to oversee the capture methods. The Vallejo park's import bid would be eventually denied, as described in a May 7 letter from then Acting Administrator of Fisheries Nancy Foster to Marine World's president, Michael B. Demetrios:
Your application described a seine-net capture method to collect animals swimming past the coastal bays and inlets of the Taiji area. …The actual location of the capture (Iki Island) and the actual capture method (drive fishery) are not those described in your application. …You …also stated that no one associated with Marine World/Africa USA was present during the capture of these animals" and thus don't "have the firsthand knowledge necessary to conclude that the capture operation was `humane' and conducted in a manner consistent with that described in your application."
Following this outcome, drive-caught animals were off limits. Instead, the Indianapolis Zoo tried to exploit a loophole: get the animals from a Japanese aquarium or zoo that already had pseudorcas, thus, letting someone else do the dirty work. However, as the Indianapolis Star would bring up in December 1993, how did that third party obtain the dolphins?
When asked this very question, Roy Shea replied, "I don't have to tell you that," adding that "he did not know how the animals were captured." In addition, the name of the "Japanese zoo" in question was never mentioned, sowing more seeds of doubt and concern. The plans would eventually fall through on February 26, 1994, with the unnamed Japanese zoo announcing it would keep the pseudorcas rather than give them to the Indianapolis Zoo. (It's more plausible that the Indianapolis Zoo realized they would most likely have their renewal request denied due to their lack of, or unwillingness to share details of the pseudorcas' origins, and called the deal off.)
Unable to get a companion for Hoshi, the zoo's last pseudorca was sent to SeaWorld Orlando on October 22, 1994, in hopes she would breed there. She never bore offspring, and died four years later on March 19, 1998 from severe bronchopneumonia.
CAPTIVE BREEDING PROGRAM
Bottlenose dolphins have been bred and born in captivity within the United States since Marineland of Florida's historic birth in 1947. It would not be until the 1970's and throughout the 80's when other facilities across the nation were forced to devise new standards and methods for keeping their captive-borns alive, due to the Marine Mammal Protection Act of 1972. However, those standards and methods are not foolproof: according to Ceta-Base, five captive born dolphins died in various American facilities in 2015, their ages ranging from three weeks old to 20 years old.
In comparison to breeding Commerson's or rough-toothed dolphins, bottlenose should be considered a bit old hat. For one reason or another, this was not the case for the Indianapolis Zoo. From the first calf born at the facility in 1993 to 2015, the facility has seen a record 32 pregnancies: 4 ending in miscarriages, 1 stillbirth, and 27 live calves born. Yet, only 5 of the 27 born lived beyond the first year of life. (Kalei, born in August 2000, was the first to do so). The rest either survived for a few minutes, a few hours, or a few weeks.
After almost a decade of failed pregnancies, the staff was at a loss as to the cause. To find a solution, the Indianapolis Zoo hired Dave Merritt of Mystic Marinelife Aquarium in Connecticut, as Curator of Marine Mammals. In addition, the Zoo collaborated with the Minneapolis Zoo, Disney's Epcot Theme Park, the National Aquarium in Baltimore, the Brookfield Zoo and the Dolphin Connection in Florida to help keep the calves alive. (The listed facilities, including the Indianapolis Zoo, are now part of the Dolphin Breeding Consortium group).
Eventually, the zoo would unfairly blame the death rate on the mothers' lack of knowledge and experience in calf rearing: Nova, China, Phoenix and Ripley were captured between three and four years old, likely missing out on learning from their own mothers how to care for their siblings and newborn pod members. In an attempt to fix the issue, the staff tried separating the three expectant mothers — China, Ripley, and Nova — as they neared delivery in 2000. A dolphin calf puppet was even crafted "to simulate a [real] calf trying to position itself to nurse." Neither idea worked.
In the end, what worked was "learning from example." When Nova, the matriarch of the pod, gave birth to Kalei, the other mothers were gradually introduced to the pair, and would eventually copy their behaviors. For a brief time, between 2000 to 2002, a small "baby boom" of sorts happened and the zoo thought their troubles were over.
The boom did not last, and calves born from 2004 to 2007 were once more, dying. In an unusual move, the Indianapolis Zoo reached out to students at Zionsville Community High School in 2008. Incredibly, the diligent students made a breakthrough with "preliminary evidence pointing to some inbreeding" among the dolphin colony, something the zoo initially suspected.
This now begs the question: How did it take more than a decade for the zoo to figure this revelation out, given their connections to other marine mammal experts and partnerships with other zoological facilities? How was it that a class of genetics and advanced-placed biology students in a local high school eventually solved the dilemma? Even with this "newfound" knowledge, only two dolphins would survive out of the next 10 pregnancies that took place between 2009-2015.
INDIANAPOLIS ZOO DOLPHINS TODAY
As of April 2016, 10 dolphins currently live at the facility, consisting of four of the original wild-caught stock, one stranded juvenile, and five captive-born dolphins. The youngest is yearling Calypso, born April 24, 2015.
To get a better idea of the facility, and the conservation and educational programs claimed to be offered, I visited the Indianapolis Zoo back in mid-March.
Aside from dolphins, the zoo also houses two walruses, a harbor seal, a gray seal, and three sea lions.
The Pavilion went through an extensive makeover in 2005, updating and expanding the tanks, and adding a unique underwater dome, giving viewers a "360 degree view" of the animals as they swim. While it is an improved experience for the visitors, the same cannot be said for the dolphins: the tanks are predictably featureless and a bright sky blue to contrast against the dolphins' gray bodies. Additionally, because the tanks are indoors, the facility was relatively dim. There were no skylights anywhere that could be opened on a nice spring or summer day to let in some fresh air.
Two pairs of gates were located on either side of the show stage, one leading to the west holding pool, the other leading to the east pool. A medical tank lies between the holding tanks. During my visit, the gates to the east tank were open and the eight dolphins flitted in and out of them during the day. Their high-pitched chatter could be easily heard even through the 4.4 inch-thick acrylic glass.
The western pool was gated shut, and considerably dark. I was able to spot two dolphins penned behind the gates once I stared long enough. They were frequently visited by the adolescents, who would speed over, poke their beaks under the gate and occasionally bite the bars (see photos below). The two animals were not let out during my entire visit — not even during the afternoon show. With no docents around at the Dome, I could not find out why they were gated for most of the day.
The Indianapolis Zoo's population has not experienced the "cetacean shuffle" of individuals being swapped and sent to other parks, making this pod's hierarchy relatively stable. I did witness an episode of rough-housing, which is predictable amongst juveniles and adolescents. However, even with both the east and west pools open, there was no space for the dolphins to flee if they needed to. It is also worth mentioning there were no toys or any objects of enrichment to be seen anywhere until after the afternoon show, when a small polyform buoy was thrown into the main show pool.
As for the educational materials offered at the zoo, there was little to none. There was one display at one of the underwater viewing dome entrances that gave basic education about a dolphin's physiology and hydrodynamics. On the way out of the dome, there was another display that went much more in depth about the pavilion tanks filtration system, how much salt was needed, and how the dolphins have "round the clock access to some of the best veterinarians available." If I had known any better, they took a page from SeaWorld's playbook on how their orcas received "world class healthcare!"
I encountered advertisements throughout the zoo grounds offering a Dolphin In-Water Encounter – a "trainer for a day"-esque activity where the guests can touch, feed, and give basic commands to dolphins for $265 a pop (for non-members). Later, inside the Pavilion stadium, I would find another advertisement offering "Animal Art Adventures," where a group of four can pay $260 to let a dolphin paint on a canvas as a trinket.
In comparison, I found absolutely no displays educating visitors on how to minimize their impact on marine pollution or ways to help marine life. It only gets worse: on Indianapolis Zoo's own website, in a section titled "What to Expect From our Dolphins" on the Dolphin In-Water Adventure page, was the following question:
Q: What can I do to help dolphins in the wild?
A: You can help by supporting your local zoo or aquarium, reading or learning more about dolphins, and working to conserve the natural environment.
This especially infuriating considering during the Indianapolis Zoo openly supports orangutan, tiger, and African elephant conservation projects. While there is a small section describing the partnership with Nature Conservancy on the "Gulf Project," the mission is more or less self-serving:
The Indianapolis Zoo and The Nature Conservancy teamed up to develop and implement programming for the Atlantic bottlenose dolphin program at the Zoo to increase public awareness, including a video explaining how visitors can make a difference shown during daily dolphin presentations in the Zoo's Dolphin Pavilion.
While I did encounter some video monitors by the Domes' entryways, there was nothing pertaining to dolphin conservation, or what visitors could do to help marine life. Instead, it was more or less about how they took care of the dolphins at the Zoo and wild behaviors they might exhibit in captivity.
On top of that, very little scientific research was done on their own captive bottlenose dolphins. Most of their efforts are spent on lemur and African Elephant artificial insemination techniques. In December 2010, out of the 32 published research abstracts and papers focusing on or using the zoo's own animals over the past decade, only three were related to their dolphins. Of those three, one focused on the dolphins' pool size, another was on genetic diversity on captive bottlenose populations, and the last pertained to congenital hyper plastic goiters in captive-born calves. None of these studies cannot be applied to wild populations.
When I attended the afternoon show, I tried to maintain the lowest expectations possible. I would find out near the tail-end of the show that the Pavilion was in the midst of transitioning to a new show that would heavily feature their presentation screen and videography effects, planned to debut this summer. Even so, this was not an excuse to put on a 25-minute skit consisting of discussing the "bond" between trainer and dolphin, with dolphins performing flips, breaches and target-touching to Pharrel's Happy. There were only two elementary facts about dolphins that were mentioned: how dolphins breathe air through their blowholes, and how dolphins have whiskers that eventually fall off not long after they are born.
The show could be best described as a PR gimmick to encourage audience members into volunteering for the zoo, in hopes they may eventually become full-time zoo employees.
If this is the best the Indianapolis Zoo can do in promoting conservation and awareness for dolphins in the wild, justifying why they have dolphins in an indoor tank complex, maybe the zoo should admit dolphins are not their forte. Considering the growing public awareness against cetaceans in captivity, the zoo would do itself a huge favor and halt their breeding program.
Better yet, the zoo could follow the National Aquarium of Baltimore's proposal to retire their dolphins to a coastal sanctuary. Thus, the Zoo could stay ahead of the curve, with a win-win for both themselves and the dolphins.
---
NOTE: This article was been edited on 4/7/2016, corrected the total pregnancy and calf count. (h/t Cetabase)
The following resources were used in this article:
Bringing up Mommy by Mike Knight, Indianapolis Monthly, April 2002
What's a Nice Dolphin Like You Doing in a Place like This? by Evan West, Indianapolis Monthly, May 2005
Ceta-Base's Indianapolis Zoo inventory (as well as a 2003 copy of the North American Bottlenose Studbook and 2016 Marine Mammal Inventory Reports)
Letter from NMFS Acting Administrator of Fisheries, Nancy Foster, to Michael D. Demetrios, President of Marine World Africa USA, dated May 7, 1993
Letter from Joshua R. Floum to Assistant Administrator of Fisheries, William W. Fox, Jr, dated May 7, 1993
With It's Permit Running Out, Zoo Learns it Won't Get Whales by Diane Penner, Indianapolis Star, February 26, 1994
Students on the Case of Dying Dolphins by Ben Woodsen, Times Sentinel, July 2, 2008.
Indianapolis Zoo Welcomes Baby Dolphin by Shari Rudavsky, Indianapolis Times, June 8, 2015.
Featured image: Ripley and China with a trainer in 2006/Wikipedia Commons/CC-SA-2.5