11
Nov
Taiji, 11/10/17: As we watched the hunters leave the harbor this morning, like every day, we hoped for a blue cove where no dolphins would be harmed. Those hopes were shattered at around 8:00 a.m. when we saw the familiar drive formation. A line consisting of all 12 banger boats was driving dolphins towards the cove. Although still far out, we could see an enormous amount of splash, and worried that this would be a very large pod. Quickly, we relocated to Takababe Hill where we would continue to document.
Since all nearby parking is closed to us, the car must be parked by the Taiji Whale Museum. Here, a large group of trainers, easily recognizable in their blue and orange outfits, were rushing to get somewhere. I knew whatever species was being hunted was one that they were interested in for captivity. Apparently, the dolphin hunters had radioed in which species they were driving, and the trainers were heading to the cove.
Upon climbing to the top of the hill, we saw the dolphin hunters struggling to maneuver the pod around the large fishing nets that are placed just outside Taiji harbor. During this struggle, many members of the pod escaped out to open sea, but unfortunately, not all. The familiar banging sounds were getting closer and skiffs joined in pushing the dolphins towards the cove. We began checking our photos in order to identify the species, and saw that, once again, the mammals resembled pygmy killer whales – a species not on their 2017/18 hunting quota but was mistakenly driven into the cove on November 1. This particular species resembles one that IS on their quota and new to this season, melon-headed whales. With the pod ultimately trapped, dolphin hunters took a long time examining the pod. We saw their torpedo-shaped bodies with conical heads, distinctive white lips and dark eye patches, but remained hopeful that the same mistake would be made, and the dolphins would be freed.
A short while later, a skiff full of Taiji Whale Museum trainers arrived and went directly under the tarps,  where they would wait for the hunters to drag the mammals under for inspection. Would they be pretty enough? Would there be too many marks on their skin? Would they be of breeding age, and sex? If they met the trainer's requirements, they would be wrestled into slings and taken out of the cove, family and freedom left behind, forever. At this point, it was obvious Taiji's dolphin hunters had successfully captured the first pod of melon-headed whales.
With this established, our team live broadcast for the world to see what would soon take place. A deep water species, these dolphins would never have experienced the sights and sounds surrounding them. And predictably, total panic ensued. We documented in horror as petrified dolphins got stuck in the net, struggling to stay alive. Divers were jumping on dolphins, wrestling them under the tarps. At one point, a very young calf got on the other side of the net, thrashing against the rocks. The more it struggled, the bloodier it became. A diver swam over, and roughly grabbed the dolphin by its rostrum, carelessly tossing it back over the net. We've seen a lot during our time on the ground in Taiji, however it took all our strength not to lose our composure.*
*Scroll down for video.
And all the while, trainers were not only complicit, but active participants during this barbaric process.
Six dolphins were taken for "life" in captivity. Soon, they would begin the process of having their wild spirit broken, learning how to be 100% dependent on humans, spending the rest of their lives in concrete tanks as "entertainment". With the captive selection out of the way, trainers turned a blind eye to what would take place next. We heard loud splashing as more dolphins were dragged underneath the tarps. The water turned a sickening red-brown color and by the time the day was done, hunters successfully slaughtered 12 dolphins, their bodies dragged out of the cove in full view of the surviving pod members. These beautiful dolphins who, just hours ago, had been swimming wild and free past the coast of Taiji, would be reduced to bits and pieces, sold for human consumption. Others would become puppets, to satisfy human curiosity.
The dolphins that were dragged into captivity today lost everything to entertain crowds of spectators. The trainers who brutalized them are the same trainers who will get up in front of an audience and talk about how much they love dolphins." ~ Helene O'Barry, Dolphin Project Cove Monitor
We waited to see what the fate of the remaining dolphins would be, hoping they would be released. About an hour later, skiffs returned to the cove, along with banger boats. Approximately 14 dolphins were driven out the same way they had been forced in, but the remaining pod members attempted to circle back to the cove, not wanting to leave their family behind. Eventually, hunters succeeded in pushing the decimated pod back out to sea. Some dolphins suffered injuries, to what extent we won't know. As we watched their splashes fade away, we could only apologize for the actions of our species. And vow to do what we could to help prevent this from happening again.
HOW YOU CAN HELP
DONATE
Dolphin Project will be on the ground in Taiji during the entire killing season, broadcasting live on social media, blogging and disseminating information for the world to see. Your support has never been more crucial and is greatly appreciated.
WANT TO JOIN OUR TEAM AS A DOLPHIN PROJECT COVE MONITOR?
Interested in joining us in Taiji? Learn about becoming a volunteer Dolphin Project Cove Monitor.

TAKE THE PLEDGE TO NOT BUY A TICKET TO A DOLPHIN SHOW
It's fast, it's simple and it's effective. Take the Pledge now and share with your friends!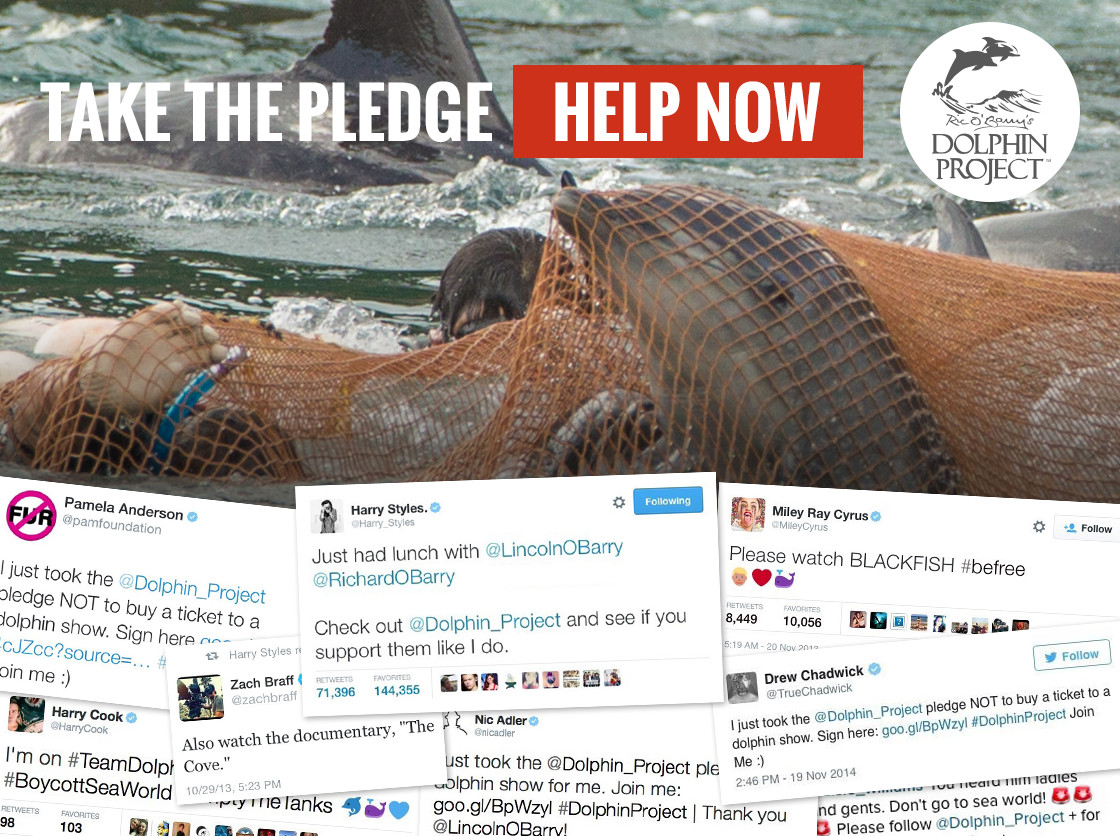 '