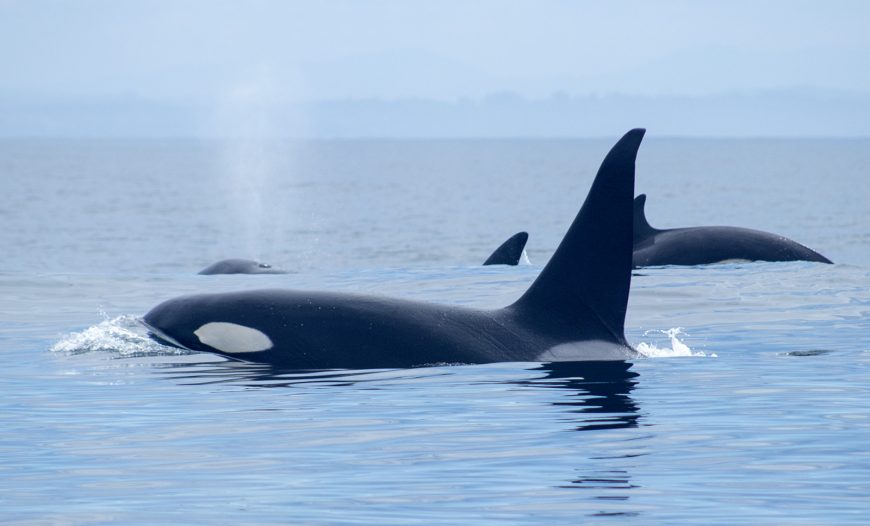 04
Apr
Do you dream of seeing orcas in their natural environments? Don't get sucked into tourist traps like SeaWorld, where orcas are confined in featureless tanks and forced to perform tricks for their food. Captivity is no place for orcas – or for you.
The sheer size, incredible strength and startling intelligence of orcas are simply awe-inspiring. These features are only at their full potential when these mammals are roaming the open ocean with others of their kind. There are many 'extra-orca-nary' places all around the world where they can be seen wild and free, and on their terms.
Monterey Bay, California, USA
There are two types of orcas that come and go throughout the year in the rich marine environment of Monterey Bay: transient (mammal-eating) orcas and offshore orcas. Over 200 individual whales have been identified and studied here, with many of them repeatedly sighted over the years. Transient orcas seem to frequent the bay most often in April and May, when the gray whales pass by on their northbound migration. Orcas of the bay prey upon some of the gray whales' calves. It is a unique feeding opportunity for these orca – it's almost like their Thanksgiving! 
Northern Hokkaido, Japan
In the waters of Hokkaido's Shiretoko Peninsula in the northernmost part of Japan, orcas gather in great numbers during the summer months of June to September. This population was the subject of a recent televised documentary on NHK (Japan's national public broadcasting channel), which sparked public interest in wild whales. In the film, they discover the summertime nutrient-rich waters off the coast of Shiretoko make the area a magnet for orcas!
Aukland, New Zealand
New Zealand orcas have a varied diet and have learned to specialize their diets on sharks and rays. Because of this, they are very coastal mammals, tracing the outline of the coast in search for food. The New Zealand orca population are considered to be endangered, with less than 200 animals traveling around the entire country. The best months to look for orcas in New Zealand are October to March (the southern hemisphere's summer). In Auckland, orcas can be seen in every month and season as they pass through the area – sometimes even in the harbor!
Southeast Alaska, USA
Summer time in Alaska – between Kodiak and Juneau – is one of the best environments for whale watching in the world. With huge gatherings of humpback whales and populations of resident and transient orcas, there is a lot to be seen! May through August or September is the best time of year to look for orcas in Alaska. Juneau and Seward seem to have more consistent sightings, while orcas come and go from other places like Homer and Kodiak during this time. Additionally, the two distinct populations of orcas (resident and transient) tend to have different ranges. Juneau tends to see both residents and transients, while Seward sees more residents and Homer can have see one or the other throughout any given season.
Tromsø, Norway
Norwegian orcas are fish-eating whales that navigate the fjord system in search of herring. These orcas are known for a cooperative hunting technique called "carousel feeding", in which the whales work together as a team to herd together a school of herring. Then, the whales stun the fish by slapping their massive tail flukes through the school so they can be picked off and slurped up. 
Although Norway has a controversial reputation with whales, traveling with responsible whale watching tours can be a way to help convince Norwegian authorities that watching whales is more beneficial than whaling.
Update November 2021: Concerns have come to light about whale watching in this location, regarding the safety of both people and animals. In this current climate, we urge extra caution in this location as a whale watching destination and hope that operators in the area will adapt to operate more responsibly in the near future.
Bremer Bay, Australia
Discovered by researchers about only decade ago, the offshore Bremer sub-basin is one of the most spectacular aggregations of orcas in the southern hemisphere. It is believed that a nutrient rich Antarctic flow enters the canyon and kicks off a very potent food chain which attracts orcas. Australia-based Project ORCA has been researching this population since 2014, and has catalogued over 150 individuals. With the sub-basin being about 50 kilometers from shore, be prepared for an offshore excursion to look for these whales – tours can be over 8 hours long! Orcas are reliably sighted during the months of January to April.
Snæfellsnes Peninsula, Iceland
About 5000 orcas live around Iceland throughout the year, coming closer to the coast during the summer months. These orcas tend to not stay in the same spot for long, which can make it a little more challenging to spot them at first. However, they tend to be most common in the herring-rich waters of the east fjords around the Snæfellsnes Peninsula. Iceland also hosts a variety of cetacean wildlife that are also quite spectacular to whale watch, such as humpback, blue and minke whales! Similar to Norway, traveling with responsible whale watching companies is one way that you can help show the authorities that watching whales is more beneficial than whaling.
British Columbia, Canada and San Juan Islands, USA (Salish Sea)
The picturesque waters between the west coast US-Canada border hosts both a population of mammal-eating transient orcas, and a population of fish-eating resident orcas – or more specifically the endangered southern resident orcas. There are several good spots in this area for both land based whale watching (such as Lime Kiln on San Juan Island) as well as vessel based whale watching. The best time to look for orcas in this area is considered to be April to early October. There is currently a moratorium on approaching the resident orcas by vessel, due to their critical state. Learn more about how you can help them here.
Antarctica
Not very many people have the chance to visit the icy region of Antarctica, but there are orcas here that cannot be found anywhere else in the world. The seldom seen types A, B, C and D orcas roam Antarctic and sub-Antarctic waters, each with different diets, ranges and appearances. With unique head and eye patch shape, these ecotypes are some of the most unique looking orca of all; some of them are covered in diatoms (a type of algae) giving them a yellowish or brownish color.
Orcas inhabit many parts of the globe and different populations have been found to have their own cultures due to differences in diet, behavior and vocalizations.
Keep in mind, they are wild animals and should be treated as such. The best encounters happen for both you and the whales when they are not disturbed. Don't chase or harass them; despite their large size, it can be easy to lose a whale when it doesn't want to be seen.
There is nothing quite like being in the presence of an orca. While the desire to experience them in part fuels the demand for their captivity, there are many great places around the world to experience them in their natural environment. Once you've seen whales and dolphins in the wild, it's easy to see why captivity doesn't compare to the open ocean!
Related reading: How to Watch Whales and Dolphins Responsibly
Featured Image: CA163 "Liner" and pod mates surface together (Photo by Tracie Sugo)