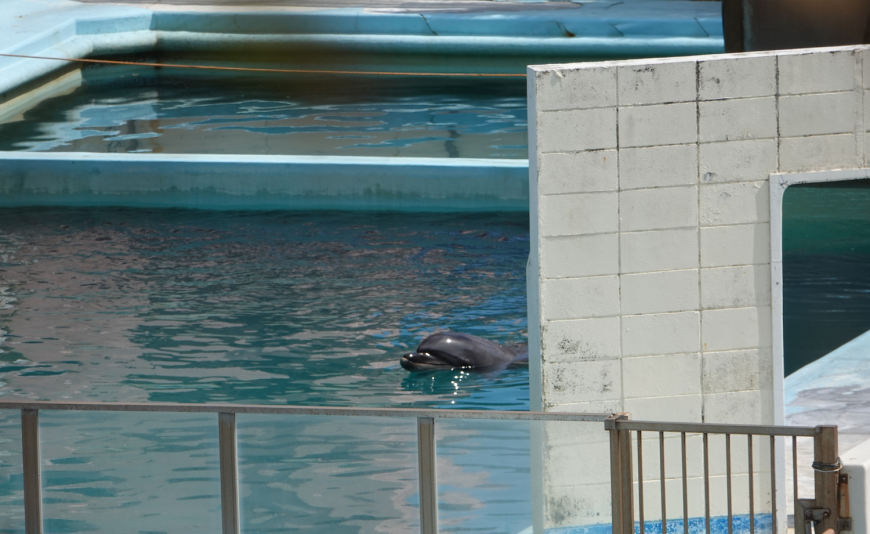 25
Sep
Update 11/13/18: According to a well-informed source, Inubosaki Marine Park Aquarium is currently in debt and seeking a buyer. When the marine park was closed, a foreign company reportedly made an offer of a few hundred million yen to buy the marine park. It was later revealed that the marine park was in debt of almost the same amount, and ultimately the buyer withdrew. We are told that there are other investors in negotiations at this time.
Our sources can confirm that Honey is being cared for by a staff member.
Update 9/28/18: Dolphin Project has been in direct communication with multiple organizations in Japan to coordinate efforts on Honey's behalf to seek a resolution for her. By supporting local groups we have access to the most up-to-date information and the best chance to facilitate a positive outcome. We can confirm Honey, along with the other animals at the Inubosaki Marine Park, are being fed by a paid employee of the facility. We will update as more information becomes available.
"The footage we have reviewed demonstrates the need to take action immediately in order to save dolphin Honey from a miserable death. The same is true for all of the abandoned animals at Inubosaki Marine Park Aquarium." ~ Ric O'Barry, Founder/Director of Dolphin Project
If there is a dolphin in trouble anywhere in the world, my phone will ring. And that just happened once again. My phone has been ringing off the hook about Honey – a bottlenose dolphin who has been abandoned in a shuttered aquarium in Japan. And Dolphin Project is prepared to help.
Ironically, this information comes to light mere days before the annual dolphin hunting season is set to commence in Taiji – the place where, in 2005, Honey was brutally captured from the wild for "life" in captivity.
Dolphin Project has obtained exclusive footage of Honey, sent to us from local Japanese activists. She, along with 46 penguins and hundreds of fish and reptiles, remains at the Inubosaki Marine Park Aquarium in the city of Choshi in Chiba prefecture, just east of Tokyo.* Due to declining attendance (people stopped buying tickets), the facility was closed in January of this year, leaving the fate of the remaining animals in the hands of the aquarium owner.
*Source: Chiba prefectural Health and Welfare Department
Says our observer, "For two hours, Honey floated alone in a corner of her shallow, shadeless tank. The property was abandoned and dirty. One car was in the parking lot, and only one person was seen, likely a trainer. There was a TV news station present, attempting to get an interview but it would appear they were not granted access to Honey."
Dolphin Project has reached out to the Japanese-based groups who are trying to seek a resolution for Honey. We have drafted a formal proposal to evaluate and rehabilitate Honey for a possible release or retirement in a sanctuary. Dolphin Project has successfully rehabilitated and released dolphins in a similar situation as Honey in the United States, South Korea, Haiti, Guatemala, Nicaragua, Colombia and Brazil. And we can do it again in Japan with the help of our Japanese colleagues.
As in past years, Dolphin Project's team will be on-the-ground in Taiji, Japan to document the hunts and share this information with the world.[/vc_column_text][/vc_column][/vc_row]